Today I brought a delicious apple nut crust for you. A very juicy mixed bread cooked overnight, with an aromatic and light crumb. The perfect bread for all nut lovers, not only in winter, for Christmas or in autumn. The recipe uses very little yeast and can also be prepared yeast-free if you wish ... ♥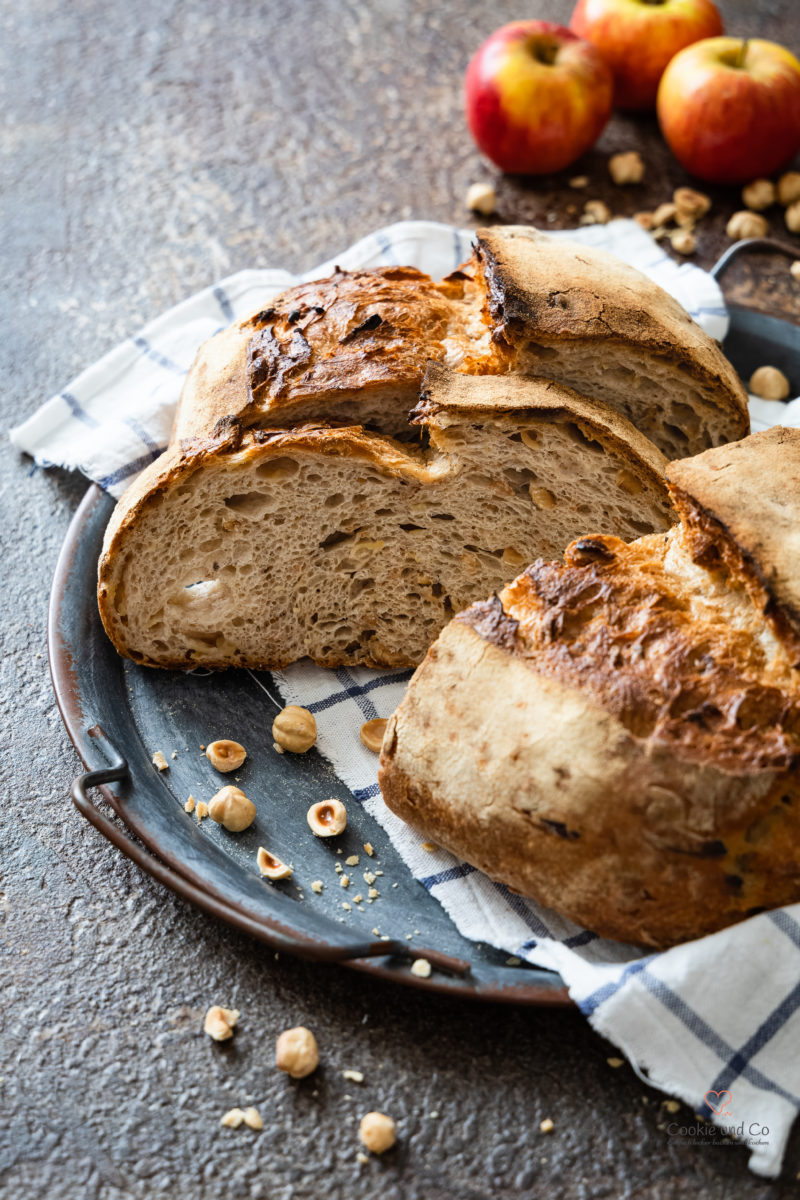 Apple nut crust with spelled malt flakes
Apple and nut are a real dream couple anyway. By the autumn season at the latest and in the Christmas bakery, I often put both of them together in various cake doughs. Why not process it together in bread dough? By the way, I should definitely not ignore the delicious spelled malt flakes at this point. They round off the nutty, aromatic taste really well. Alternatively, you can also use roasted oatmeal. But if you don't know any spelled malt flakes, you have to try them out! (They are linked in the recipe). By the way, here you can find other delicious recipes with spelled malt flakes: Original grain bin, Carrot grain crust, Whole grain crispbread with seeds, Malt grains with eclats, Muscle man bread, Grain toast.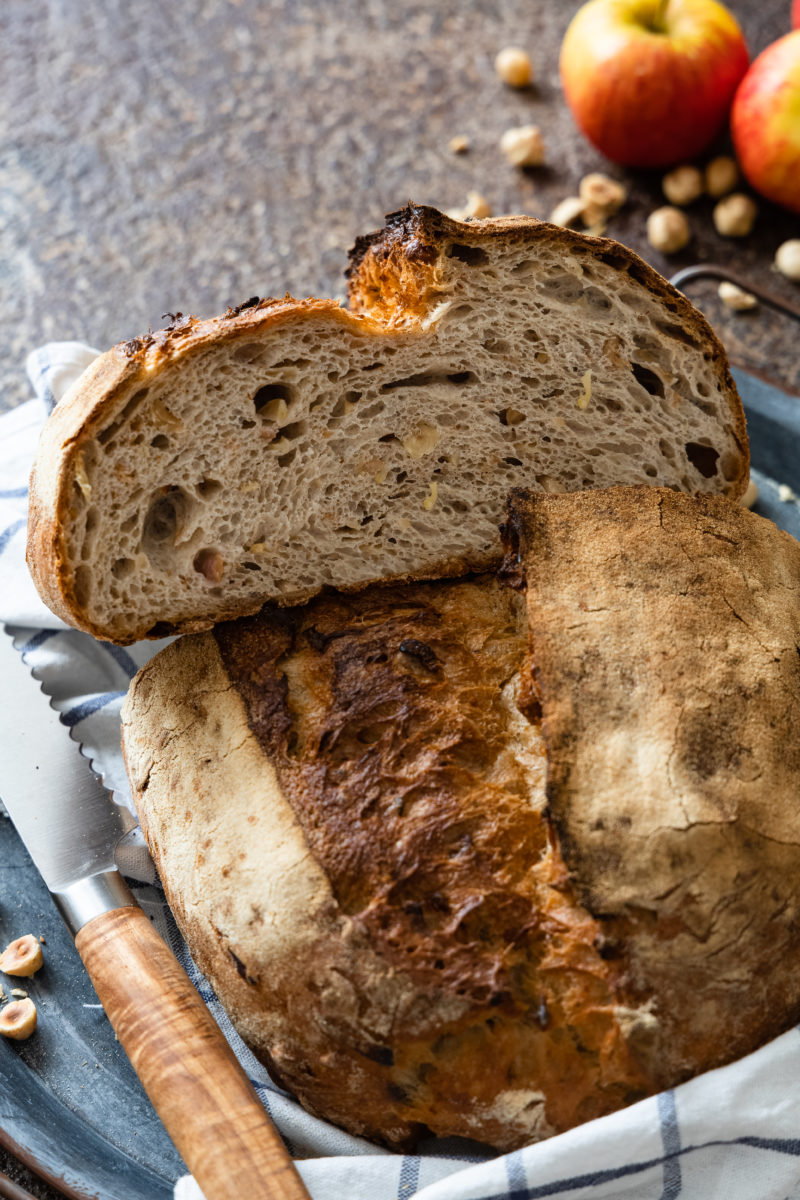 A juicy and aromatic bread
The apple nut crust tastes wonderfully nutty and aromatic. The grated apple not only gives the bread a subtle fruity taste, it also becomes wonderfully juicy and keeps it fresh. The proportion of rye flour gives the apple nut crust a rustic character. the Piece cooked takes place overnight in the refrigerator. As a result, not only can a wonderful aroma develop, but the apple nut bread can also be baked directly in the morning. Acclimatization is not even necessary for this. I have my Italian sourdough as a leavening agent Lievito Madre used. If you have a particularly active Lievito Madre with very good driving power at home, you can safely leave out the crumb of yeast in the recipe.
Then, however, I would advise the longer specified walking times and observe the development of the dough carefully. You may still freshen up your madre twice beforehand. Because every sourdough is slightly different and the times given in the recipe are only guidelines. With a small amount of yeast, the ripening times can still vary individually, but the whole thing becomes a bit more controllable. But no matter which version you choose, I wish you a lot of fun baking and a Merry Christmas ... ♥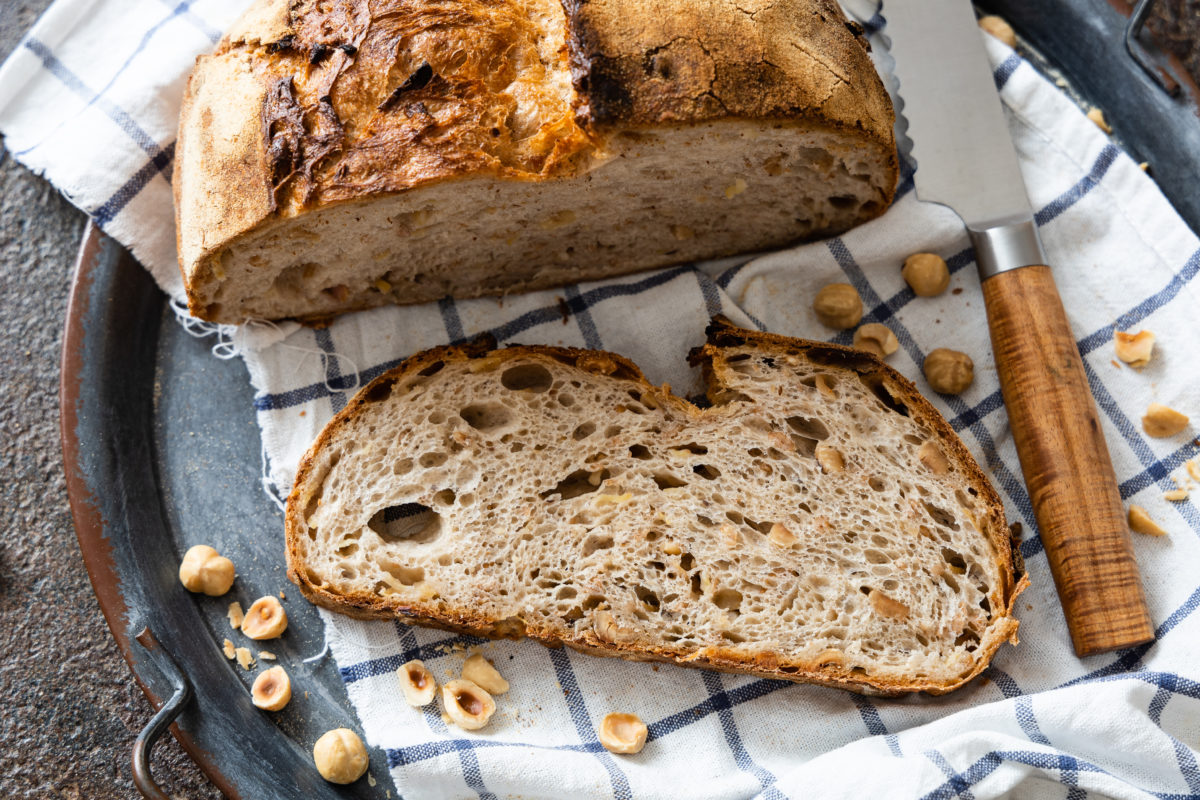 Print
Apple nut crust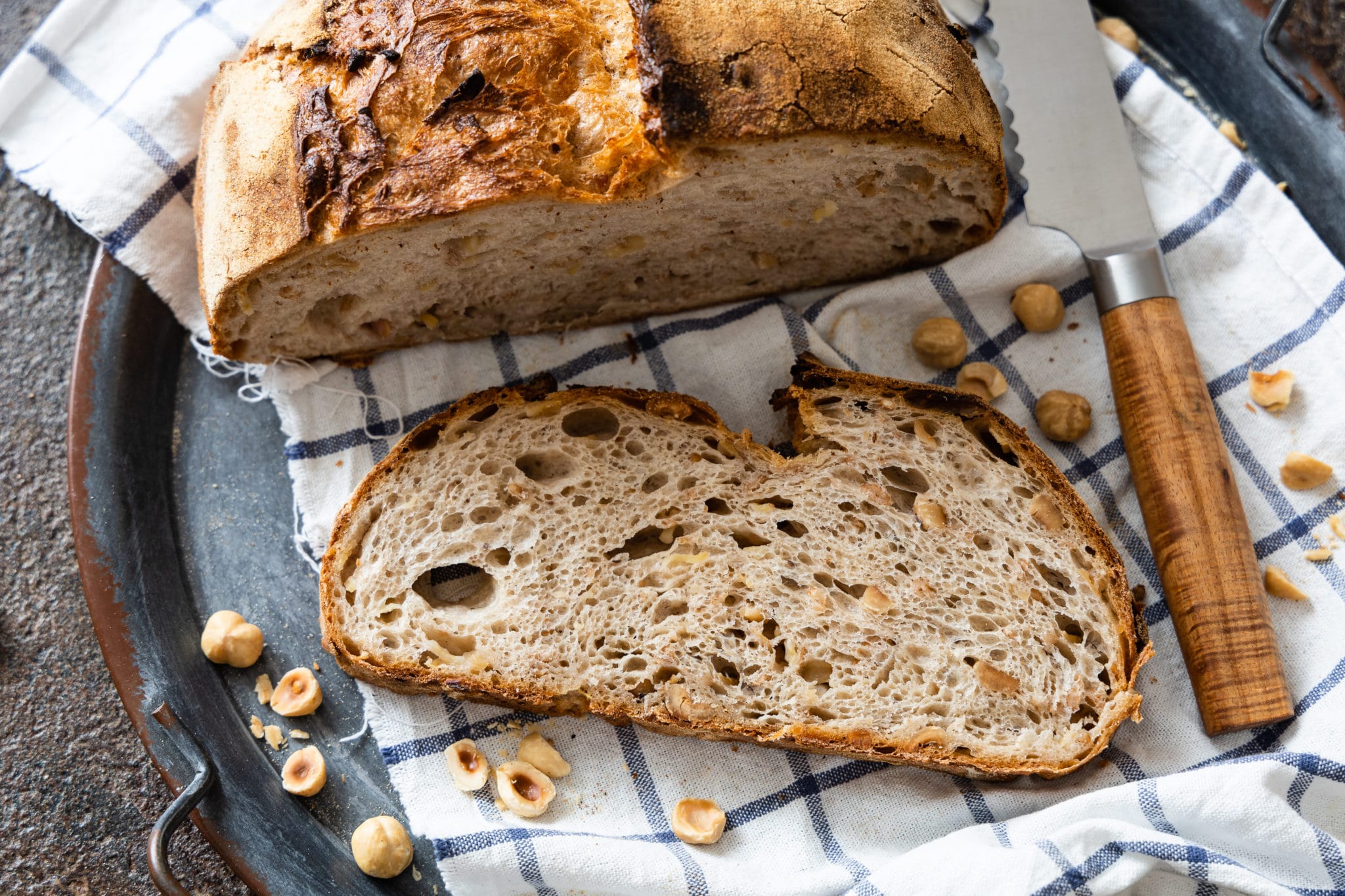 Print recipe
Share recipe
Prep Time:


18 hours

Cook Time:


40 minutes

Total Time:


17 hours 20 minutes

Yield:


1 bread

Category:


Dinner, bread, breakfast, Vespers

Cuisine:


German - German
piece
Breakfast
120 g

grated apple (preferably a sour variety)

60 g

roasted hazelnuts, roughly chopped (or walnuts)

40 g

Spelled malt flakes / toasted oat flakes

80 g

Water, boiling
Lievito Madre
60 g

Wheat flour type 550 (alternatively the usual flour for feeding the madre)

60 g

Lievito Madre 

30 g

Water (

35

° C)
Autolysis dough
350 g

french Wheat flour T65 / strong wheat flour (or wheat flour type

550

and a little less liquid)

300 g

water
Main dough
Autolysis dough
mature Lievito Madre

100 g

Alpine rye / rye flour type 1370

10 g

inactive baking malt / beet syrup / barley malt syrup

1 g

fresh yeast (can be omitted if the madre is very active)

12 g

salt

10 g

Butter (vegan: nut oil or other oil)

20 g

Water (if necessary)
Instructions
Breakfast
Scald all the ingredients for the broth with the boiling water.
Cover and leave to soak for at least 2-4 hours.
(Whether the apple is grated coarsely and finely and with or without the peel depends on personal taste.)
Lievito Madre
Dissolve Lievito Madre in the water and whip until foamy. Then knead thoroughly with the flour.
Let ripen for about 2-4 hours at about 26-28 ° C. The madre should have at least doubled or tripled during this time.
Autolysis dough
Mix T 65 and water for 40-60 minutes Autolysis let rest.
Main dough
Add Lievito Madre, rye flour, barley malt syrup and, if necessary, yeast to the autolysis dough.
Knead on slow speed for about 8-10 minutes.
Knead for 3-5 minutes at high speed. Knead in the salt and butter towards the end.
Knead in the stock as briefly as possible at slow speed or by hand.
Only then, if necessary, knead in the remaining water. (The brewing piece gives off a lot of moisture.)
Stock cooking
For about 3-4 hours at room temperature (20-22 ° C) Stock cooking place. In doing so, twice gently stretch and fold (coil fold), after 1 and 2 hours.
Alternatively stick cooking can also take place for 1.5-2 hours at 25-27 ° C.
The dough should have doubled at most during this time, a little less is also sufficient. The ripening time depends very much on the madre.
Forms & piece cooked
Shape a round or oblong loaf of bread and place the end up in a floured proving basket.
(The proofing basket should be a little larger.)
Let rise for 30-40 minutes at room temperature (not necessary for warm stick cooking).
Then for 10-12 hours at 6-8 ° C in the refrigerator Piece cooked place.
(At 5 ° C it would be about 14-16 hours.)
Preheat the oven in good time to 250 ° C top / bottom heat (230 ° C hot air / convection), depending on the case together with a large cast pot, baking steel / sheet or baking stone.
to bake
Baking in the pot:
After the rising time, plunge the dough into the hot pot (without acclimatizing), cut into it and close the lid.
Bake for a total of 50 minutes.
After 20 minutes of baking time, lower the temperature to 200 ° C and remove the lid.
Bake released:
Tip the dough out of the proofing basket (without acclimatizing), cut into it and bake for a total of 50 minutes.
Abundant immediately at the beginning swath (Steam).
After 10 minutes, open the oven door to drain the moisture and lower the temperature to 200 ° C.
Then let cool down on a wire rack.
Notes
KNEAD IN THE THERMOMIX:
Autolysis dough: Mix 1 min./dough kneading setting, then place in the refrigerator for 40-60 minutes.
Main dough: Knead autolysis dough, rye flour, yeast and Lievito Madre as well as malted barley syrup for 4-5 minutes / dough level.
Add salt and butter, knead for 30-60 seconds per dough setting.
It is best to knead in the stock by hand.
Only then, if necessary, knead in the remaining water. (The brewing piece gives off a lot of moisture.)
Keywords: Alpine rye, instructions for sourdough, apple, bake, bread, neck nuts, hazelnuts, LievitoMadre, nuts, rye flour type 1370, T65, cook overnight, walnuts, little yeast