Today I have great news: my bread baking book »FOR THE LOVE OF BREAD - Time for good bread« has appeared. The book can be ordered now! The desire for a bread-baking book kept coming back to me. After some thought, I decided to grant this wish. The fifth blog birthday is also a great occasion for this and it has become a big (heartfelt)Project developed from it. The book contains over 65 bread recipes And in addition a lot of well-structured basic knowledge about bread baking and additional instructions for the production of baking malt as well as for the cultivation of different sourdough (s). So you can look forward to many new and delicious bread recipes with sourdough, Lievito Madre and a little yeast! 
Product information
Title: FOR THE LOVE OF BREAD - Time for good bread
Author: Sonja Bauer
Editor: COOKIE "Heart Made"
Date of publication: 10.12.2021
Hardcover, 312 pages
Format: 20.5 x 2.8 x 26.6 cm
over 65 recipes, approx. 150 color photos
Price: € 29.90
ISBN: 978-3-9823514-07
Available here:
Time for good bread
By the way, the subtitle Time for Good Bread has a deeper meaning. The book was not only created out of For the love of Bread, but the chapters are arranged according to the chronological sequence of the recipes. Depending on how much time is available, the recipes can be searched for in the appropriate chapter. All recipes are therefore listed in full in the table of contents and can be found quickly. The chapters are divided into "Same Day Bake" recipes for bread that is ready on the same day of preparation, recipes with simple preparation and dough processing overnight at room temperature, recipes with long dough processing in the refrigerator, recipes with time-consuming preliminary stages such as poolish or sourdough and (as is well known, the best comes at the end) sweet recipes made from yeast dough - with and without Lievito Madre. In addition, the bread baking book contains a detailed chapter with basic knowledge on the subject of bread baking - from the ingredients to the preparation of the dough to baking.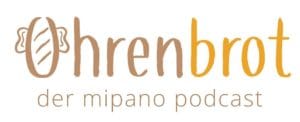 Podcast episode with a review of my bread-baking book "FOR THE LOVE OF BREAD"
My bread baking book
Incidentally, I published the book myself. In other words, everything is decided and selected from scratch, from paper to printing to sales. Incidentally, several publishers have already made me offers to write a book. Most of the suggestions didn't appeal to me. But I can tell you so much that I haven't turned down all of the offers 😉. With my own "heart-made" bread baking book, I didn't want to work towards a specific number of pages or to follow guidelines. My book is ready when everything I want in it is in it. Of course, here too you have to think rationally and economically and sometimes make compromises. And the paper crisis hit me hard too. Most of the book was designed and set by the end of July. At this point I would also like to thank my wonderful graphic designer Helene, who tirelessly and luckily crisis-proof has always implemented all my change requests. At this point (end of July) the paper had to be ordered from the printer so that you could can still hold the book in your hands punctually until Christmas. That's why I have to mention here: only while stocks last enough! If you're interested in the book, don't wait too long. A reprint should currently take a very long time. 
Brief description
FOR THE LOVE OF BREAD - This book pays homage to the love of good bread. The baking book contains over 65 bread recipes with practical step-by-step instructions and great attention to detail.
For every taste: from simple mixed breads to juicy wholemeal breads to Mediterranean pastries. Crunchy, healthy and delicious!
Clearly explained: a lot of basic knowledge to look up | Baking with sourdough, Lievito Madre & a little yeast | Step-by-step instructions | alphabetical register.
Ideal for everyday use: Chapters sorted by time spent. Sometimes with little effort or practical overnight cooking up to long cold dough processing. It's always like that ...TIME FOR GOOD BREAD!
Here is a little preview of what you can expect in the book ...
🍀 Competition 🍀
Here is the promised competition. The condition to take part in the competition is: Comment here under this blog post which is your personal favorite bread from my blog.
The competition starts today on October 31, 2021 and ends on November 3, 2021 at 6 p.m. Anyone over the age of 18 residing in Germany or Austria can take part. The prize draw is carried out by lottery. The winners will be informed by email and have 48 hours to accept the prize. If this deadline expires, a new winner will be drawn. The judges' decision is final. A cash payment is not possible. The prices will be sent out after the book's publication date (probably mid-December 2021). Much luck! ❤️️
The competition is over, the winners have been notified by email!