Today there is pure soul food! Swedish cinnamon buns. The last snails here on the blog were already over a year ago ... really now ?! Hard to believe how time flies. Of course, today's recipe is not an original, but rather a "Kanelbullar my way" version with significantly less yeast than usual ... ♥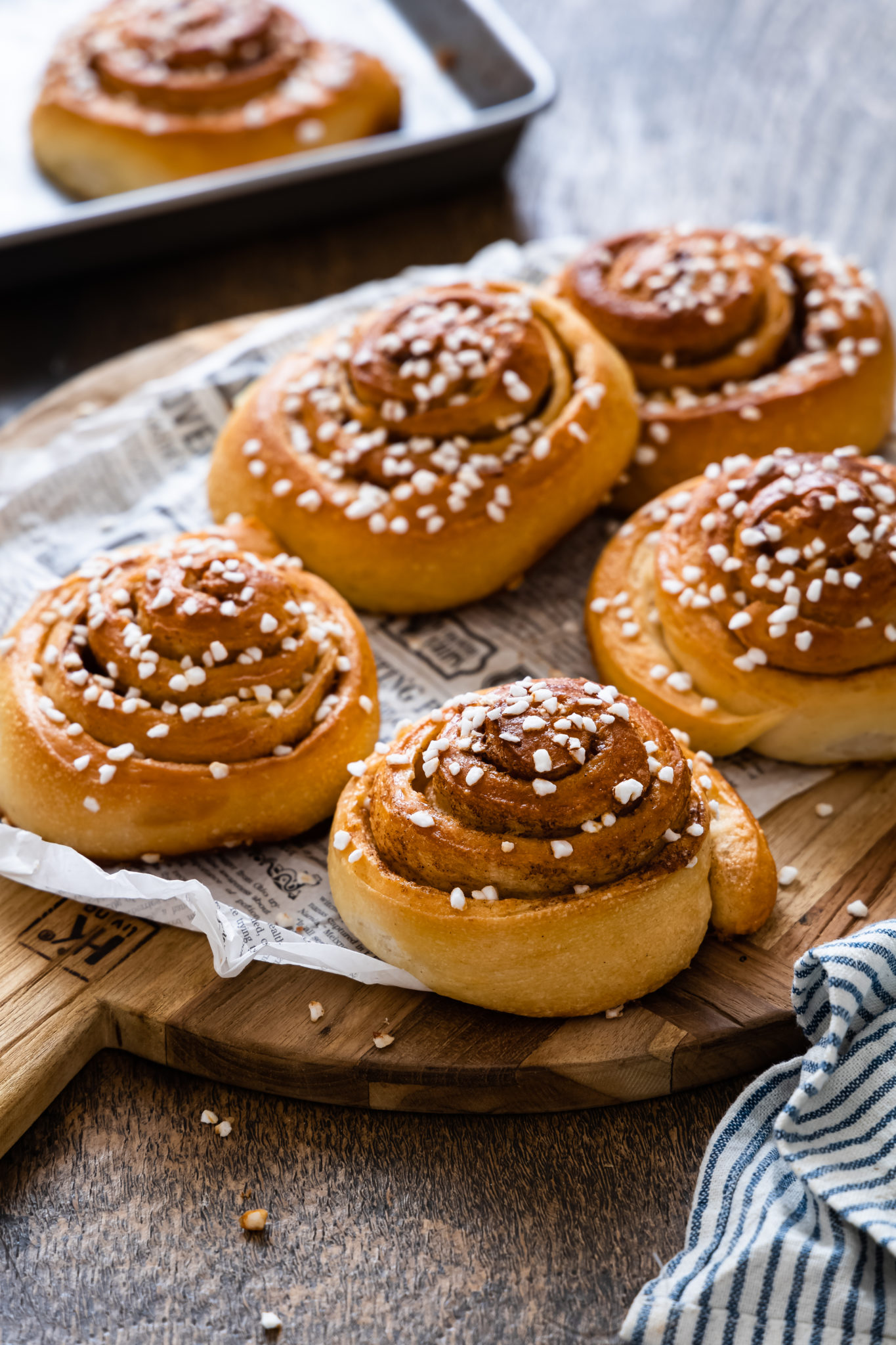 Swedish cinnamon rolls - a classic
Cinnamon rolls are the classic in the variety of delicious yeast rolls. In a very classic way, they were actually still missing here on the blog. By the way, Kanelbullar can be found on every corner in Sweden. They are practically part of the standard pastry. But whether it's Kanelbullar in Sweden, Cinnamon Rolls in the USA or cinnamon rolls here, they all have one thing in common: They are made of fluffy yeast dough with a delicious filling of butter, sugar and cinnamon. What distinguishes the Swedish variant, however, is the additional use of cardamom. Since 1999, an extra day has been dedicated to this pastry in Sweden. Every 4th October is "Kanelbullens dag". So the Swedes created the "Day of the Cinnamon Roll" especially for their favorite pastries. As far as I am concerned, every day could like to be cinnamon bun day.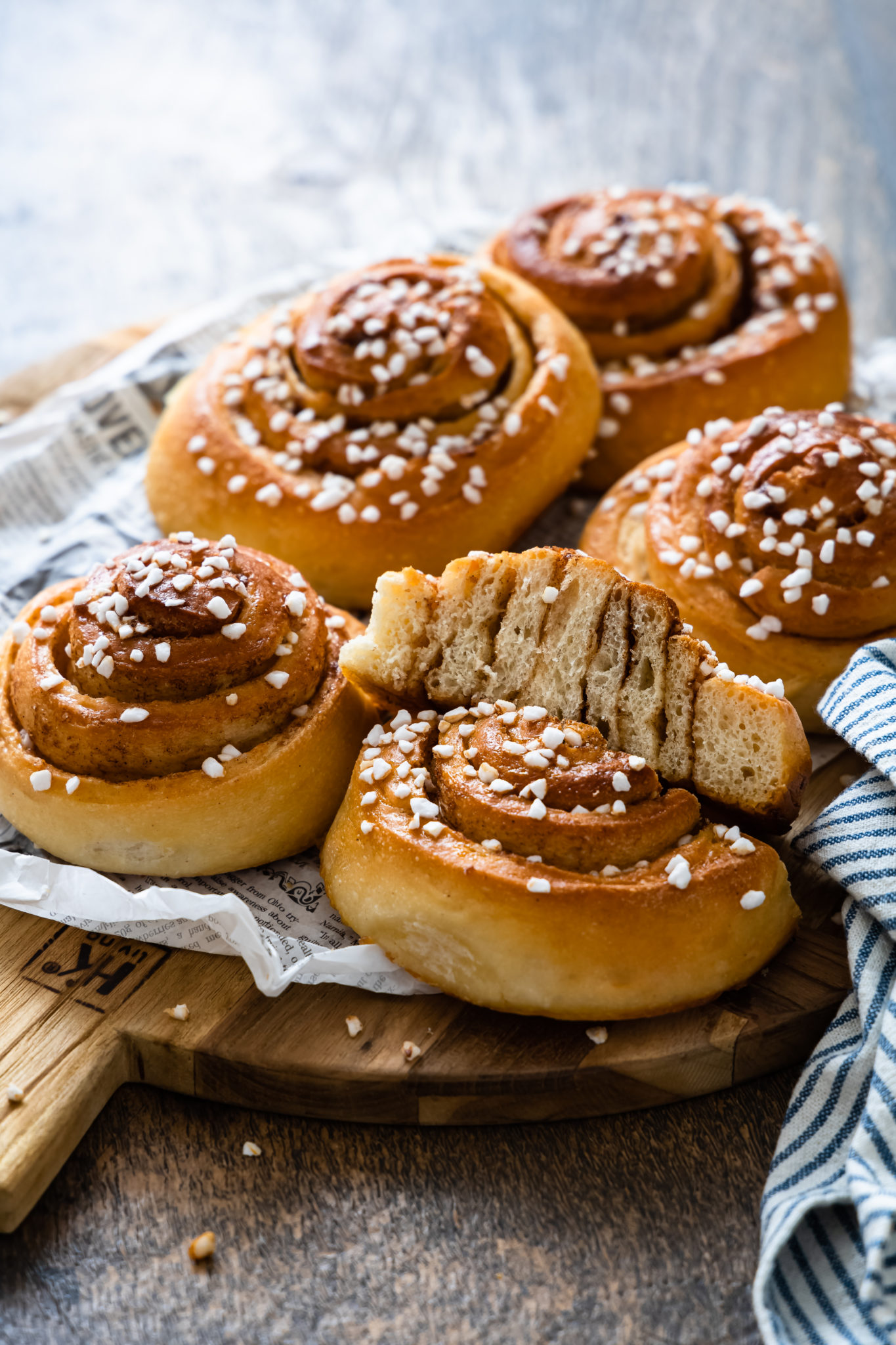 Yeast dough with Lievito Madre
As almost always with my sweet pastries, I have the yeast dough with a combination of Lievito Madre and a small amount of fresh yeast. This is how sweet yeast dough tastes best for me. For me, a little yeast just belongs in the dough. Otherwise I am missing something in terms of taste and after all it is also a yeast dough. But since I've been baking with very little or no yeast at all, I've become quite sensitive to the yeast taste. A little bit of yeast is enough for me personally. However, the recipe can also be baked with just Lievito Madre and without any yeast, if desired. How to do this is directly under the recipe. Incidentally, the dough is also great to use Overnight cooking prepare. This is my favorite and always very convenient in terms of time. In addition, the dough also has more time to mature, is even better tolerated and can develop a great aroma at the same time. If you don't have a Lievito Madre, you can use a little more yeast instead. As always, there are notes in the recipe. The amount of yeast for sweet yeast pastries is still absolutely within limits - at least for me.
Are you looking for other recipes for sweet yeast dough snails? Then take a look here:
My list of yeast pastries has become quite long and will definitely be a lot longer. So feel free to take a look at mine Recipes for sweet yeast pastries around. Homemade yeast pastries are simply a wonderful and very versatile thing! All recipes are an absolute delight! And before I water your mouth any more, let's go to the recipe for these delicious cinnamon rolls ... ♥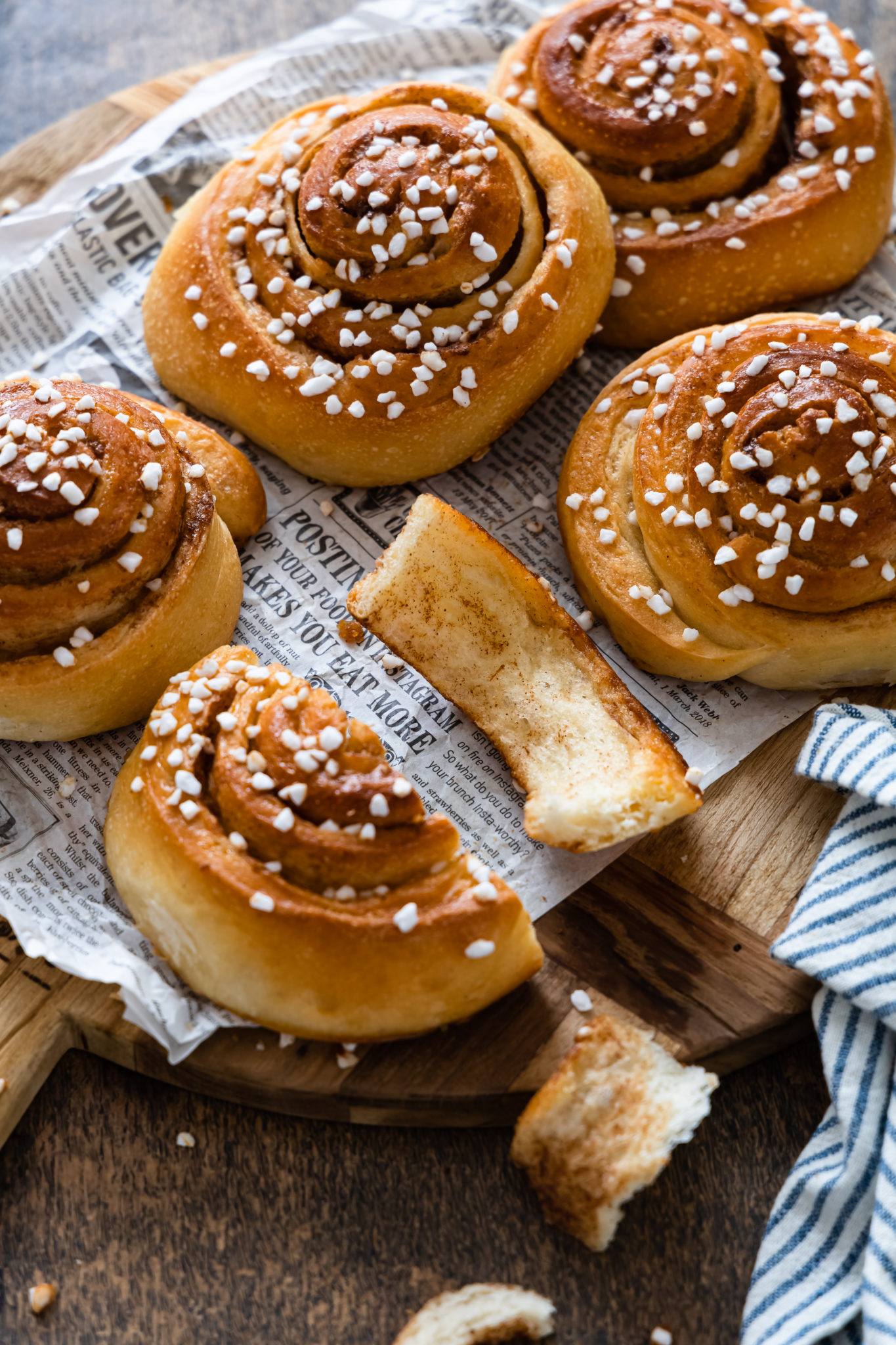 Print
Swedish cinnamon buns
Print recipe
Share recipe
It can also be prepared yeast-free, see note.
Prep Time:


50 minutes

Cook Time:


5 hours 10 minutes

Total Time:


6 hours

Yield:


12 pieces

Category:


Dessert, pastries, yeast pastries, cakes, sweets

Cuisine:


American, American, German, German
piece
dough
450 g

Wheat flour type 550

70 g

sugar

5 g

fresh yeast

75 g

Lievito Madre, refreshed (alternatively

5 g

fresh yeast +

50 g

more flour + 25 more milk)

250

–

280

g milk (depending on the flour)

1

Teaspoon vanilla extract (or

1

prize ground vanilla)

1

Egg (size M)

70 g

Butter, in pieces (cool, but not hard)

5 g

salt
optional some cardamom
filling
90 g

very soft butter

60 g

Brown sugar

1

Tbsp cinnamon (Ceylon cinnamon)

1

Msp. Cardamom
Additionally
1

whisked egg

1

pinch of sugar

1

pinch of salt
Granulated sugar
Instructions
dough
Knead all the ingredients for the dough, except for the butter and salt, for 10 minutes at a slow speed.
(Depending on the flour and the size of the egg, use the smaller amount of milk first and add milk if necessary.)
Then knead into a smooth dough for another 5-8 minutes at high speed.
At the end of the kneading time, add the butter and salt and, if necessary, the rest of the milk in portions.
Stock cooking
Bake variant on the same day:
Cover and let ripen for 3-4 hours at room temperature (20-22 ° C) or for about 1.5-2 hours at 25-27 ° C.
The dough should have doubled in size.
Cold overnight cooking variant:
Alternatively, let it start for about 1 hour at room temperature and then let it mature in the refrigerator for 10-12 hours.
Let it acclimate the next morning for 1-2 hours.
To fill
Place the dough on the lightly floured work surface and roll it out gently into a rectangle of around 30 × 40 cm to 40 x 50 cm.
Avoid applying too much pressure when doing this.
Spread the softened butter evenly on the rolled out dough.
Mix the spices, sugar and salt and sprinkle evenly over the top.
Roll up the dough from the long side.
Cut into 12 equal pieces and distribute on one or two baking sheets lined with baking paper / baking foil.
For round snails it is best to use 2 trays for snails that are baked together as with Cinnamon Rolls, one tray is sufficient.
Piece cooked
Cover and allow to cook for about 90-120 minutes.
During this time, preheat the oven to 180 ° C top / bottom heat (160 ° C hot air / circulating air).
Whisk the egg with a pinch of sugar and salt before baking.
Brush the dough pieces with it and sprinkle with granulated sugar.
to bake
Then bake for approx. 15-20 minutes at 180 ° C top / bottom heat (160 ° C hot air / convection) of the oven. It is best not to bake too dark. (If you have two trays, it may be best to bake one behind the other.)
Notes
PREPARATION WITHOUT YEAST
For the preparation without yeast I recommend the 5 g fresh yeast in the list of ingredients by approx. 75 g of freshened madre to replace.
For that then 50 g flour and 25 g milk subtract from the recipe.
It is best to refresh Madre twice beforehand for a good driving force.
The walking times can be slightly longer. In any case, tend to be based on the longer specified times.
DOUGH PREPARATION IN THE THERMOMIX
The ingredients should be as cold as possible out of the refrigerator.
All ingredients (except salt and butter) for 5 min. | Knead the dough stage.
For 3-5 min. | Continue kneading the dough setting, adding salt and butter in portions through the lid opening.
Keywords: Cinnamon Rolls, yeast-free, yeast pastries, yeast rolls, yeast dough, yeast particles, Kanelbullar, cardamom, children, biscuits, Lievito Madre, Lievito naturale, LievitoMadre, quark, snails, T55, Taler, Thermomix, Tm31, TM5, TM6, , little yeast, winter, cinnamon, cinnamon rolls