Today I brought you a new recipe for rolls: my world champion rolls. These are wonderfully crispy, juicy and hearty rolls with seeds and whole grains. Overall, a relatively quick and uncomplicated recipe. These delicious grain rolls convinced even the last wholemeal grouch ... ♥ 
Weltmeisterbrötchen - juicy & tasty
The Weltmeisterbrötchen are a fairly spontaneous recipe development and also happen to be ideal for spontaneous baking campaigns. The maturing times are relatively short and the result is still great. Sometimes (days) long walking times and preparations just don't fit into the schedule - everyone knows it. Sourdough or madre from the refrigerator as well as a broth with oat flakes and a seed mixture provide a delicious aroma. Poppy seeds, sesame seeds and sunflower seeds round off the whole thing with their great nutty flavors. For a long time there has been a multiple desire in the readership for grain rolls. So I've had it on my to-do list for far too long anyway. In addition, there was a spontaneous request from my dear Jenny (part of the admin team of mine Facebook group) to reissue my "old world champion roll recipe" - the small world champion buns overnight from the brownie form. After all, the recipe is already a good three years old and so I thought now or never ...
Whole grain bread rolls
These grain buns taste really great, they could easily become my favorite bun right now. I also like it a little more rustic or hearty for breakfast. But these world champion rolls are also a stunner for dinner! Even Mr Cookie and Co was totally enthusiastic, although he usually tends to be a group when it comes to rolls Milanese roll heard or similar. These rolls don't taste heavy, compact, dry or boring either. On the contrary: Very juicy, light, fluffy and really tasty. The practical thing about it: They can be prepared relatively spontaneously and at the same time sourdough from the refrigerator can also be used and is then also a great flavoring agent. They have become refreshing rolls, so to speak, just like my delicious ones Malt grains with eclats.
If you want to use less yeast, simply extend the walking times or use refreshed yeast sourdough or Lievito Madre. Of course, pre-stages and long (cold) cookings have their purpose and I'm a huge fan of them! But sometimes it just has to go faster. Have fun baking ... ♥
Print
World champion bun | Grain rolls with wholemeal content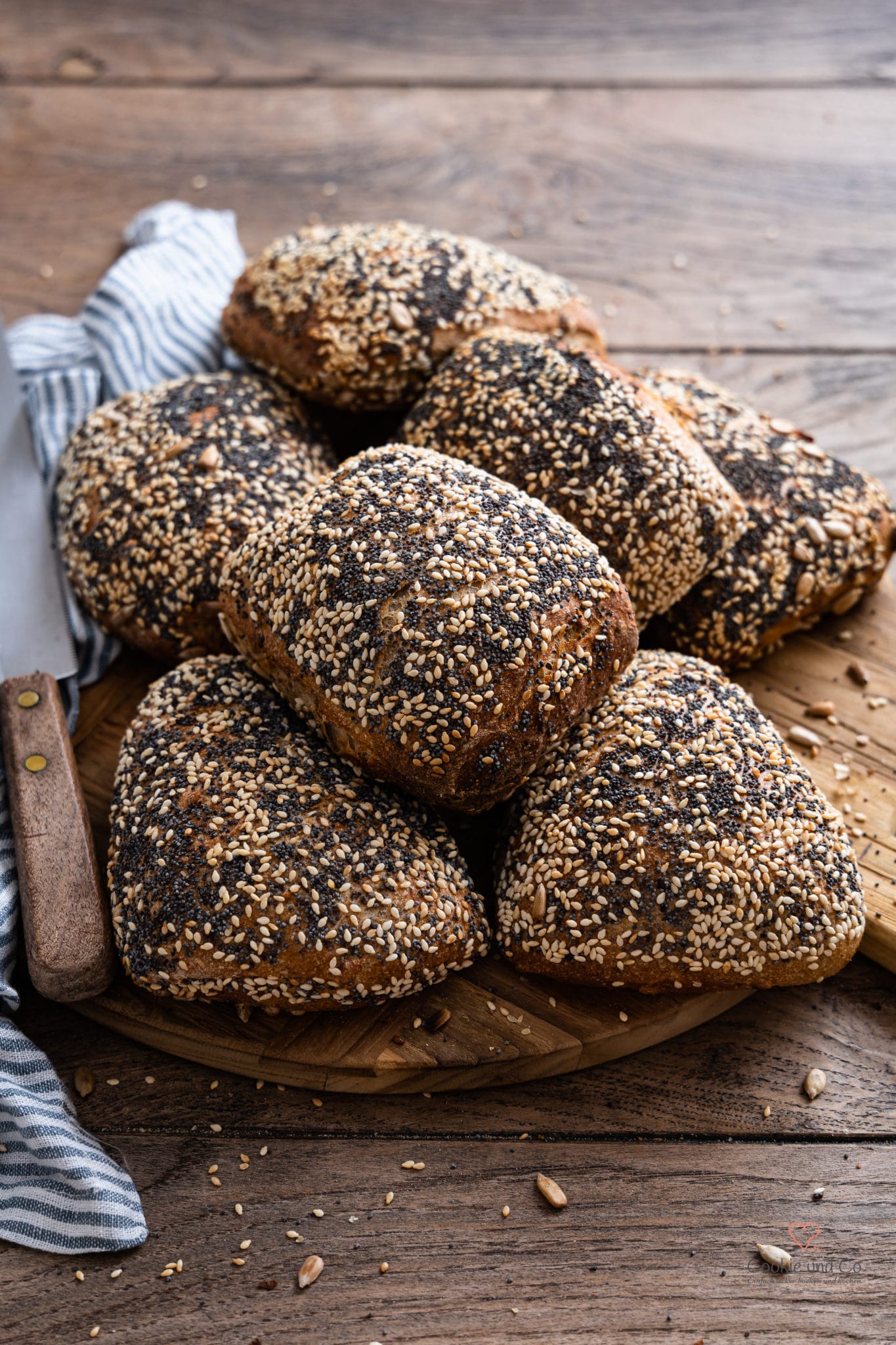 Print recipe
Share recipe
For baking without sourdough or with less yeast, see note.
Prep Time:


5 hours

Cook Time:


30 minutes

Total Time:


4 hours 30 minutes

Yield:


9 large rolls

Category:


Dinner, side dish, bread roll, breakfast, snack

Cuisine:


German - German
piece
Autolysis dough
300 g

Wheat flour type 550 (or wheat flour with similar grinding / W700)

100 g

Whole Wheat Wheat Flour (I: Red Wheat Wheat)

180 g

water

100 g

Yogurt (or a plant-based alternative)
Main dough
Autolysis dough

100 g

Wheat or rye sourdough (from the refrigerator) (alternatively

75 g

Lievito Madre (from the fridge) +

25 g

Water)

50 g

Whole grain rye flour (e.g. light grain rye or forest perennial rye)

10 g

Beet syrup or honey

5 g

fresh yeast

20 g

Water if necessary

10 g

Butter or vegetable oil

12 g

salt
Breakfast
50 g

mixed seeds (I: sunflower seeds, sesame seeds, flax seeds, pumpkin seeds)

20 g

fine oat flakes

100 g

Water, boiling
Additionally
Sesame, poppy seeds, sunflower seeds
Instructions
Breakfast
Pour the boiling water over all the flakes and seeds for the broth and mix well.
Let cool uncovered and stir from time to time. The brewing piece should be at room temperature after standing.
It is best to start just before the autolysis dough.
(If you have enough time, you can do it earlier, then cover it up.)
Autolysis dough
Mix the water, yoghurt and wheat flour briefly but thoroughly.
If the autolysis dough is too firm, add 10-30 g of water.
Let rest for 30-60 minutes for autolysis.
(Depending on the time available.)
Main dough
Add the sourdough (or Lievito Madre + water), whole grain rye flour, yeast and beet syrup / honey to the autolysis dough.
Knead on slow speed for about 8-10 minutes.
The batter shouldn't be too soft, however, as the broth comes in later and releases a lot of moisture. .
Add salt and butter / oil and knead for about 3-5 minutes at high speed.
Then mix in the broth briefly at a slow kneading speed.
Stock cooking
Cook for about 3-4 hours at room temperature (20-22 ° C).
After 1 and 2 hours stretch & fold (coil fold, Video here).
The dough should have doubled or doubled.
Alternatively for those in a hurry:
For 1.5-2 hours at approx. 25-27 ° C Stock cooking place.
After 30 and 60 minutes stretch & fold (see video).
to shape
Cut out 9 angular dough pieces on the lightly floured work surface, if possible without forcing air out of the dough. 
If necessary, carefully slide the dough card into shape again.
Prepare a flat plate / bowl with sunflower seeds and one mixed with sesame + poppy seeds.
To moisten the dough, it is best to have a plate with a little water-soaked kitchen roll or a wet cloth ready (microfiber cloth works well).
Moisten the dough pieces on one side and carefully press them into the sunflower seeds.
Then moisten the other side as well and press into the side in the sesame-poppy seed mixture.
Dough pieces with the sunflower seeds facing down on one Baking mat/ Spread baking paper or a perforated tray.
(This allows the dough pieces to be pushed onto the hot baking tray / tray.)
Possibly push the dough card into shape again.
Piece cooked
Cover and cook for about 40 minutes at room temperature (20-22 ° C).
to bake
Preheat the oven in good time to 240 ° C top / bottom heat (or 220 ° C hot air / convection), ideally together with a baking iron or an upturned tray.
If necessary, gently push the dough pieces back into shape with the dough card.
Spray with a little water before shooting in.
Bake for about 20-22 minutes.
Immediately at the beginning vigorous steam (water vapor).
After 10 minutes, open the oven door to let the moisture out.
Depending on the oven, lower the temperature to 200-210 ° C top / bottom heat (or 180-190 ° C hot air / circulating air).
After baking, let cool on a wire rack.
(The world champion rolls are also great to freeze.)
Notes
Variations:
With freshened up Sourdough or Lievito Madre are enough 2-3 g of yeast
Without Sourdough or Lievito Madre use approx. 50 g water and 50 g rye or wheat flour + 2-3 g more yeast.
KNEAD IN THE THERMOMIX:
Autolysis dough: Mix water, yoghurt and wheat flour for 1 min./dough kneading setting, then place in the refrigerator for 30-60 minutes.
Main dough: Add sourdough (or Lievito Madre + water), rye wholemeal flour, yeast and beet syrup / honey to the autolysis dough, knead for 4-5 minutes / dough level.
Add salt and butter / oil, knead for 30-60 seconds per dough setting.
It is best to knead in the stock by hand and add the rest of the water if necessary.
Overall, the dough shouldn't be too soft. 
Keywords: Alpine rye, instructions for sourdough, refreshing rolls, refreshing rolls, refreshing recipe, wholemeal spelled, fitness, oat flakes, yoghurt, grain rolls, Lievito Madre, poppy seeds, Oberkulmer red grain, rye, wholemeal rye flour, sesame, sunflower seeds, whole grains, whole grains