Today I have brought you a wonderful, hearty and very tasty bread recipe, my WaldNuss bread. A real muscle man with a lot of (forest rye) whole grain flour and walnuts, which fills you up for a long time and just goes well with autumn. The preparation couldn't be easier. This loaf of bread is very juicy, has a great aroma and is wonderfully fresh ... ♥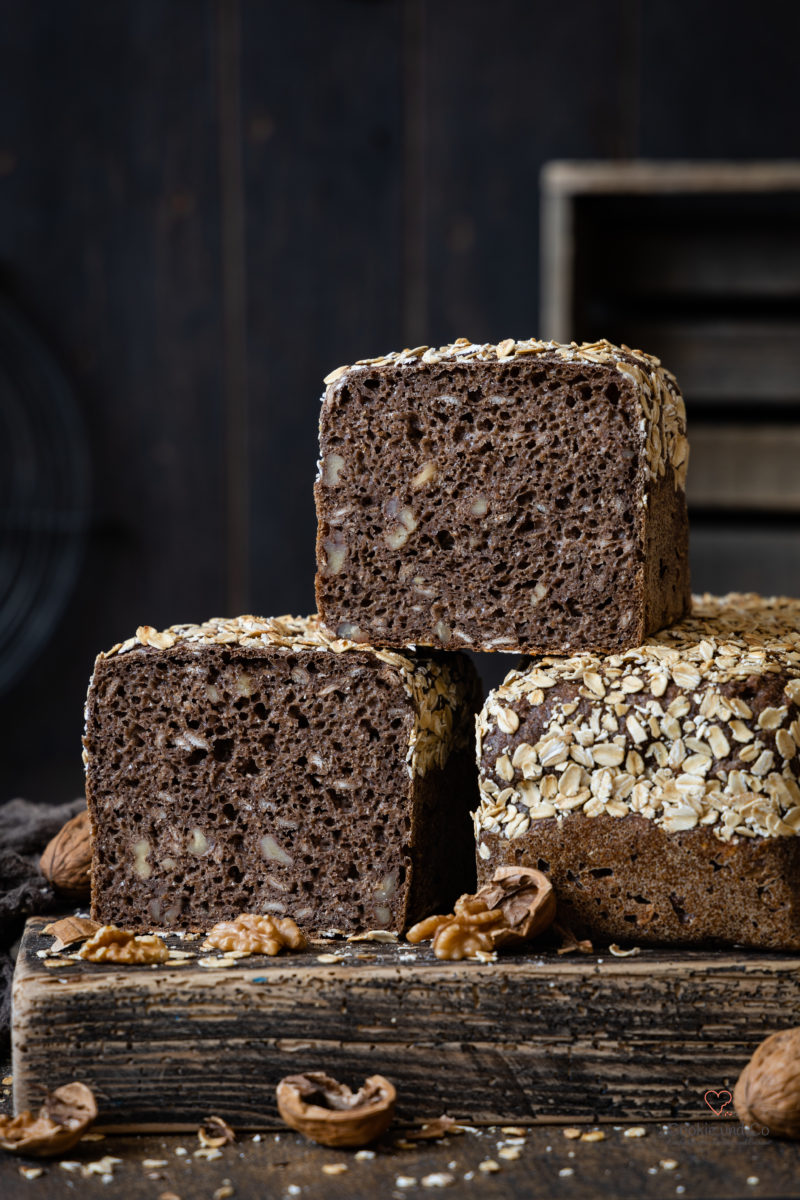 WaldNuss Brot - a muscle man
Lots of whole grain rye flour, a good portion of oat flakes and also healthy walnuts make this bread not only very tasty, but also a real powerhouse and filler!
I ground my perennial rye myself, it just tastes best for me personally. Rounded off with Ruchmehl and a little rye malt, the WaldNuss bread is an ideal autumn bread for me. Nice and strong, aromatic, nutty and totally delicious! Because when it gets cold and uncomfortable outside, stronger and hearty breads come back to our table.
During the week I particularly like to bake box loaves because they are square, practical, good. And therefore perfect for the kids' lunch box and as a healthy snack for school. (And the maternal conscience is also calmed down a bit when whole grains are also involved.)
Delicious is that easy
By the way, the recipe for this WaldNuss bread is based on mine Original grain bin developed. This time, instead of spelled malt flakes, this time we use grainy oat flakes, which can be roasted beforehand if desired. This intensifies the nutty aroma of the bread even more. The spelled malt flakes would also fit perfectly here, but on the one hand I felt like eating oat flakes and on the other hand I had to use up the supply of crispy oat flakes.
The actual working time is really short with this bread. Whenever I find that our supply of bread is running out and we need bread, this type of box bread is prepared. Over time, some favorite variants have emerged, which will gradually appear here on Cookie and Co.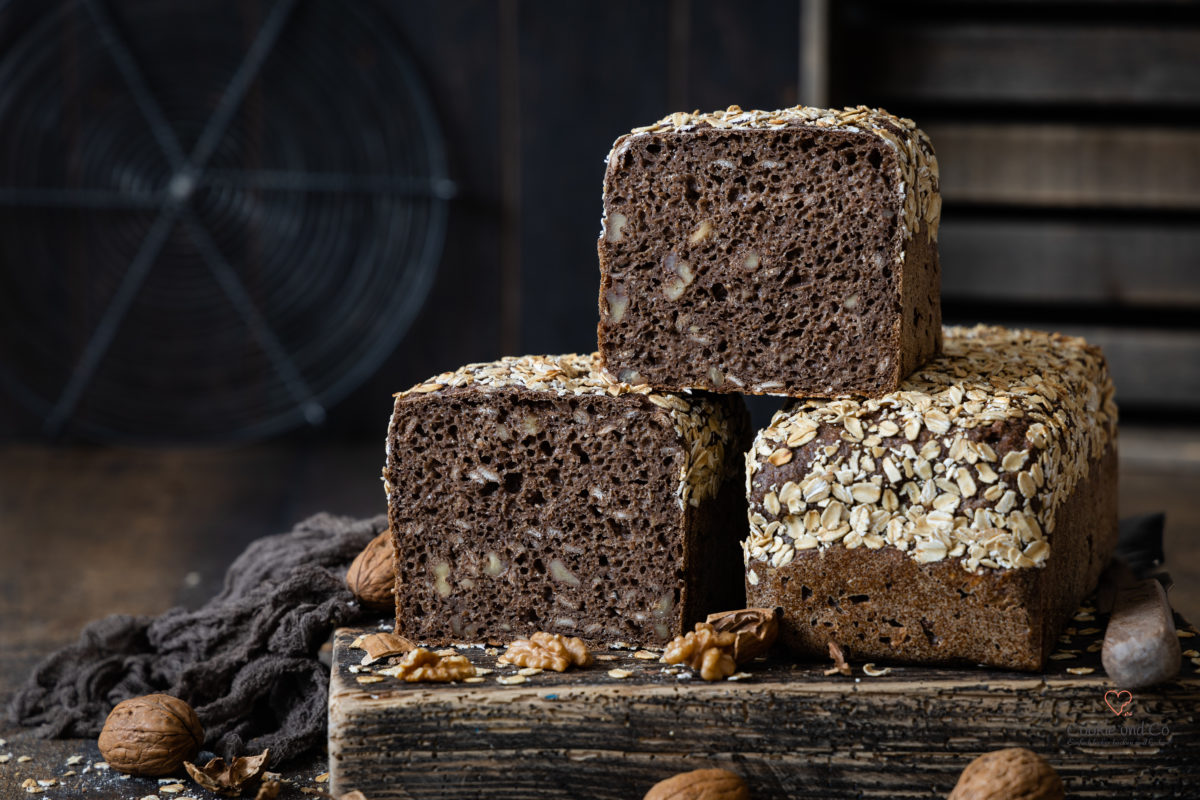 Simple loaf of bread with overnight cooking
But here on the blog you will find a whole range of such very simple bread crates with overnight cooking. Super easy and practical when there is little time or leisure to bake. Maybe you would like to try one or the other recipe:
My conclusion
I just love this box of bread. The ingredients are mixed in no time and the long maturing time with very little sourdough gives the bread a great aroma. It is also very juicy and has a very good freshness. What more do you want? So ... definitely try it out, have fun baking ... ♥
Print
Forest Nut Bread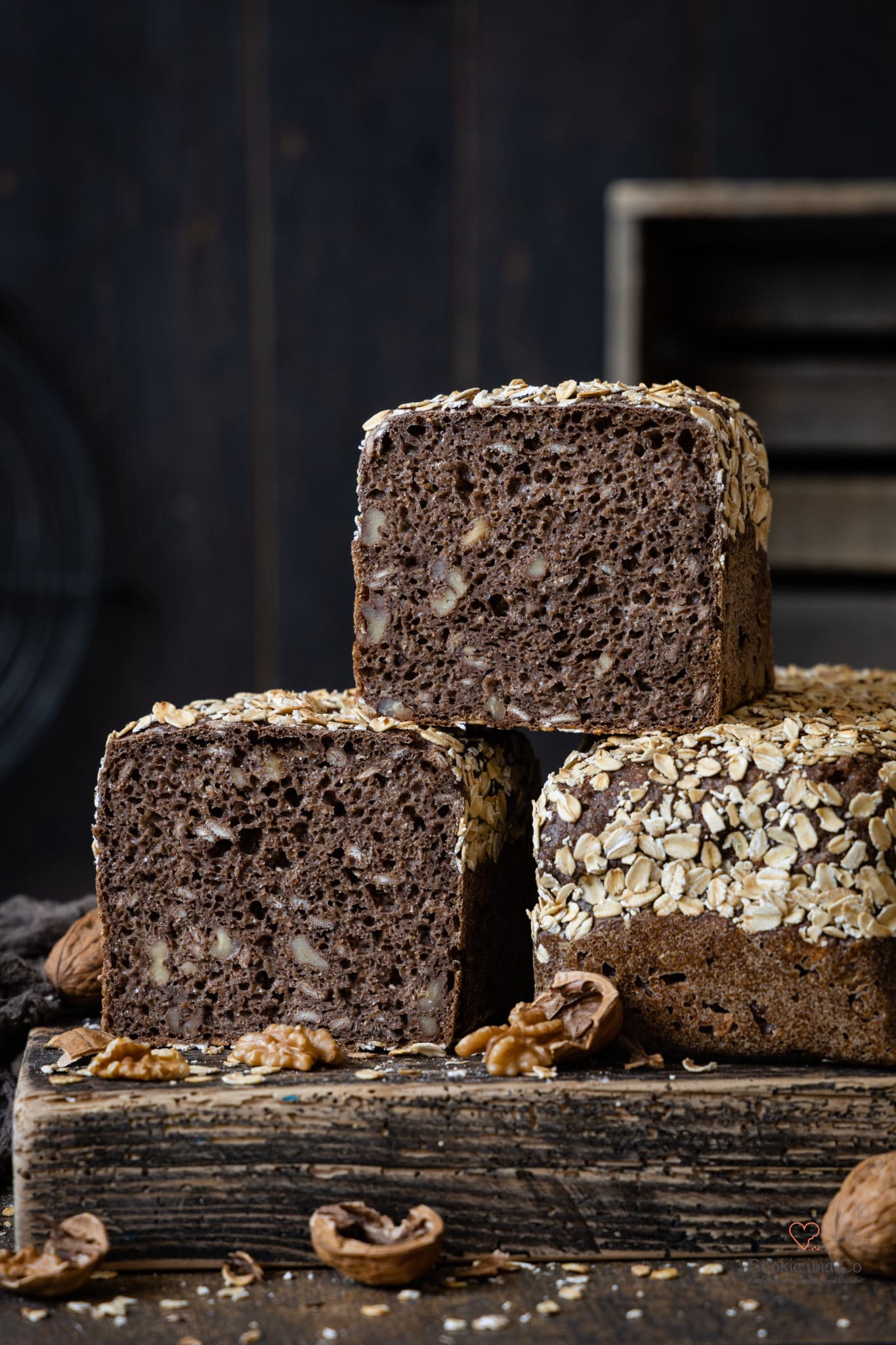 Print recipe
Share recipe
Prep Time:


10 mins

Cook Time:


11 hours 50 minutes

Total Time:


12 hours

Yield:


1 loaf from 1 kg bread mold

Category:


Dinner, bread, breakfast

Cuisine:


German - German
piece
dough
200 g

Ruch flour / wheat flour type 1050

300 g

Wholemeal rye flour, e.g. B. Forest rye

50 g

crunchy oat flakes, toasted (or other flakes of your choice)

30 g

Anstellgut vom sour dough (ASG) (very fit, otherwise preferred

20 g

refreshed sourdough)

425 g

Water (35 ° C)

125 g

Yogurt (vegan: soy yogurt or similar)

10 g

inactive baking malt or rye malt (optional)

10 g

Beet syrup (or honey (optional)

3 g

Aquaposa / ground psyllium husks (optionally something in addition Acerola powder)

12 g

salt

10 g

Walnut oil (the other oil)

80 g

Walnuts, roughly chopped (preferably roasted)
Additionally
Oat flakes (for sprinkling and for the mold)
Instructions
dough
Food processor:
Dissolve the items to be set in the water.
Add all the other ingredients for the dough except for the walnuts, oil and salt.
Mix for 4 minutes at slow speed in the food processor (if possible with the flat beater or flexible stirring element).
Add walnuts, oil, and salt and continue mixing for 1 minute on slow speed.
Thermomix:
Put the starter and water in the mixing bowl, 30 seconds | Mix level 3.
Add all other ingredients for the dough except for the walnuts, oil and salt, 2 minutes | Dough kneading stage.
Add walnuts, oil and salt, 1 minute / dough setting.
Cook
Grease the loaf pan or one suitable permanent baking foil interpret.
If necessary, sprinkle with flakes (with permanent baking foil, only the bottom will work).
Then distribute the dough in the baking pan.
Smooth out with a dampened spatula and sprinkle with plenty of flakes. (The loaf pan is half full.)
Cover and cook for 10-12 hours at 22-24 ° C.
At the end of the rising time, the dough should reach at least just below the edge of the loaf pan.
(The ripening time depends very much on the items to be staked, so it can be shorter or longer. Experience has shown that the fermentation takes about 8 hours for refreshed sourdough or extremely fit items.)
After the walking time, sprinkle again with flakes and spray with a little water.
to bake
Preheat the oven in good time to 230 ° C top / bottom heat (210 ° C hot air / circulating air).
Place in the preheated oven and bake for about 60-70 minutes.
After 10 minutes, lower the heat to 200 ° C (180 ° C hot air / circulating air).
After another 40 minutes, remove from the loaf pan and finish baking without the pan.
After baking, allow to cool completely on a wire rack.
(Gladly cut in on the next day.)
Notes
Size of the bread baking molds:
1 kg bread pan = approx. 23.0 x 11.0 x 9.5 cm
Keywords: Anstellgut, high-fiber, simple, oat flakes, autumn, box bread, grains, mazi, rye, wholegrain rye flour, red grain, Ruchmehl, sourdough, sourdough bread, fast, Thermomix, Tm31, TM5, TM6, cooked overnight, ancient grain, ancient grain, whole grain, wholegrain rye flour, Walnut, walnuts