Today I brought you my whole grain coward. The ideal whole grain bread for whole grain figs. Why? Because this bread is just great for every wholegrain fig or wholegrain grouch. Because nobody suspects that this light, airy and crunchy bread is a whole grain bread ... ♥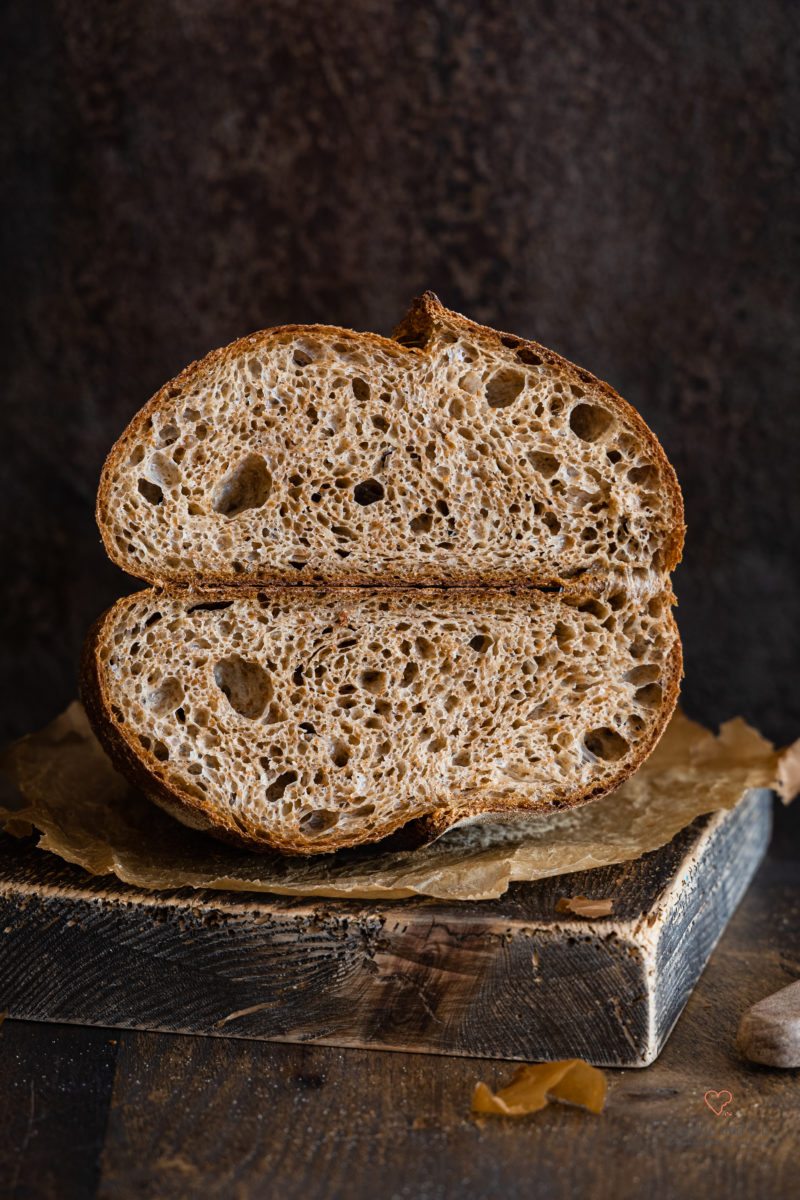 Wholegrain Figling - a mild wholemeal bread
The wholegrain fig is a very mild, very juicy and unusually fluffy wholemeal bread. It is made from Italian whole wheat Manitoba flour. That's why I also called this bread Pane Integrale. Really Italian and that's why I mainly prefer Italian wheat sourdough Lievito Madre driven. At first I baked it completely without yeast. In order to ensure success and reproducibility (especially for beginners), I ended up tinkering 1 gram of fresh yeast into the recipe. But I also wrote down the completely yeast-free version for you and also a version that only uses a little yeast. So once again you are spoiled for choice - I love it simple and flexible!
Wholemeal Manitobo - What is it?
The Whole Grain Manitoba Manitoba, a wholemeal flour made from elite wheat, a particularly gluten-strong type of wheat. I experimented with whole grain Manitoba flour for this recipe for the first time.
I didn't expect such a fluffy, fluffy crumb myself with whole grain Manitoba flour! The crust is wonderfully crispy and it has turned out to be an all-round great bread. Just perfect for cheating my kids a good portion of whole grain bread into the lunch box for school.
Because at first nobody believed that this bread is pure whole grain bread. When it comes to eating, it has at most the appearance of a wholegrain mixed breed. The crumb is very juicy and elastic - far removed from the dry and bland wholemeal bread image. It also tastes very pleasantly mild and aromatic. In addition, this bread has very good freshness. And don't worry, despite the sticky manitoba flour, it won't get a bit rubbery. Now I wish you a lot of fun baking and I am very curious to see what experiences you will have with this flour ... ♥ 
Print
Wholegrain Coward - Pane Integrale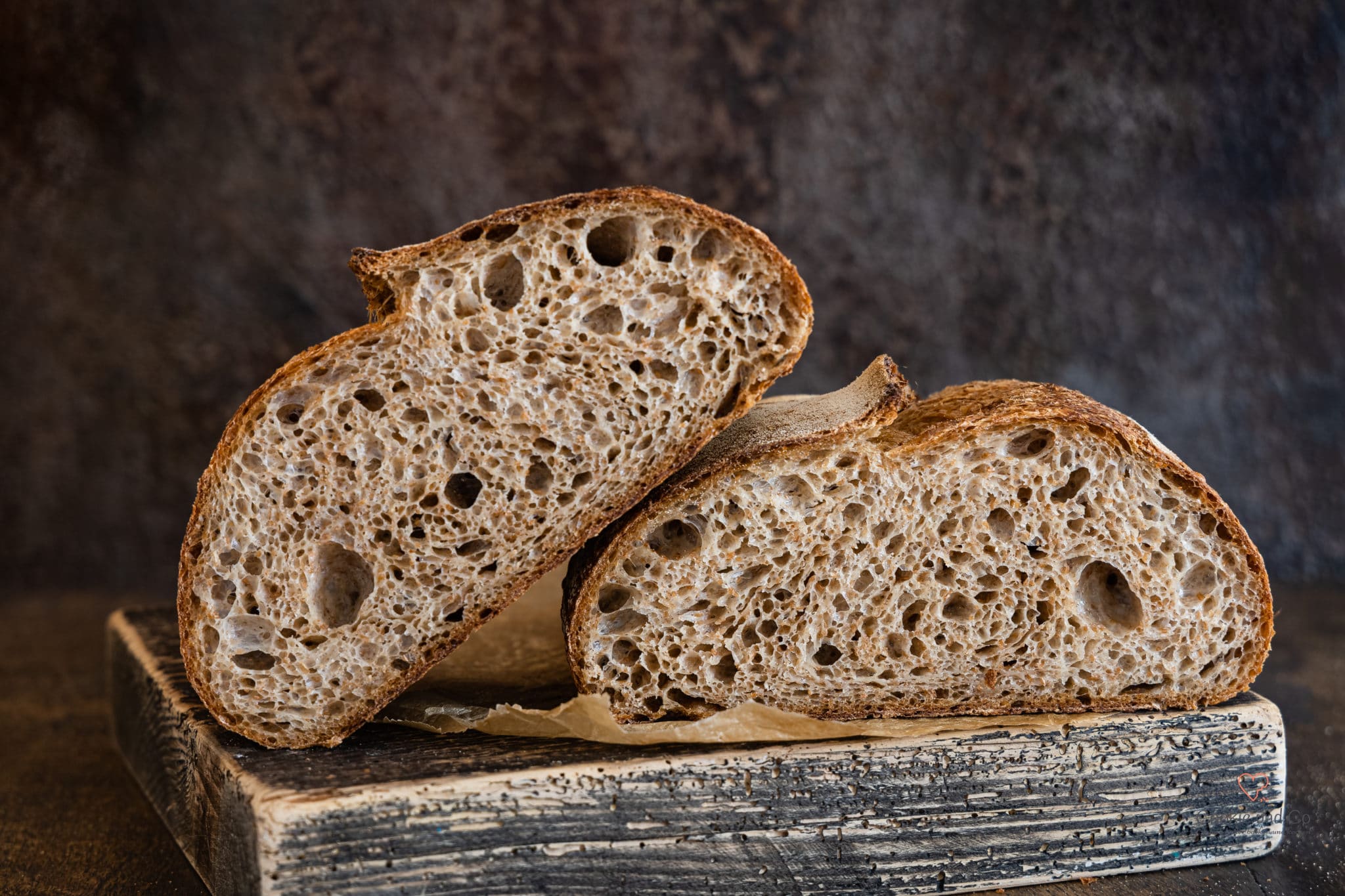 Print recipe
Share recipe
For the version entirely without yeast or only with yeast See note.
Prep Time:


30 minutes

Cook Time:


38 hours 50 minutes

Total Time:


39 hours 20 minutes

Yield:


1 bread (s)

Category:


Dinner, side dish, bread, breakfast, snack

Cuisine:


deutsch, german, italian, italian
piece
Autolysis dough
500 g

Whole Wheat Manitoba Flour ((e.g. this) or strong wholemeal wheat flour | alternatively "normal" whole wheat flour (the result is different)

400 g

Water (| with "normal" whole wheat flour first

380 g

)
Main dough
Autolysis dough
90 g Lievito Madre, 1-2 times refreshed ((I: refreshed with whole grain Manitoba flour))

1 g

fresh yeast

10 g

Honey (or beet syrup)
optional: 1 pinch of vitamin C powder (or about ½ tsp Acerola powder)

14 g

salt

10 g

olive oil

60 g

Water (| with "normal" whole wheat flour possibly omit)
Instructions
Autolysis dough
Mix the water and flour briefly but thoroughly.
Covered for 2 hours Autolysis let rest.
Main dough
Knead the autolysis dough, Lievito Madre, if necessary yeast & Vit. C as well as honey for about 8 minutes at slow speed.
Add salt and olive oil, knead at high speed for another 3-5 minutes. Gradually add the remaining water (up to 60 g). The dough must be kneaded well (window test! see video).
(The kneading time can vary slightly depending on the kneader / food processor.)
Stock cooking
For 2 hours at room temperature (20-22 ° C) Stock cooking place.
Laminate after 1 hour (see video).
After 2 hours stretch & fold (see video).
Then place in the refrigerator at 5 ° C for 12 hours. (At approx. 8 ° C it is about 8 hours.)
Forms & piece cooked
On the floured work surface (without Acclimatize) loosely round. With the end down, let it relax for 20 minutes.
Then shape gently (!) But with tension long or round.
Put the end up in a floured proofing basket.
Covered well in the refrigerator (5 ° C) for about 24 hours Piece cooked place. (At around 8 ° C, it is around 18 hours.)
to bake
Preheat the oven to 250 ° C top / bottom heat in good time, together with a large cast pot, baking steel / tray or baking stone, depending on the case.
Baking in the pot:
After the rising time, turn the dough into the hot pot and close the lid. Bake for a total of 50 minutes. After 20 minutes of baking time, lower the temperature to 220 ° C. Remove the lid after another 15 minutes.
Bake released:
Bake for a total of 50 minutes. Immediately at the beginning swath (Steam). After 10 minutes, open the oven door to drain the moisture and lower the temperature to 210-220 ° C. Depending on the oven, switch to hot air for the last 5-10 minutes or leave the door ajar.
After baking, let cool on a wire rack.
Notes
Yeast-free method:
For the yeast-free variant as a whole 120 g Lievito Madre use. Refresh them 2 or better 3 times beforehand!
Method without Lievito Madre:
Instead of the Lievito Madre, a total of 2 g of fresh yeast (a total of 3 g) can be used. In the autolysis dough then additionally 60 g Whole grain Manitoba flour (Wholemeal Manitobo) and 30 g of water give.
KNEAD IN THE THERMOMIX:
Autolysis dough: Mix 1 min./dough kneading setting. Then put in the refrigerator.
Main dough: Knead autolysis dough, Lievito Madre, if necessary yeast & Vit. C as well as honey for 4 minutes / kneading stage.
Then add oil, salt and water and knead for 2-3 minutes / dough level. Check dough kneading in good time (window test) and rather knead in stages. 
Keywords: bake, bread, simple, yeast, integral, Italian, Italian sourdough, long dough, Lievito Madre breeding, Lievito naturale, LievitoMadre, long fermentation, Manitoba, Manitobo, open crumb, Pasta Madre, PastaMadre, overnight cooking, whole grain, whole wheat flour, little yeast
Window test (gluten development test)
Laminate
stretch & fold