Today I have a wonderful, hearty, healthy and delicious bread recipe for you: my original grain bin. A small muscle man with a high proportion of whole grains that will keep you full for a long time. The preparation couldn't be easier and does not require the addition of yeast. The actual working time is also only a few minutes. This loaf of bread is super juicy, has a great aroma and excellent freshness ... ♥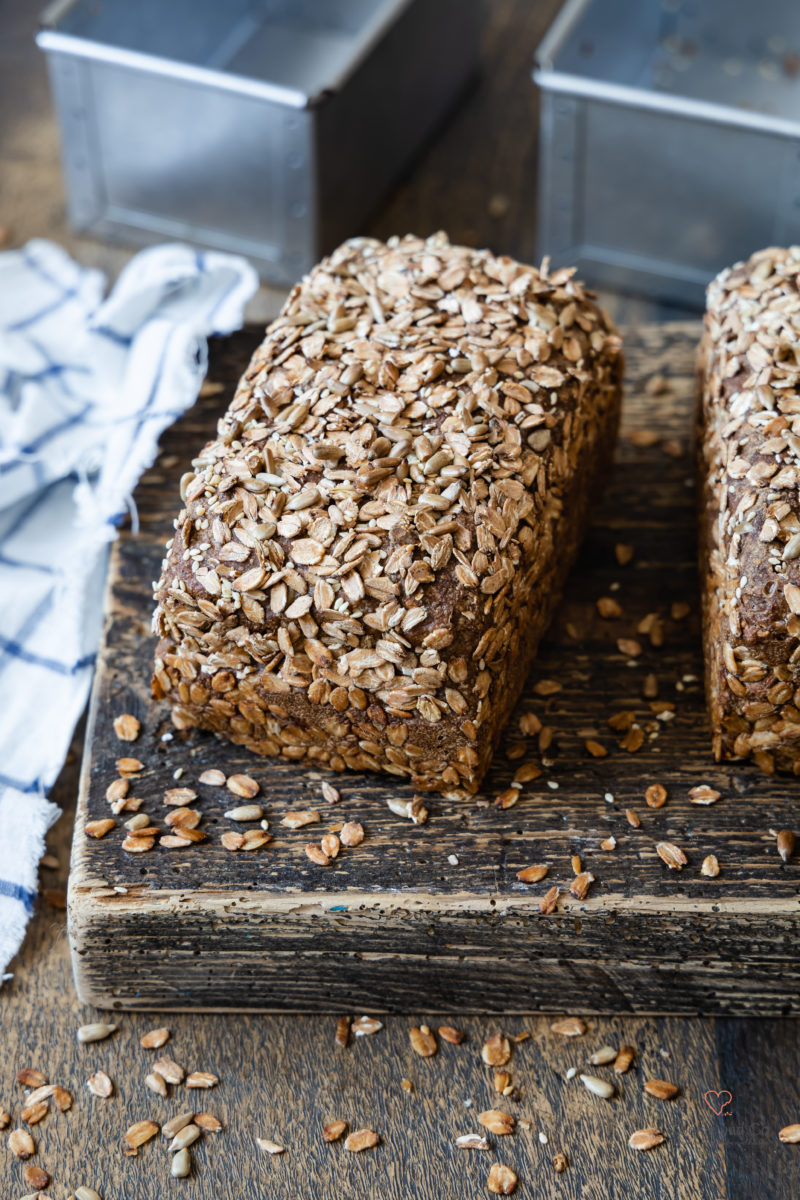 The original grain bin
By the way, the recipe for this original grain bin is based on mine Grain box from 2018. I've baked my original grain bin a few times since last summer. In principle, it has become our bread and butter, so to speak. Whenever I find out that the freezer is no longer offering too much and we need bread, this recipe is made. Over time, a kind of favorite variant has emerged that I would like to make available to you today.
Urkorn, what is it actually?
Old grain varieties are, so to speak, the forefathers of today's high-performance wheat. In the Middle East, people started growing ancient grains such as einkorn or emmer around 10,000 years ago. At first, grasses such as wild einkorn and wild emmer were cultivated. Wildemmer in particular is the ancestor of today's cultivated wheat. Urkorn is a collective term for all old types of grain. This includes varieties such as original spelled, emmer, einkorn and forest perennial rye, but also kamut, yellow wheat or red grain wheat. You certainly know these types of grain or have even baked them at home and with them. For me, breads made with ancient grain always have a very special flavor.
Simple bread crates with overnight cooking
At Cookie and Co you will find a whole range of the simplest bread crates that cook overnight. Maybe you would like to bake a few times:
My conclusion
I just love this box of bread. The ingredients are mixed in no time and the long maturing time gives the bread a great aroma. It is very juicy and has great freshness. What more could a man or a woman want? In addition, it can be wonderfully modified over and over again. Not only the types of flour can be exchanged as required, but also the flakes or seeds. Now I wish you a lot of fun trying it out ... ♥
Print
Original grain bin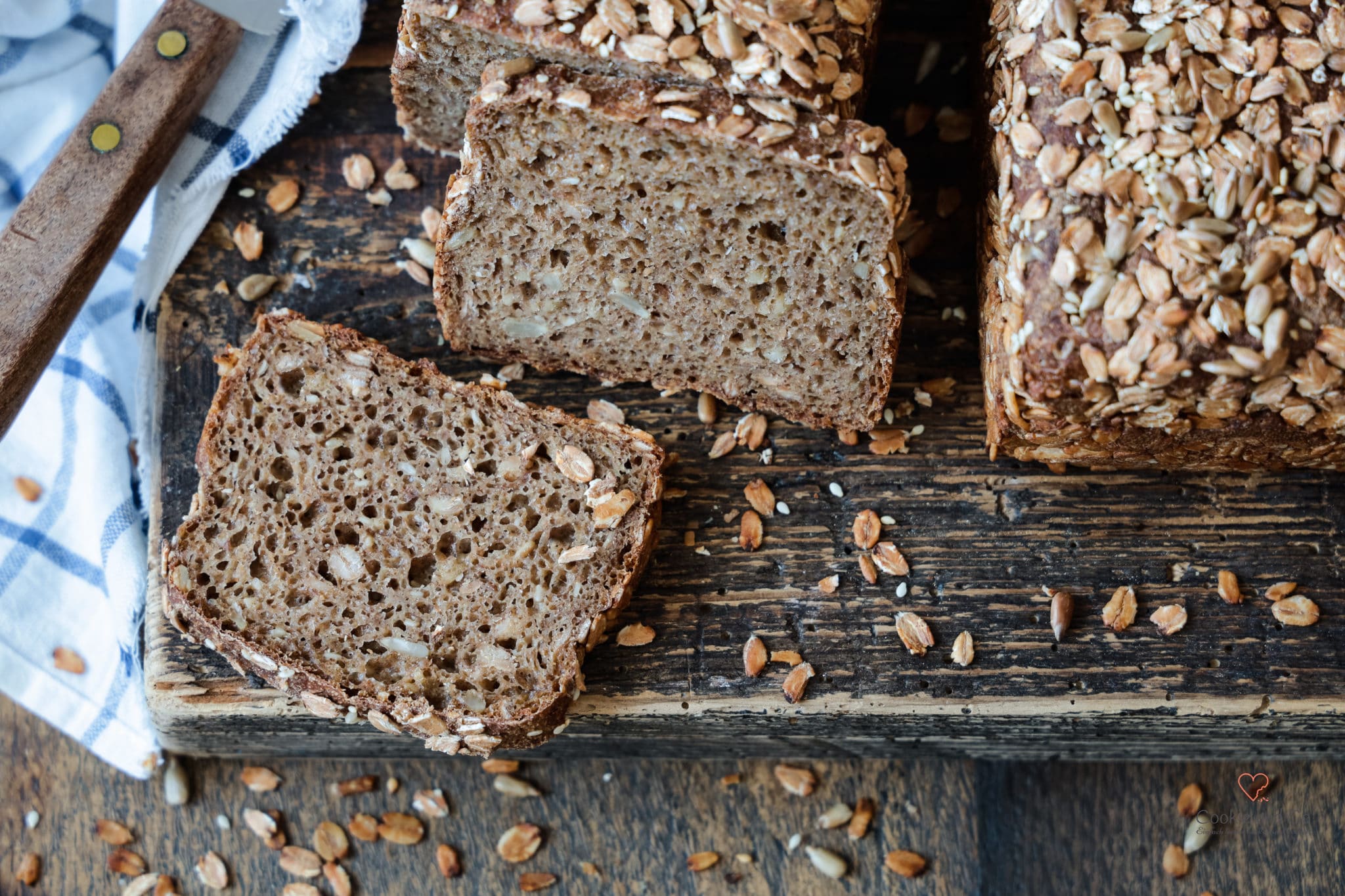 Print recipe
Share recipe
Prep Time:


10 mins

Cook Time:


50 minutes

Total Time:


12 hours

Yield:


2 loaves of bread from the 0.5 kg bread pan or 1 bread from the 1 kg bread pan

Category:


Dinner, bread, breakfast

Cuisine:


German - German
piece
dough
200 g

Spelled flour type 1050

100 g

Emmer wholemeal flour (or wholemeal spelled flour)

100 g

Forest perennial rye wholemeal flour (or wholemeal rye flour)

50 g

Malt spelled flakes (or oat flakes)

30 g

Sourdough starter (ASG) ((very fit, otherwise it is better to freshen up))

300 g

Water (35 ° C)

250 g

Buttermilk, room temperature ((vegan: half water + soy yoghurt))

10 g

inactive baking malt

10 g

Beet syrup (or honey (optional))

3 g

ground psyllium husks ((or aquaposa))
optional

0

, 5 g acerola powder ((or

1

Pinch of vitamin C powder))

12

–

14

g of salt

10 g

Oil ((e.g. nut oil or olive oil))

30 g

Sunflower seeds (roasted)

20 g

Sesame (toasted)
Additionally
Spelled malt flakes, sunflower seeds and sesame seeds (for sprinkling and for the pan)
Instructions
dough
Food processor:
Dissolve the items to be set in the water.
Add all the other ingredients for the dough except for the oil and salt.
Mix for 4 minutes at slow speed in the food processor (if possible with the flat beater or flexible stirring element).
Add oil and salt and continue mixing for 1 minute on slow speed.
Thermomix:
Put the ingredients and water in the mixing bowl, mix for 30 seconds / speed 3.
Add all other ingredients for the dough, except for the oil and salt, 2 minutes / dough kneading setting.
Add oil and salt, 1 minute / dough kneading setting.
Cook
Grease the loaf pan (s) and sprinkle with plenty of seeds and flakes.
Then distribute the dough in the mold (s).
Smooth out with a dampened spatula and sprinkle with plenty of seeds and flakes. (The loaf pan is about half full.)
Cover and cook for 10-12 hours at 22-24 ° C. At the end of the rising time, the dough should reach at least just below the edge of the loaf pan.
(The ripening time depends very much on the type of product and can be shorter or longer. Experience has shown that the fermentation takes about 8 hours with refreshed sourdough.)
After the walking time, sprinkle with seeds and flakes again.
to bake
Preheat the oven in good time to 230 ° C top / bottom heat (210 ° C hot air / circulating air).
Place in the preheated oven without cutting.
Bake for 50-60 minutes.
After 10 minutes, lower the heat to 200 ° C (180 ° C hot air / circulating air).
After another 30 minutes, remove from the loaf pan and finish baking.
(Baking time of small breads approx. 50 minutes, a large bread approx. 60 minutes.)
After baking, let cool on a wire rack.
Notes
Dimensions for bread baking molds
0.5 kg bread molds: approx. 16.0 x 9.8 x 8.5 cm
1 kg bread pan: approx. 23.0 x 11.0 x 9.5 cm
Keywords: Spelled malt flakes, spelled flour type 1050, yellow wheat, grains, mazi, red grain, seeds, ancient grain, ancient grain, whole grain, whole grain flour