Today I brought a new toast recipe for you, for a wonderfully soft sandwich bread. It tastes really delicious, the crumb is wonderfully fluffy, wonderfully fluffy and soft and fluffy. It also has great freshness. Just like a good butter toast should be ... ♥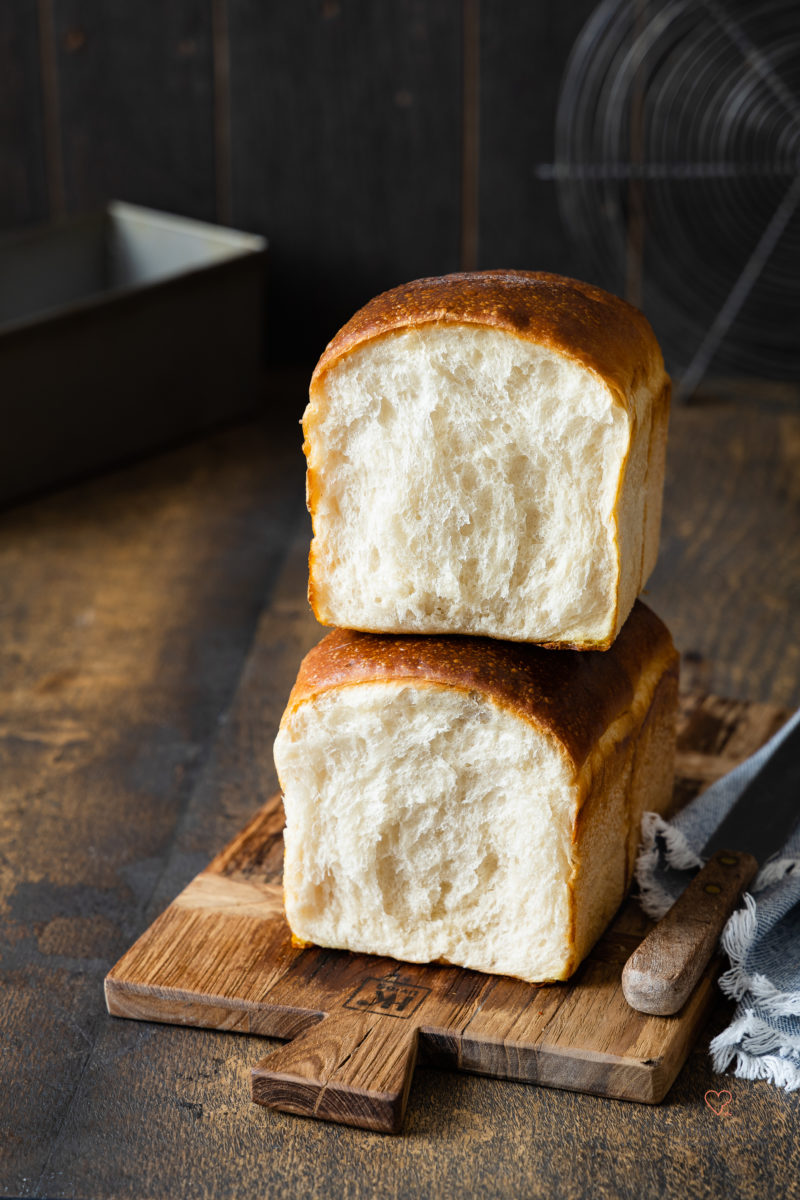 Soft sandwich bread
From my previous toast bread recipes here on Cookie and Co, my soft sandwich bread is my absolute favorite at the moment. Incidentally, also ideally suited after dental and jaw surgery, as I recently discovered. It is so wonderfully soft and delicate, almost like a cotton ball. The whole thing works with just 3.5 g of fresh yeast and the mild wheat sourdough Lievito Madre.
Incidentally, I started developing the recipe a few months ago and baked the recipe 1-2 times. Then it somehow disappeared into the depths of my hard drive. For the above-mentioned occasion it came back to my mind spontaneously and so it was slightly optimized. This time it turned out as expected. And before the recipe buries itself somewhere again, I preferred to write it down here.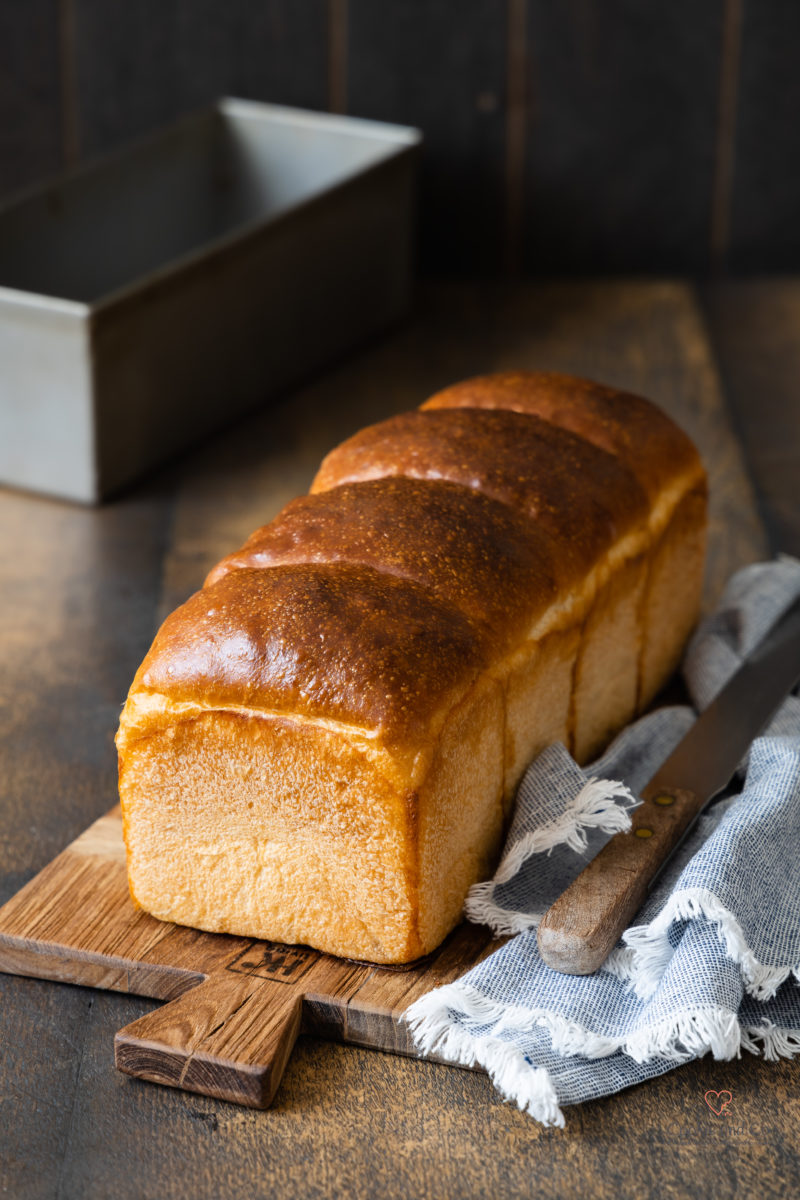 Golden butter toast bread
The recipe is a bit like a mix of my soft milk bread and the French butter toast bread... something in between, so to speak.
If you want to try more toast recipes, you can find them here on the blog next to the French butter toast bread also another Sandwich toast, a Multi-grain toast (with whole grain & spelled) and a delicious one Grain toast . Otherwise there are also two older recipes, namely mine juicy wholemeal toast and a simple toast bread. However, from today's perspective, I would prepare these two breads differently, but there are also quite a few lovers for them and should therefore not go completely unmentioned.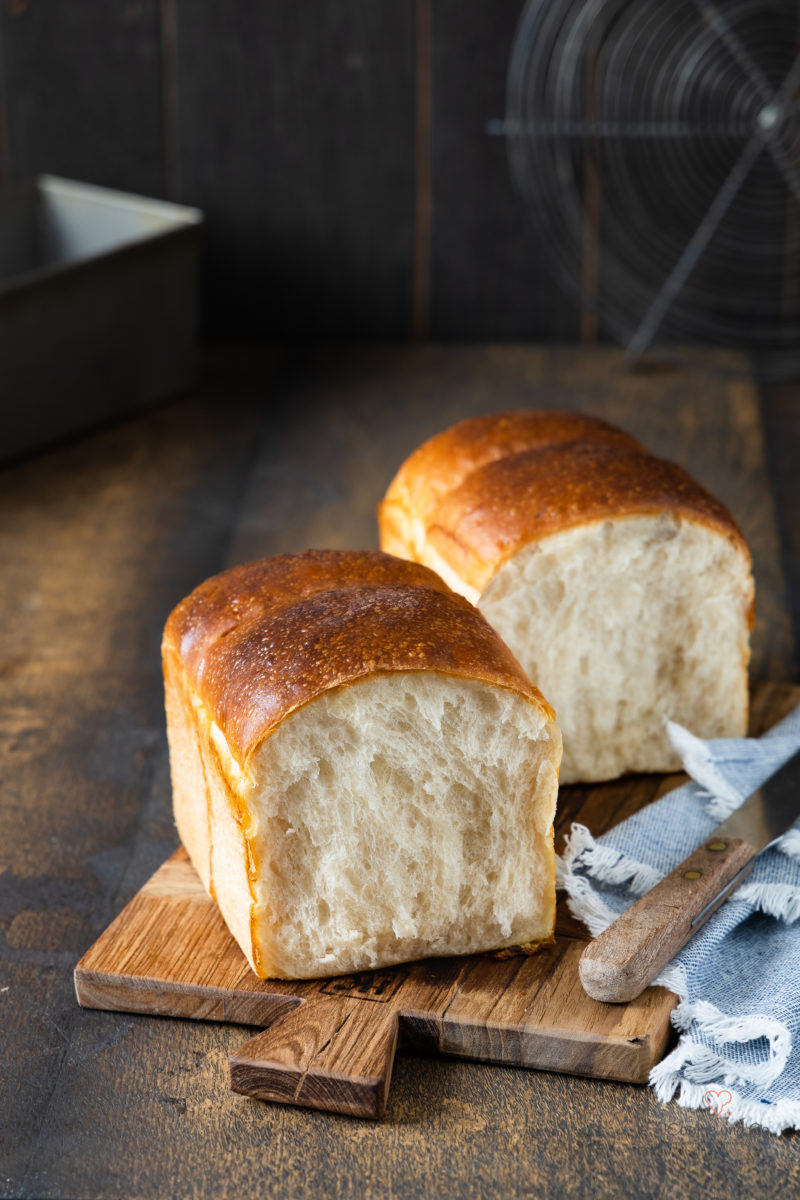 Toast bread - an all-rounder
Toast is not only a delicious classic for breakfast, it is also ideal as a basis for all kinds of delicious sandwiches or baked snacks from the sandwich toaster or contact grill. I can also highly recommend my recipe for Avocado bacon sandwich with two kinds of pesto.
I always liked to freeze some toast for such purposes. So I can thaw it quickly and easily at any time. To do this, I always freeze my toast cut directly into slices after baking. The slices can then simply be thawed in the toaster while toasting. The thawed toast not only tastes delicious, it is also freshly baked and the method is also super practical. Before we can enjoy delicious snacks with toasted bread, we have to bake it first ... and that's why we now go straight to the recipe, have fun baking! ♥
Print
Soft sandwich bread | golden butter toast bread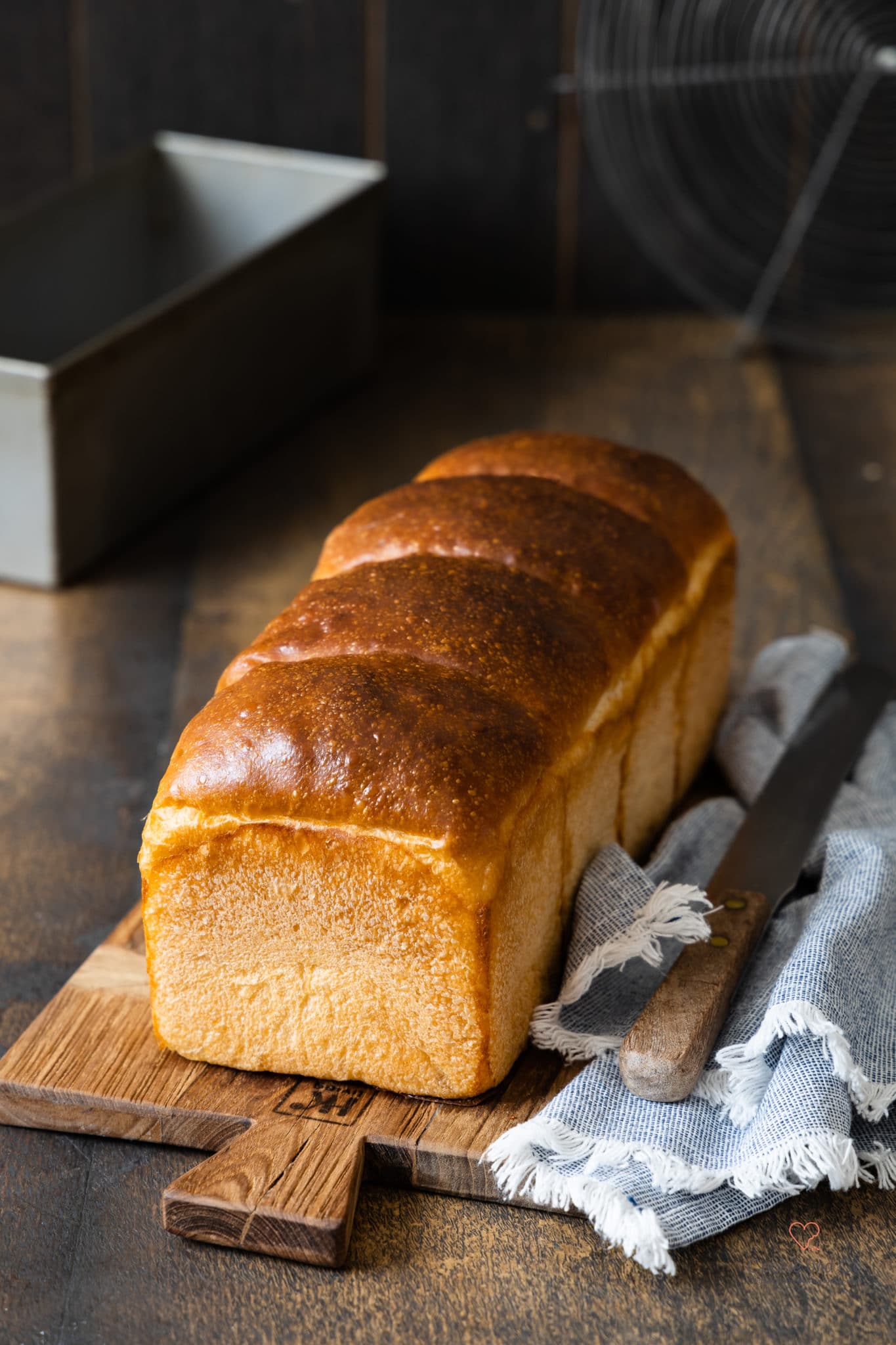 Print recipe
Share recipe
Prep Time:


30 minutes

Cook Time:


15 hours 30 minutes

Total Time:


16 hours

Yield:


1 bread from a 1.5 kg bread pan or a large loaf pan (at least 30 x 12 cm)

Category:


Bread, breakfast, yeast pastries

Cuisine:


German - German
piece
Pre-dough
100 g

Wheat flour type 550 ()

100 g

water

0.5g

fresh yeast
Piece of flour cooker
125 g

Milk 3,5% fat,

25 g

Wheat flour type 550 ()
Main dough
Pre-dough
Piece of flour cooker

400 g

Wheat flour type 550 ()

160

–

180

g milk 3,5% fat, cold (| I:

180 g

)

90 g

Lievito Madre (

1

–

2

x previously refreshed) (OR 5g Fresh Yeast + 60g Flour + 30g Water)

3 g

fresh yeast

10

–

15

g sugar or honey (| i:

10 g

Honey)

5 g

Baked malt, enzyme-active

50 g

Butter (cool, in pieces)

12 g

salt
Ice cream (optional)
1

egg yolk

10 g

Milk or cream

1

pinch of salt

1

pinch of sugar
Additionally
some baker's starch or flour for working up
Instructions
Pre-dough
Briefly mix the ingredients for the pre-dough together.
Cover and leave to mature at room temperature (20-22°C) for 10-12 hours.
or
Let it start for about 4 hours. Then park in the refrigerator for 12-16 hours. (Depending on the room temperature, take it out again in good time.)
Piece of flour cooker
Mix the flour and milk in a small saucepan without lumps and heat slowly.
(At least 65-70 ° C should be reached or everything should be boiled for a short time).
After a few minutes, the mass begins to turn pudding-like. Take the pot off the stove and stir for another 1-2 minutes.
(Also works great in a food processor with a cooking function, briefly stir milk and flour with the Flexi stirring element and then heat for a few minutes at a slow speed to 70-75 ° C.)
Then decant and cover with cling film and let cool down.
(The piece of flour can be prepared the day before and stored in the refrigerator. Depending on the room temperature, take it out again in good time.)
Main dough
Knead the ingredients for the main dough, except for the butter and salt, for 10 minutes at a slow speed.
Then continue kneading for 3-5 minutes at high speed, kneading in the butter and salt in portions.
The dough may be a bit sticky at first due to the piece of flour cooker, but this will settle through the stretching & folding.
Stock cooking
Leave to cook for about 2 hours at 25-27°C. The dough should almost double in size.
Twice during the walking time stretch and fold, after 45 and 90 minutes.
Alternatively, cook for about 4 hours at 20-22 ° C, then stretch & fold after 1 & 2 hours.
Meanwhile, grease the baking pan well (I: baking release spray) and sprinkle it with a little flour if necessary or line it with baking paper / baking foil instead.
to shape
Then divide the dough into 4 dough pieces of the same size as possible.
Either roll it up loosely or look gently round (not too tight).
Pour into the prepared baking pan and spread.
Piece cooked
Cook for about 90-120 minutes at 25-27°C.
At 20-22 ° C, cooking takes about 3-4 hours.
The dough pieces should if possible Fully cooked and have at least reached the edge of the shape - rather a bit over it.
Preheat the oven to 200°C top/bottom heat in good time.
to bake
All the ingredients for that Ice pranks whisk briefly. Spread it evenly over the dough.
Place in the preheated oven and bake for a total of approx. 50 minutes (cover in good time if necessary and lower the temperature to 180 ° C top / bottom heat).
(Not absolutely necessary, but I still have after zeroing in very little swath and the Swaths not drained. If there is too much steam, it washesh off the icings.)
After baking, carefully remove from the tin and leave to cool on a wire rack.
If you like, you can cover the toast with a tea towel.
Notes
Preparation with the Thermomix
FLOUR COOK PIECE
Put the flour and milk in the mixing bowl, heat 6-7 min. / 75 ° C / speed 2.
After cooling, let it cool in the fridge and pour it into the dough cold.
dough
Knead the ingredients for the main dough, except for butter and salt, for 5 minutes / dough level.
Then continue kneading for 1-2 minutes / dough setting, adding the butter and salt through the lid opening and kneading in.
Keywords: Advent, amerikanischer Toast, amerikanisches Toastbrot, backen, Brot, Frühstück, Gebäck, Hefe, Kastenbrot, Kinder, Lievito Madre, Milchbrot, Sandwich, Sandwichtbrot, Sandwichtoast, Tangzhong, Toast, Toastbrot, Frühstück, Kinder, Lievito Madre, Mehlkochstück, Sandwich, Tangzhong, Toast, Toastbrot, Weizen, Brot, Frühstück, Hefe, Kinder, Kochstück, Lievito Madre, Mehlkochstück, Milch, Tangzhong, Water Roux, Milchbrot, Tangzhong Milk Bread, Tangzhong Milchbrot, softes Milchbrot, Yu-Dane, Shokupan, Milchbrot mit Tangzhong, Sourdough Shokupan, Japanese Milk Bread, Japanisches Shokupan, Golden Toast, Buttertoast, Sandwichtoast, Sandwichbrot, Sauerteigtoast,