These sweet Smarties cookies not only look pretty, they can also be made quickly and taste delicious!
The Smarties cookies are of course particularly popular with children. But the "big ones" also like to take advantage of it. Of course, you can also exchange the Smarties for other chocolate or sweets of your choice. Make sure to try them out ... ♥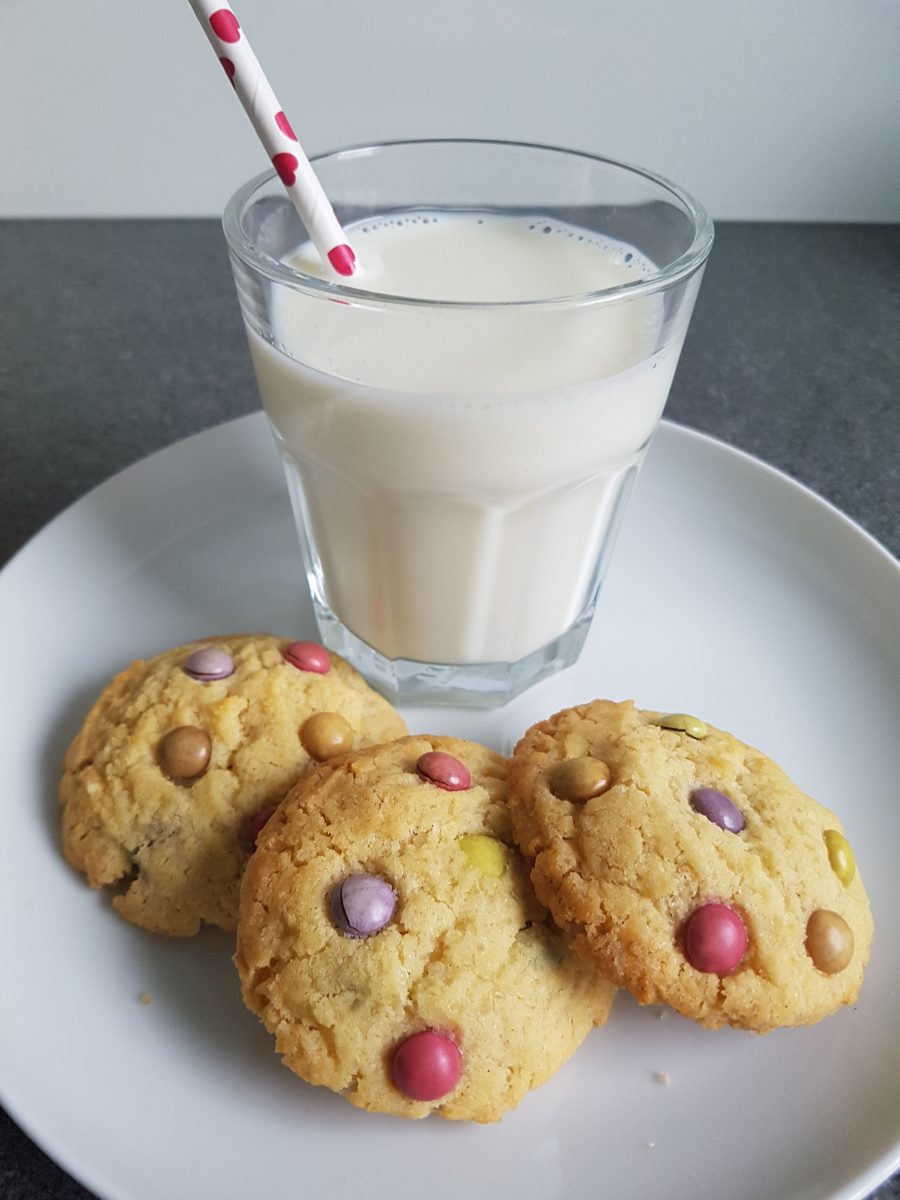 Ingredients:
125g soft butter, cut into pieces

200g brown sugar

1 teaspoon vanilla extract or 1 sachet bourbon vanilla sugar

1 egg (size M)

200g flour

1 teaspoon Baking powder

1 pinch of salt

about 120g Smarties 
Preheat the oven to 160 ° C convection / 180 ° C OU heat.
Preparation:
Beat the butter, sugar, egg and vanilla extract with a hand mixer in a bowl or in a food processor until frothy (Thermomix 30 sec / speed 4).

Mix the flour with the baking powder and briefly stir together with the pinch of salt to form a homogeneous dough (Thermomix 30 sec / speed 4).

Then add half of the Smarties to the dough and fold in (Thermomix 20 sec / level 3 / counterclockwise).

Spread the dough with two teaspoons (I like to use an ice cream scoop) with enough space between two baking sheets lined with baking paper. 

Spread the remaining Smarties on the dough and press lightly

.

Then bake in the oven for 12-15 minutes. With OU heat, the cookies must be baked one after the other (middle shelf).

You're done when the edge starts to tan slightly.

D.

Let the cookies cool down a little on the baking sheet, then take them down and let them cool down completely on a cooling rack.

After cooling, it is best to pack them airtight so that they stay fresh. But I don't think they will survive long ... 🙂