Today I have a guide for you to prepare your own sourdough. Simply grow sourdough yourself and start baking bread. I have already published some recipes with sourdough here on my blog (click here for the Bread with sourdough recipes.). Many of you have therefore wanted instructions on how to prepare sourdough ... here it is now. ♥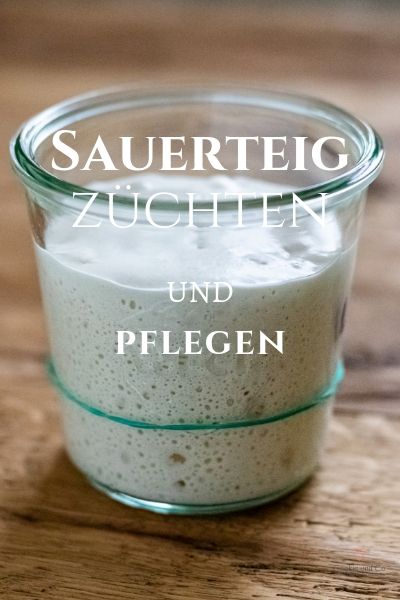 When I started baking bread a few years ago, sourdough quickly became an issue for me. However, the whole thing seemed rather complicated to me at first, although it really is not at all and the sourdough cultivation only takes a few days. There were just so many different recipes for making sourdough. All similar and yet somewhat different. Somehow I "muddled through" and now my sourdoughs are several years old and I now have different types in my fridge. It is important to know that the sourdough gets better and better over time and only really develops its driving force and aroma over time.
What is sourdough?
It is a very traditional raising agent for bread and rolls, actually the oldest and most original of all and was certainly discovered by accident. It arises from the natural microorganisms that are naturally present in grain. In principle, sourdough always consists of water, flour, lactic acid bacteria and wild yeast.
The acid is created in the sourdough by the metabolic products of these lactic acid bacteria and wild yeast, in the form of lactic acid and acetic acid. In addition, carbon dioxide is produced as a by-product, which causes the dough to loosen.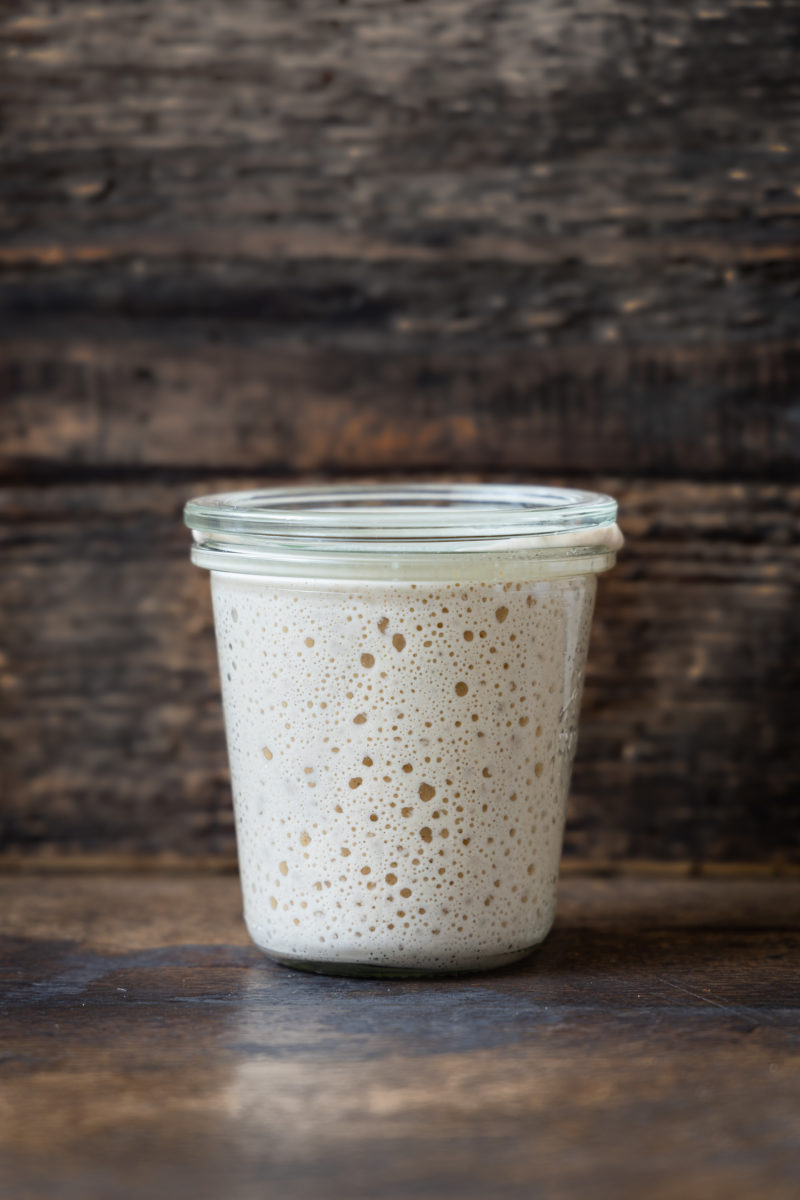 What are the advantages of sourdough when baking?
Breads and baked goods that are baked with sourdough stay fresh longer, have a very tasty and balanced aroma, are easier to digest and therefore more digestible. Breads baked with it go moldy slower than bread without sourdough.
In principle, rye flour can only be baked through sourdough, because it has to be acidified. Therefore, rye flour - without the addition of sourdough - should only make up a small amount of the total flour in a bread (max. 20%).
Dried sourdough powder or liquid, packaged sourdough from the supermarket or organic market have no driving force. Bread doughs are not loosened with it, but at most flavored a little. These purchased variants are also much more expensive and are therefore mainly used to flavor bread and rolls. The exception here is an active, live sourdough, which is available from selected suppliers. This saves you from having to breed yourself and you can basically start baking bread straight away.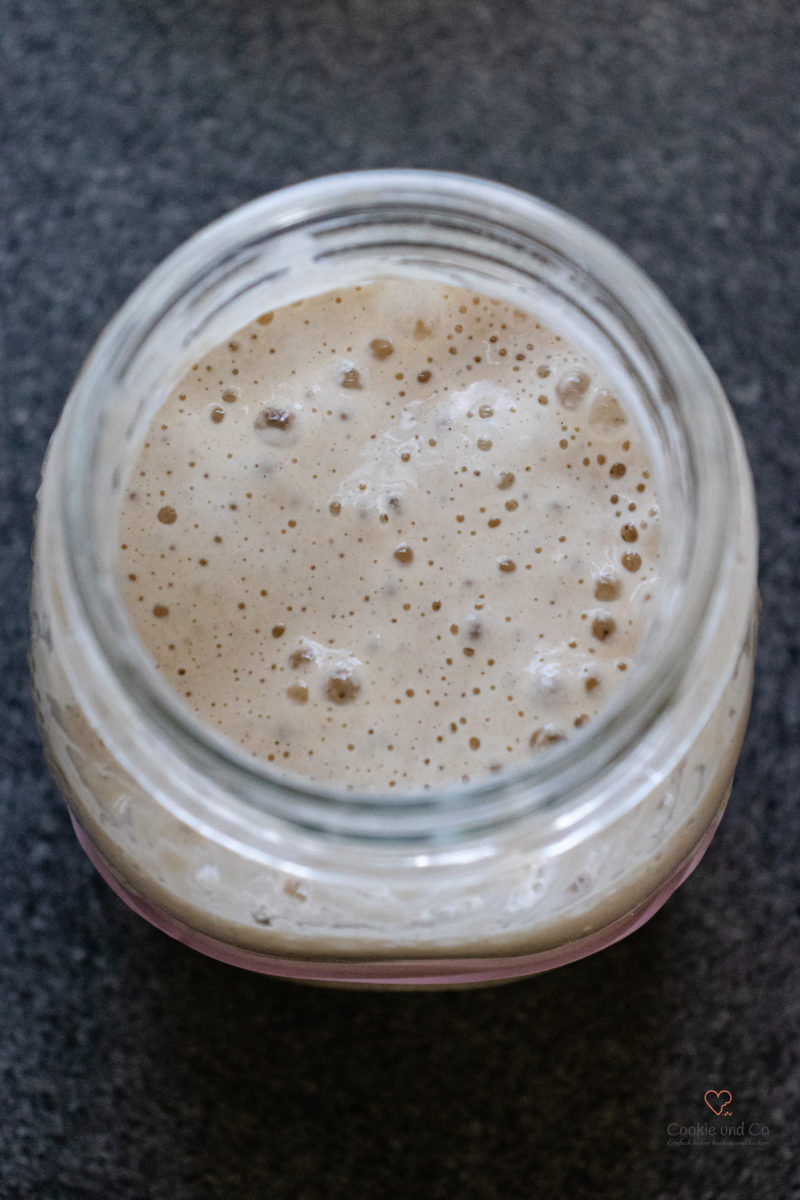 What is anstellgut?
Anstellgut, also called ASG or sourdough starter, is, so to speak, the remainder of a ripe sourdough. It is, so to speak, the starting culture or an offshoot of the sourdough. Something of this is always kept in order to make new fresh sourdough. With the ASG, a new sourdough can be "started" again and again without it having to be cultivated in a lengthy manner, because the microorganisms responsible for loosening the dough are already sufficiently available. As already mentioned, these are primarily lactic acid bacteria and wild yeasts.
ASG is always stored in the refrigerator and is best kept in a glass jar. You can read more about the care of sourdough below.
What is needed:
Flour: preferably rye flour (organic quality if possible) and preferably freshly ground wholemeal rye flour (also suitable: spelled or whole wheat flour, spelled or wheat flour type 1050, rye flour type 1150/997)
Water, approx. 35 ° C
patience
Prepare sourdough:
It is important to work "cleanly" so that the wrong bacteria do not multiply. I recommend freshly ground whole wheat flour because it provides the most nutrients for the sourdough.
Day: Mix 50 g flour with 50 g lukewarm water and cover for 24 hours in a clean container in a warm place. (I have had the best experiences with vessels made of glass.)
Day: Add 50 g flour + 50 g lukewarm water and stir well. Cover again and let rest warm for 24 hours.
Day: Add 50 g flour + 50 g lukewarm water and stir well. Cover again and let rest warm for 24 hours. You may have already discovered some bubbles in your sourdough, then you are on the right track.
Day: 50 g of the last sourdough mixture + 50 g of flour + 50 g of lukewarm water and stir well. Cover again and let rest warm for 12 hours. The volume should now double during this time, otherwise let it stand longer.
Add 50 g of the last sourdough mixture + 50 g flour + 50 g lukewarm water and stir well. Cover again and let rest warm for 12 hours. The volume should now double during this time, otherwise let it stand longer.
The sourdough is now ready and can be used for baking. Important: Take out about 100 g and store it in a clean glass in the refrigerator as a starting material for new sourdough. The sourdough can then be used for the next bread.
→ The sourdough should have a fruity, sour smell and be interspersed with bubbles.
→ Over time it gets more driving force and also becomes more aromatic. To do this, he just needs to be fed regularly.
→ In order to strengthen the driving force more quickly, you can now feed the sourdough daily for a few days.
→ You can use this cultivated sourdough to make or grow several types of sourdough. To do this, you take a portion and simply feed it with another type of flour, for example with spelled or wheat flour. The various sourdoughs will then be fed and fed separately from one another in the future. Here I explain how that Breeding to Lievito Madre from ASG from sourdough functions.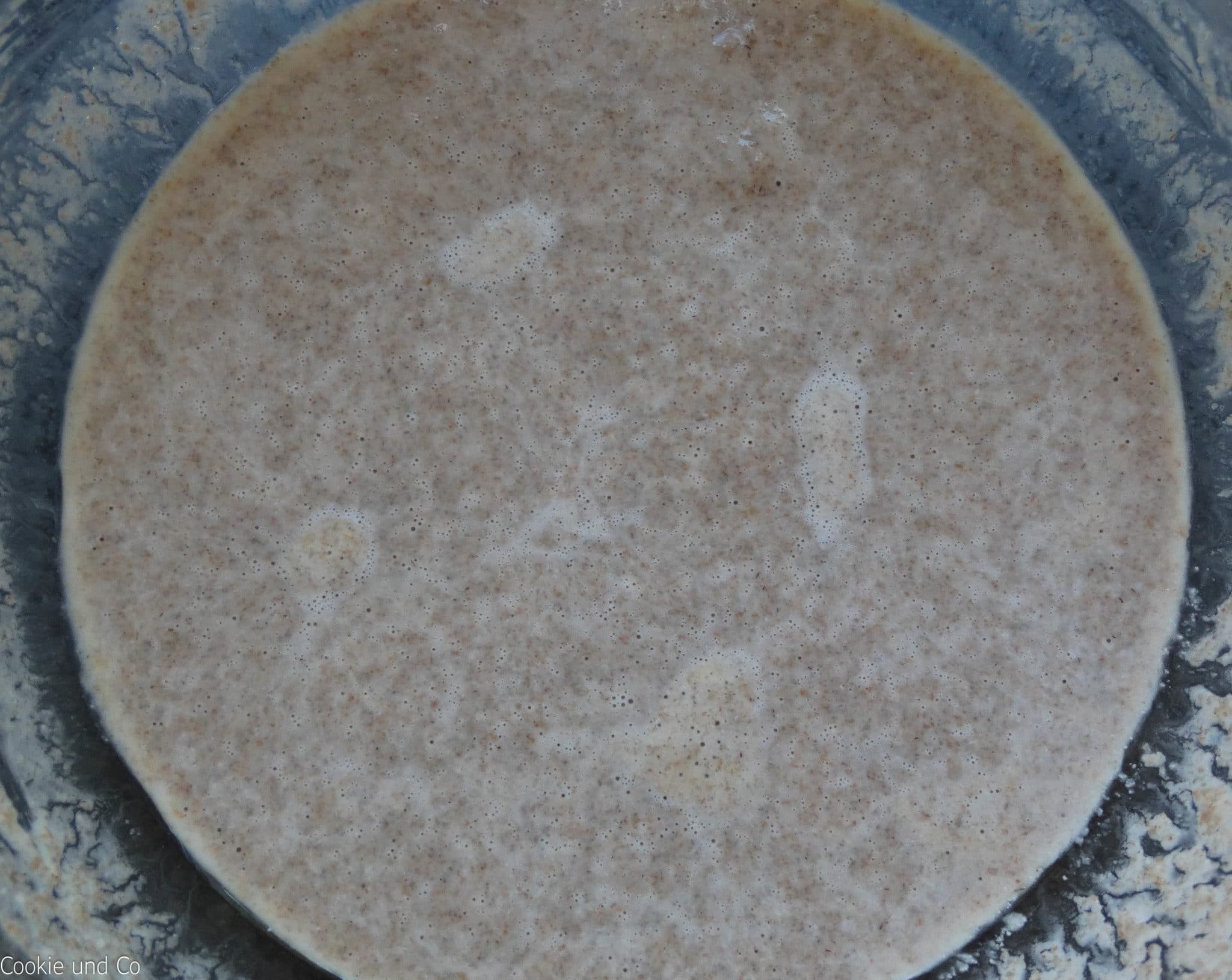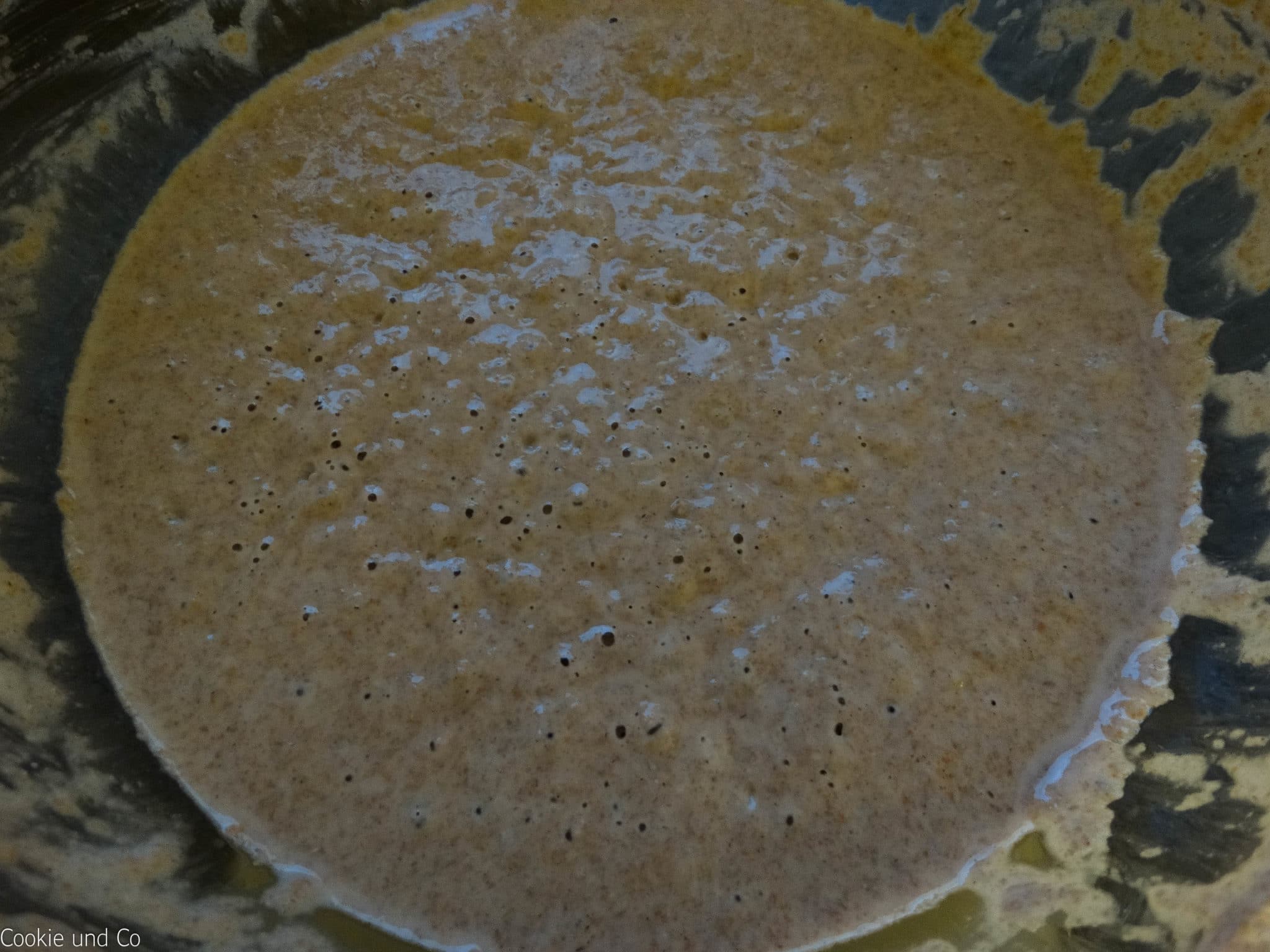 Maintain the sourdough
The sourdough mixture (= Anstellgut or ASG) is always stored in the refrigerator, preferably in a Weck jar with a lid or a jar with a screw-on lid
The ASG should be refreshed after a week at the latest.
The storage jars should be changed regularly.
I usually feed my starter goods (i.e. the part with which new sourdough is prepared) 1: 1: 1 (e.g. 30 g flour + 30 g water 35 ° C + 30 g ASG) and put it at 26-28 ° C warm. The Anstellgut (ASG) is quite mild. After doubling, this batch goes into the refrigerator. I do this feeding once or twice a week to keep my ASG active and mild.
There are also methods with other sourdough, flour and water ratios. For example 2: 2: 1 or 10: 10.1. The maturing times are extended accordingly.
For me, the measure is always doubling, that is the most active in the sourdough or the ASG.
I prefer to run my ASG separately and preferably with champagne rye type 1000. That means I remove some of it for baking, can use it to make sourdough and then feed the ASG separately. So there is no risk of it being accidentally consumed (has already happened to me).
If something gray or dark liquid settles out and your ASG looks a bit strange in the refrigerator, you don't have to worry. Most of them are then just "very hungry" and have to be fed quickly.
Only mold must not be present under any circumstances, then the ASG should be disposed of.
In this case you can get a "dry protection". To do this, the sourdough is spread thinly on a sheet of baking paper and dried. Then grind finely. If you want to bring your fuse back to life, simply stir again with a little lukewarm water and flour and keep warm. When activity shows, it is best to do some feeding cycles.
If I can't feed the sourdough for a while (for example, during vacation time), I feed it very firmly and then immediately put it in the refrigerator.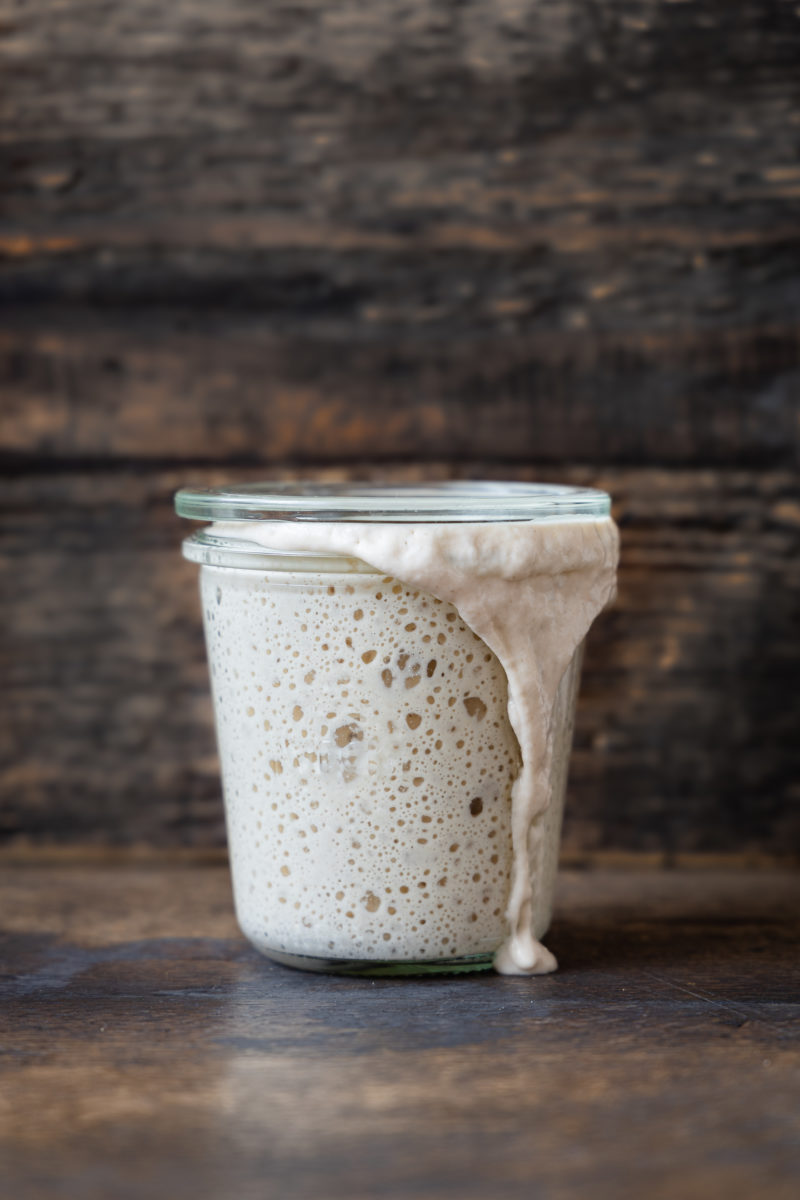 Tips for baking with sourdough:
To make sourdough for a bread recipe, as mentioned above, there are several feeding schemes.
In general, a warm tour at, for example, 26-28 ° C leads to a rather mild sourdough.
A tour at room temperature of 20-22 ° C promotes a more sour sourdough.
In between times I can always take a part of the ASG out of the fridge and use it to make sourdough for a bread recipe.
As a sourdough beginner, it is best to always follow the instructions in the recipes first. There you can see how much food is needed and how much flour and water the sourdough should be made with. The active and well-maintained ASG can therefore simply be removed from the refrigerator and used according to the recipe.
If the last feeding was a long time ago, the ASG should be activated again by feeding.
In the case of very young, freshly grown sourdough, a little bit of additional yeast is recommended as a leavening agent at the beginning. Usually the driving force is not so strong at the beginning, but this changes quickly with good care.
You can also find some interesting information here.
♥ Have fun and successful breeding! ♥