Today I brought a new baguette recipe for you, a rustic baguette. Admittedly, the recipe has been in my drawer since the summer and is waiting all the time to be published here on the blog. But now, so shortly before New Year's Eve, it works really well. Because with us baguette should not be missing from any party buffet, fondue or raclette…. ♥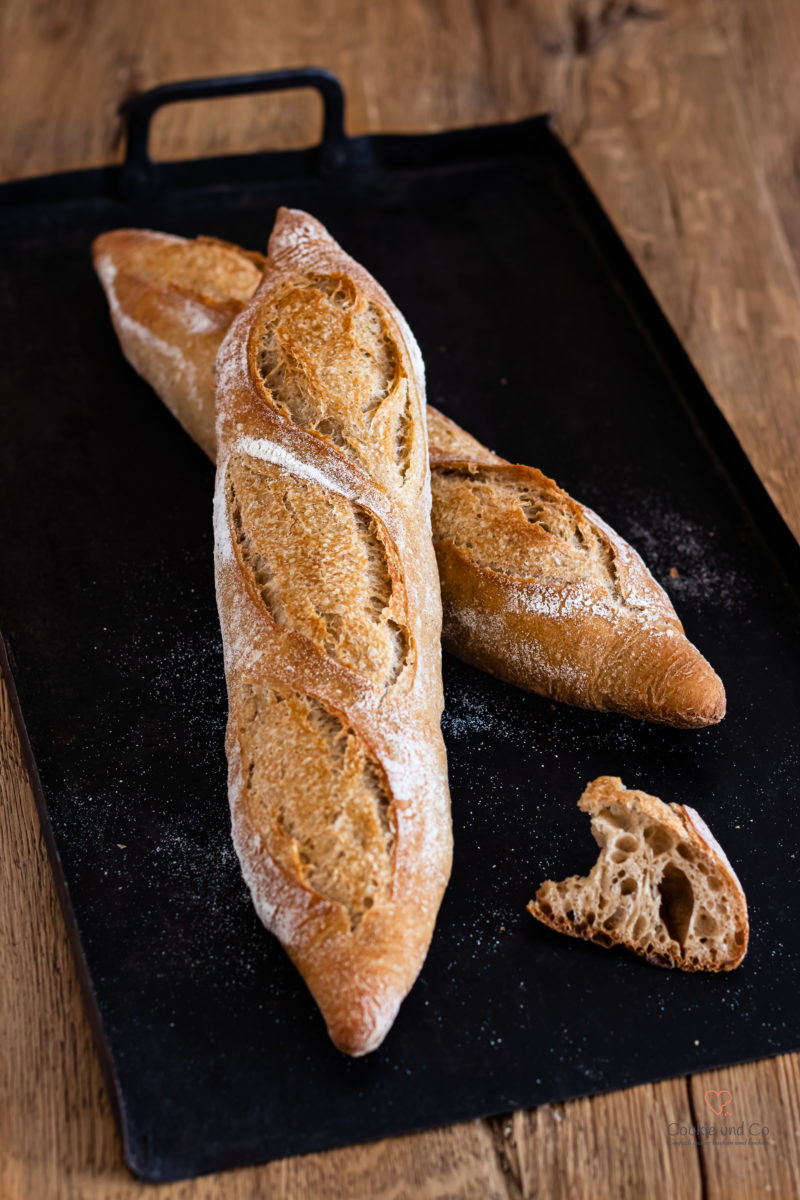 baguette
Feel like God in France for once - all you need is a good baguette, a good glass of wine and maybe some good cheese. You really don't need more for real enjoyment and a little French attitude towards life. By the way, baguette means something like "stick" when translated into German, which probably explains the German interpretation of stick bread. A good French baguette, however, is something completely different than "just" baguette. It's almost a philosophy of life. For me it is characterized above all by an airy, juicy and aromatic crumb as well as a crispy, delicately splintered and golden to caramel brown crust. The baguette can be baked very well.
Baguette traditionally consists only of French wheat flour, water, salt, a little yeast and / or sourdough. However, there are very different variations for the leavening agents and the dough: Levure (yeast), Poolish / Pouliche (pre-dough fermented with yeast), Levain (wheat sourdough) and Pâte fermentée (fermented "old" dough with yeast and a little salt). Next to the croissant, the baguette is probably the best-known French pastry, at the same time a piece of cultural heritage and a symbol of the French way of life. You don't really need a lot of ingredients to bake baguettes yourself, but you do need a bit of skill in shaping and cutting. But only one thing helps: practice, practice, practice ...
What ingredients does my rustic baguette need?
This rustic baguette needs a very important ingredient for a delicious aroma: a lot of time! Of course, my favorite French baguette flour T65 should not be missing here either. In France, flour is more likely to be composed, similar to good wine. Everything is done to achieve the best possible taste and quality. The flour with the Label Rouge certification is subject to particularly strict quality guidelines - much stricter than ours, for example, with the organic seal.
For the rustic baguette, I also added a portion of T80 - for the rustic touch. A slightly darker flour ground on stone, also certified with the Label Rouge seal. I have given you conventional suitable alternatives to these French flours with the ingredients. For me personally, however, the flour quality makes a clear difference. Are you looking for a classic, very light baguette? Then try mine "Baguette - the easy way".
Baking baguettes in France
Last spring, I took part in a baking training course at one of the best bakers in France with some familiar faces from the bread-baking scene: Maxime Debat. You can find a few impressions of the trip on mine Tourte de Meule recipe. Of course we baked a lot of baguettes there too. It was a downright drastic experience for everyone how little the baguette dough was handled during processing and how nice and airy the crumb was afterwards.
If you ever end up in Paris, you should definitely visit a real "boulangerie" there and buy baguettes (croissants too, of course). But make sure that the baker makes the baguette traditionally. You can recognize this by the legally protected name "Baguette de tradition française", which is made without adding any additives (in contrast to baguette without this name). You can easily recognize a good bakery in Paris from afar, because people are queuing up outside.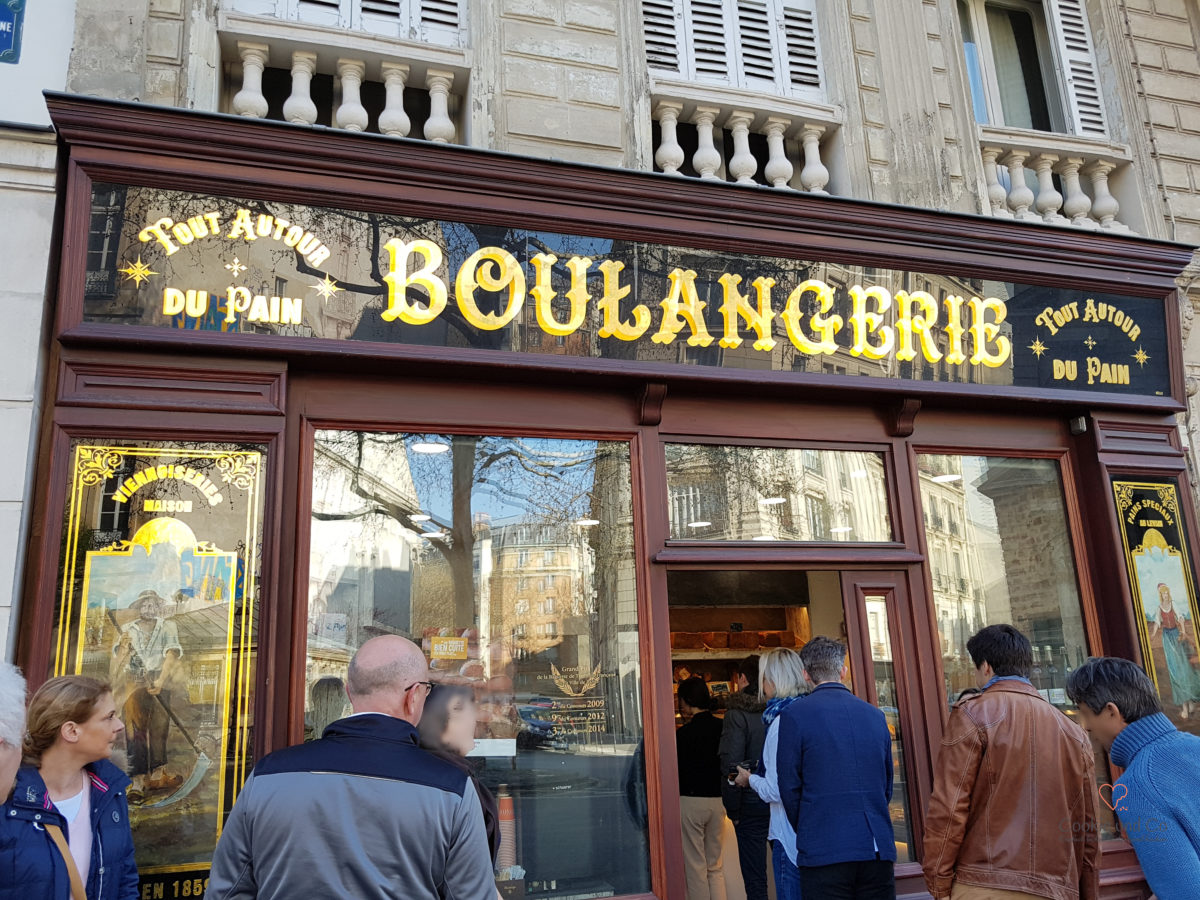 My rustic baguette turned out a bit thicker than the classic French model. For my taste, that goes great with this perhaps rather unconventional and rustic variant. If you prefer the very slim version, simply form four pieces of dough instead of three.
Without a doubt, baguette is an integral part of French food culture and even cultural heritage. After all, our neighbors sell around 6 billion baguettes every year. That would mean an average of 100 pieces per head (including non-baguette eaters). The baguette is mainly an accompaniment to the various dishes and is used to remove the last remains from the plate. I also particularly like to dip it in a good olive oil.
Now I hope you feel like baking baguettes. It's actually not that difficult. Even if it takes some practice, the most important thing is always the taste and that you have fun with it! ♥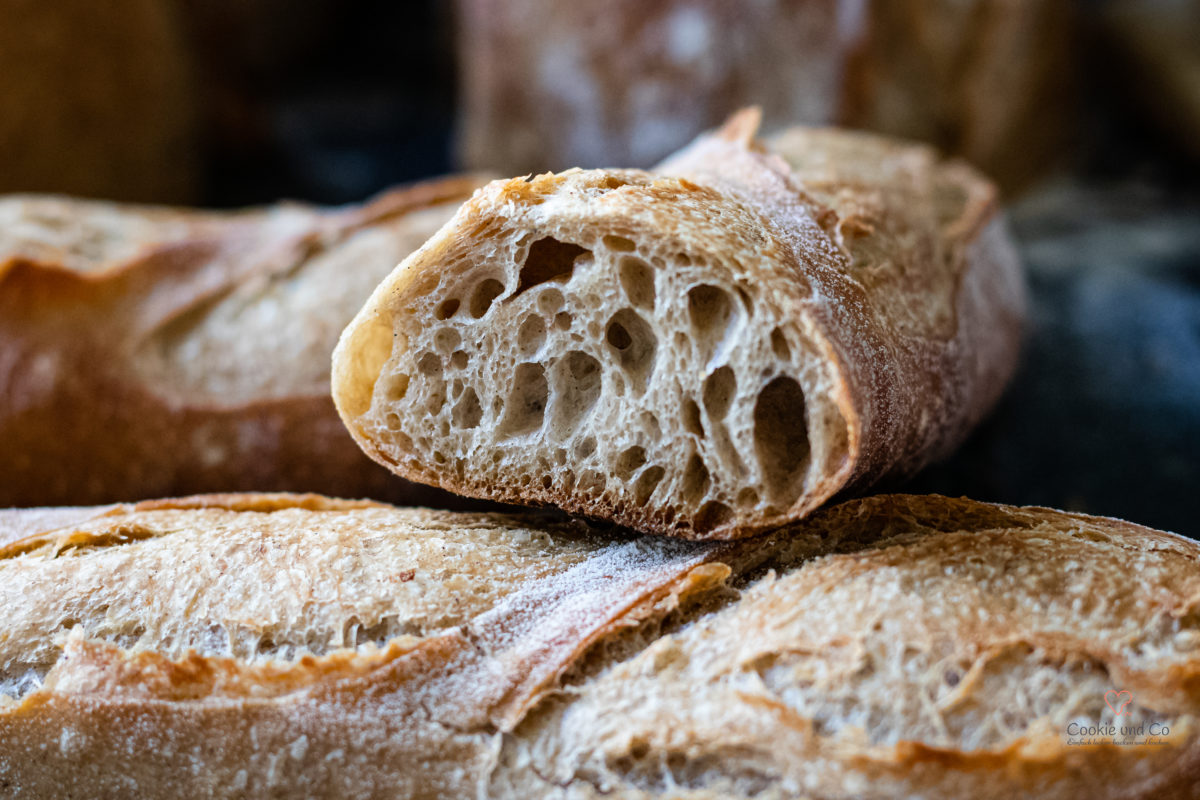 Print
Rustic baguette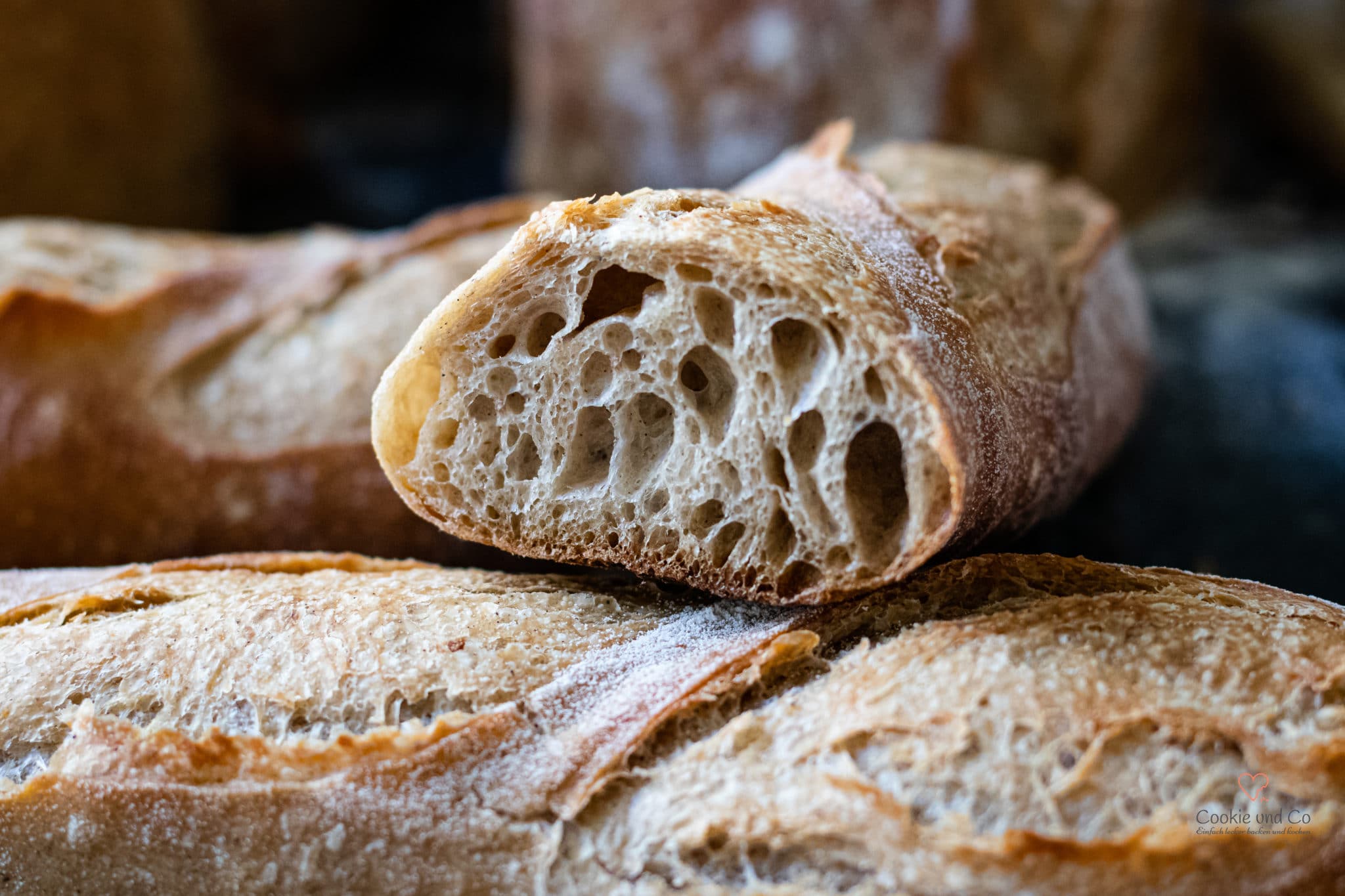 Print recipe
Share recipe
Prep Time:


40 minutes

Cook Time:


52 hours 20 minutes

Total Time:


53 hours

Yield:


3 pieces

Category:


Side dish, bread

Cuisine:


French, French
piece
Autolysis dough
400 g

  french Wheat flour T 65 (alternatively wheat flour type 550/812)

100 g

french Wheat flour T 80 (alternatively wheat flour type 1050)

330 g

water
Main dough
Autolysis dough

2

, 5 g of fresh yeast

20 g

Sourdough products (ASG) (optional (alternatively 0,

5 g

fresh yeast))

12 g

salt

30 g

water
Instructions
Autolysis dough
Mix the water and flour briefly. Let rest for 60 minutes for autolysis.
Main dough
Add yeast and ASG, knead for 8-10 minutes at slow speed.
Then knead for about 3-5 minutes at high speed, kneading in the salt and, if necessary, gradually kneading in the rest of the water (I: all of the water).
Place in a lightly oiled pan or bowl.
Let it start for 60 minutes at room temperature (20-22 ° C).
Stretch and fold twice in total (stretch & fold), after 30 and 60 minutes
Then cover and let ripen in the refrigerator for about 48 hours at 5 ° C.
On the baking day
Take the dough out of the refrigerator and let it acclimate for about 60 minutes at room temperature.
Turn the dough out onto the floured work surface. Cut off 3 pieces of dough and preform (see video).
Cover and let rest in the baker's linen for 20-30 minutes (end above).
Preheat the oven in good time to 250 ° C top / bottom heat (230 ° C hot air), together with a baking steel / upturned tray / baking stone.
Now shape baguettes from the pre-formed dough pieces (see video).
For about 40 minutes (up to tight cook) Let rest in the baker's linen at room temperature (20-22 ° C) (end above).
Then cut 3-4 times each time.
(Works best with a razor blade and a quick, bold cut.)
Shoot in at 250 ° C (230 ° C hot air) and steam immediately.
Bake until golden brown for approx. 25 minutes. After 10 minutes, open the oven door briefly to let out the moisture and lower the temperature to 230 ° C (210 ° C hot air).
Depending on the oven, switch to hot air for the last 5-10 minutes.
Notes
Tip:
If the mentioned substitute flours are used, I recommend adding 5-10 g homemade / inactive baking malt.
Kneading in the Thermomix:
The bulk water should be refrigerator cold.
Autolysis dough: Mix 1 min./dough kneading setting
Main dough: Knead 6-7 min. / Dough level. In the last 2 minutes add the salt and the remaining water through the lid opening.
Keywords: ASG, bake, baguette, bread, France, French, yeast, long dough, baguette, overnight cooking, white bread