Today there is fresh bread again on Cookie and Co. A wonderfully crispy, rustic, juicy and very tasty ... actually unspectacular and completely normal mixed bread with sourdough. What makes this recipe special, you can find out below in the text.
But does it always have to be spectacular, especially in everyday life ?! Mixed bread is not one of the most popular breads for nothing ... and if you could smell how good it smells and also bite into that golden-brown cracking crust, the answer is immediately clear: No, it doesn't always have to be extravagant. But on the contrary! Often the simplest things are the best in life! ♥
Simple but good ...
That is the motto here. Because: Good ingredients, i.e. good quality, are of course the be-all and end-all and an important basis for tasty bread. For me, this includes not only the flour but also the quality of the sourdough and of course the ingredients. If everything is right here, then "good bread" really only needs very few ingredients.
The leaven is the soul of the bread
To the correct degree of ripeness of your sourdough to certain, the following video sequence will certainly be very helpful for you. Because every sourdough is different and has very individual ripening times. If you want to delve deeper into the subject of sourdough, I recommend this "Masterclass Rye Sourdough" with sourdough expert Manfred Schellin. I was already able to take a look at the masterclass and can highly recommend it. The following video gives you an exclusive insight into the topic Sourdough and its optimal ripening time and you can apply your knowledge to this recipe right away ...
What makes this bread everyday bread for me?
The mixed bread with sourdough is variable and tasty, but at the same time neutral enough that you won't get tired of it right away. A real all-rounder, so to speak. In addition, it fits all types of flooring and is easy to lubricate. In other words, the butter doesn't fall through the holes straight away and a slice of bread doesn't swallow half a Nutella glass. Because with very airy breads with very large bubbles - which are undoubtedly great and admirable - the sandwiches for the office or the school box simply cannot be smeared so well, let alone eaten.
Variable because with this mixed bread with sourdough you can choose which sourdough variant suits you and your daily routine best. That is also the specialty of this mixed bread with sourdough. You can choose between three sourdough versions. Variation 1 is particularly mild and with the other two variants, the aroma and taste become increasingly stronger.
You can also vary the flour. You can swap out the wholemeal flour as you wish. Whole wheat flour in particular usually has an intense and often nutty taste and can always bring new taste nuances to your bread. I also like to swap the wheat flour for a good T65 or a good type 812 wheat flour. Most of the time, however, you will need a small sip more water than stated in the recipe. By the way, I find the combination of T65 and emmer wholemeal flour particularly delicious with this bread.
And to make the confusion complete, you can do the Piece and stick cooking either warm or at room temperature. It's just exciting how different bread can taste with exactly the same ingredients. Incidentally, the times stated in the recipe refer to sourdough variant 1 and the warm piece and stick cooking. So this recipe works relatively quickly and it is a "same day bake" bread.
And finally…
... I have a little film here for you. The video shows a simple method for rounding firm to medium-soft dough and building tension. There are various techniques for rounding. With classic round molding, two dough pieces are formed with both hands at the same time (mostly by professionals). Rounding is the basis of many breads and also the starting point for some bread shapes. This creates a smooth dough surface with tension and a certain level of stability. The bread can develop a beautiful shape and volume during baking. Now I wish you a lot of fun trying out and baking ... ♥
Print
Mixed bread with sourdough | House bread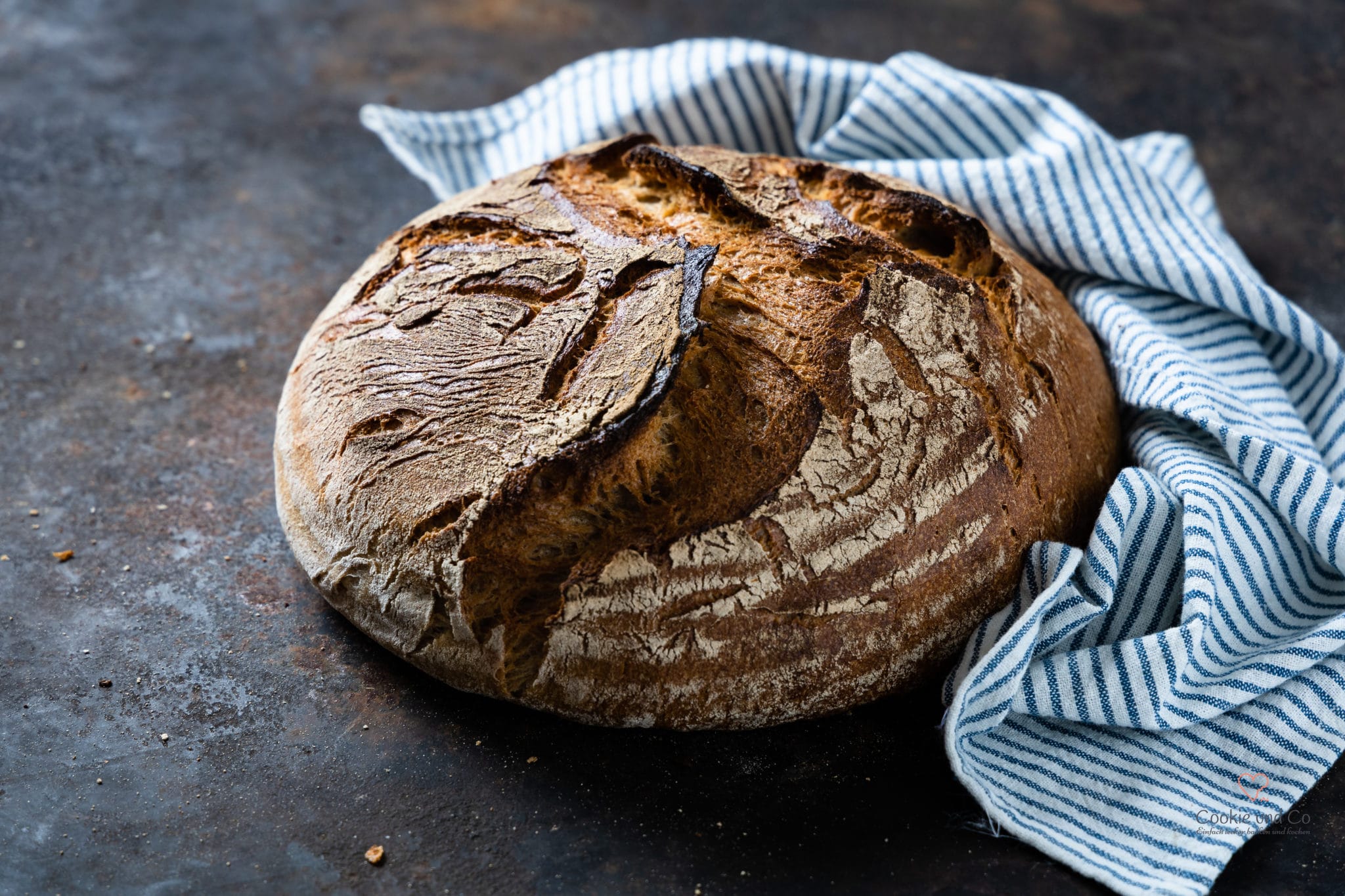 Print recipe
Share recipe
Prep Time:


30 minutes

Cook Time:


7 hours 30 minutes

Total Time:


8 hours

Yield:


1 bread (s)

Category:


Dinner, bread, breakfast, Vespers
piece
Sourdough (variant 1)
100 g

Rye flour type 997/1150 (or champagne rye type 1000)

100 g

Water (35 ° C)

100 g

Sauce from sourdough
Sourdough (variant 2)
140 g

Rye flour type 997/1150 (or champagne rye type 1000)

140 g

Water (35 ° C)

25 g

Sauce from sourdough
Sourdough (variant 3)
150

  g rye flour type 997/1150 (or champagne rye type 1000)

150 g

Water (35 ° C)

10 g

Sauce from sourdough
Autolysis dough
Main dough
Autolysis dough

300

g sourdough (variant

1

or

2

or 3)

10 g

inactive baking malt (or beet syrup)

2 g

fresh yeast ((Can be reduced or omitted if the sourdough is very active.))

12 g

salt

10 g

Oil ((e.g. olive oil))
Instructions
sourdough
For the sourdough, mix all the ingredients together thoroughly.
Sourdough (variant 1):
Let ripen for about 3-4 hours at 25-27 ° C.
Sourdough (variant 2):
Let ripen for about 6-8 hours, falling to 22 ° C.
Sourdough (variant 3):
Let ripen for about 12 hours, falling to 22 ° C.
The sourdough should have doubled in the given time.
Autolysis dough
Mix the water and flour briefly.
Covered for 20 minutes Autolysis let rest.
Main dough
Knead the autolysis dough, sourdough (1 or 2 or 3), baking malt and, if necessary, yeast for 8 minutes at a slow speed.
Add salt and oil and knead for another 4-5 minutes at high speed.
(The kneading time can vary slightly depending on the kneader / food processor.)
Cook the dough for about 1.5-2 hours at 25-27 ° C Stock cooking place. Thereby once stretch and fold, after 45 minutes.
(At a temperature of 20-22 ° C, stick cooking takes about 3-4 hours. Then folds after about 1 hour.)
Work round on the floured work surface (see video) and put the end down in a floured proofing basket. Covered for about 60-70 minutes at 25-27 ° C Piece cooked place.
(At a temperature of 20-22 ° C, piece cooking takes about 2 hours.)
During this time, preheat the oven to 250 ° C top / bottom heat, together with a large cast pot, baking steel / tray or baking stone, depending on the situation.
Baking in the pot:
After the rising time, turn the dough into the hot pot and close the lid. Bake for a total of 50 minutes. After 20 minutes of baking time, lower the temperature to 220 ° C. Remove the lid after another 15 minutes.
Bake released:
Bake for a total of 50 minutes. Immediately at the beginning swath (Steam). After 10 minutes, open the oven door to drain the moisture and lower the temperature to 210-220 ° C. Depending on the oven, switch to hot air for the last 5-10 minutes or leave the door ajar.
After baking, let cool on a wire rack.
Notes
Notes on kneading in the Thermomix
AUTOLYSIS Dough
Put the water and flour in the mixing bowl, 1 min./ dough setting. 

Cover and let rest for 20 minutes for autolysis. (Preferably in the refrigerator because the dough will be warmed up later when kneading.)
MAIN DOUGH
Knead the autolysis dough, sourdough (1 or 2 or 3), baking malt and, if necessary, yeast for 3 minutes / dough kneading level.

Add salt and oil and knead for another 2-3 minutes / dough level.
Keywords: bake, beer, bread, champagne rye, simple, yeast, mixed bread, rye, rye flour, rye sourdough, sourdough, fast, whole grain, whole wheat flour, mixed wheat bread, little yeast