Today I brought you a wonderfully crunchy snack: my crispy crackers. You can always modify this recipe as you wish and try new versions. So it is a basic recipe with which you can be wonderfully creative yourself. You can even use leftover sourdough in two different ways. Best of all, these crackers are super quick and easy to make and really tasty! ♥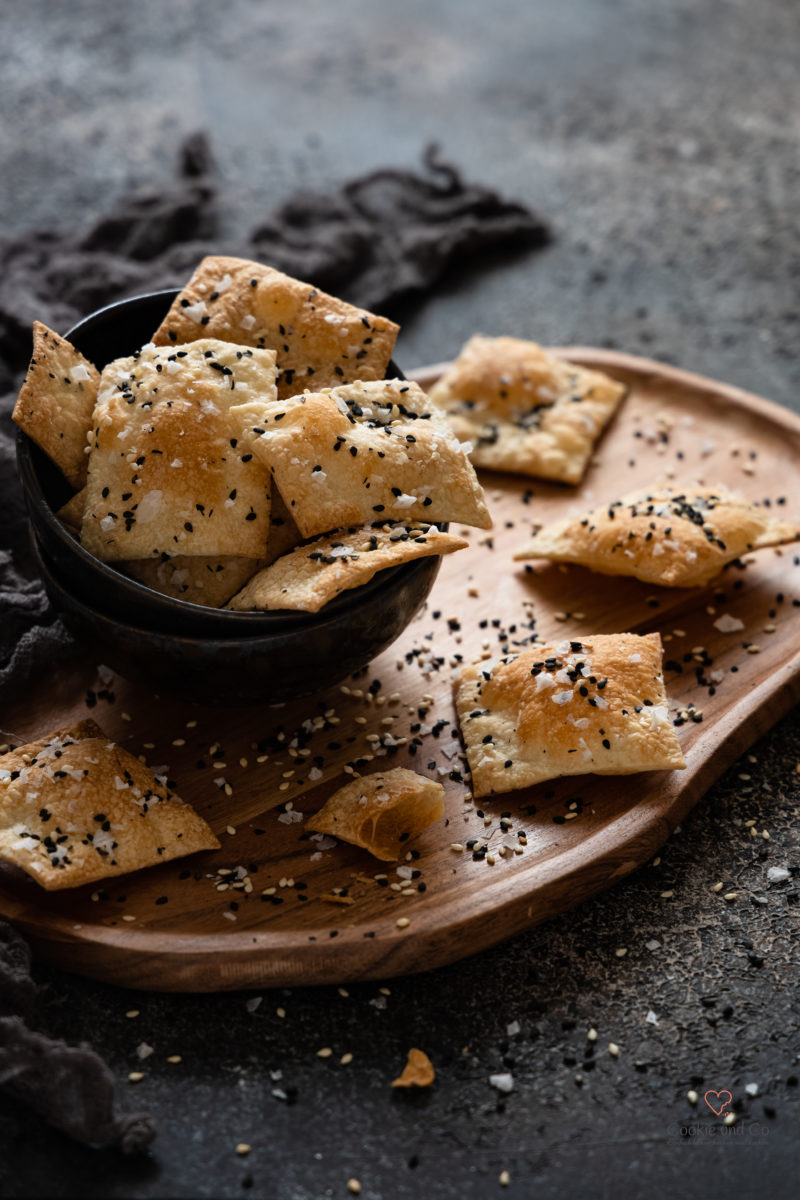 Quick crispy snack
The idea came to me after I saw the Tarte flambée with pears, camembert & walnuts had baked. Because the dough is so nice and thin, wonderfully crispy and, above all, delicious. So I thought, that must be an ideal basis for crackers. No sooner said than done ... So knead the dough again and bake crackers out of it. Since then even a few times and the crackers have always been super tasty and deliciously crispy. Above all, they are significantly healthier than fatty chips and simply wonderfully variable! Because whether with sesame like here in the pictures, with herbs, cheese or just salt flakes. Almost anything is possible! So the crispy crackers can be varied according to needs and taste. You can even "get rid of" sourdough that is no longer needed.
Sourdough utilization
On the one hand, of course, it works in the classic way in the dough. To do this, the appropriate amount of flour and water is simply deducted from the recipe. This gives the dough itself a nice aroma. On the other hand, you can simply spread your sourdough very thinly on the dough before baking. Depending on how spreadable it is, it should be diluted with a little water beforehand if necessary. Herbs or spices can also be mixed in here. By the way, this is my insider tip (even if something is misappropriated) for the crispy crackers Chipotle Butter Seasoning and the BBQ cracked pepper. Super tasty and something completely different. Because the slightly sweet heat or the slightly smoky BBQ note go perfectly with snacks. In any case, we thought both combinations were brilliant!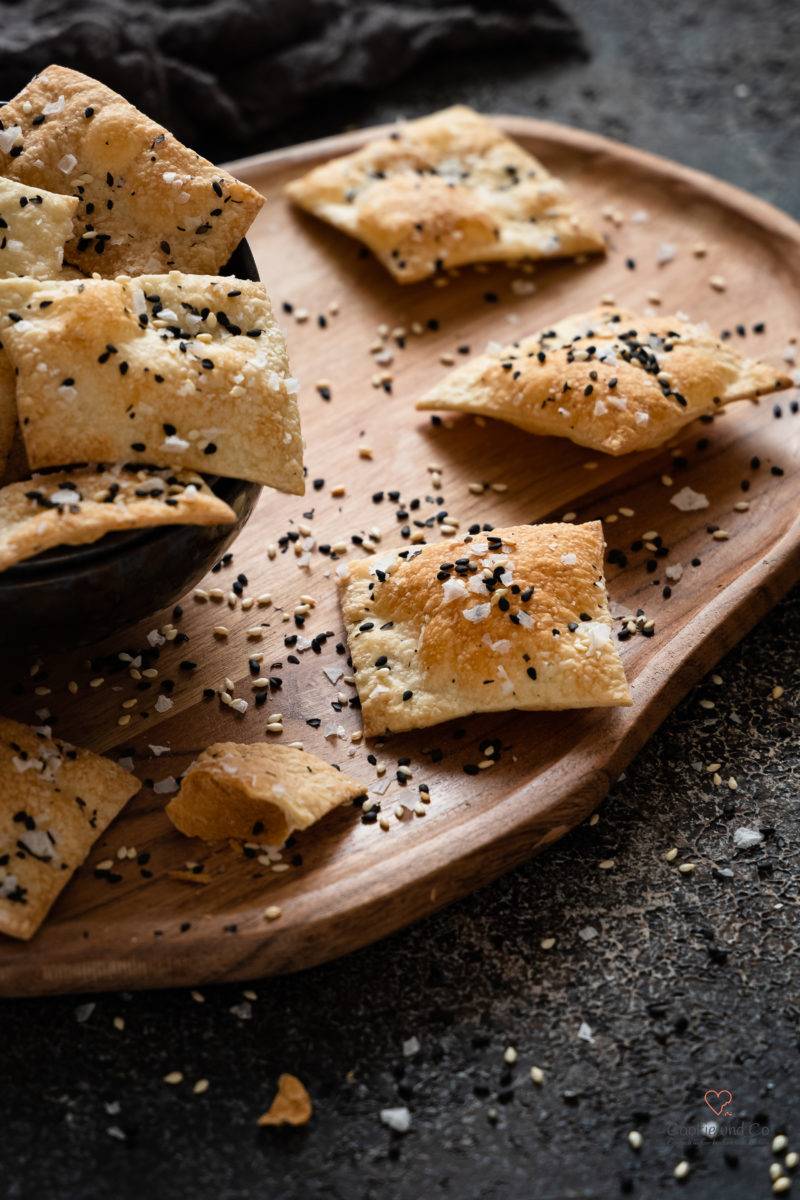 Are you looking for more recipes to crunch?
Then take a look at the following recipes:
All of them a perfect change from the sweet delicacies of the Advent season. In addition, New Year's Eve is not far away and with us, nibbles are always a part of it. But of course, snacks like these crispy crackers are always the perfect accompaniment to a glass of wine all year round. Have fun copying and nibbling ... ♥
Print
Crispy crackers (possible with sourdough)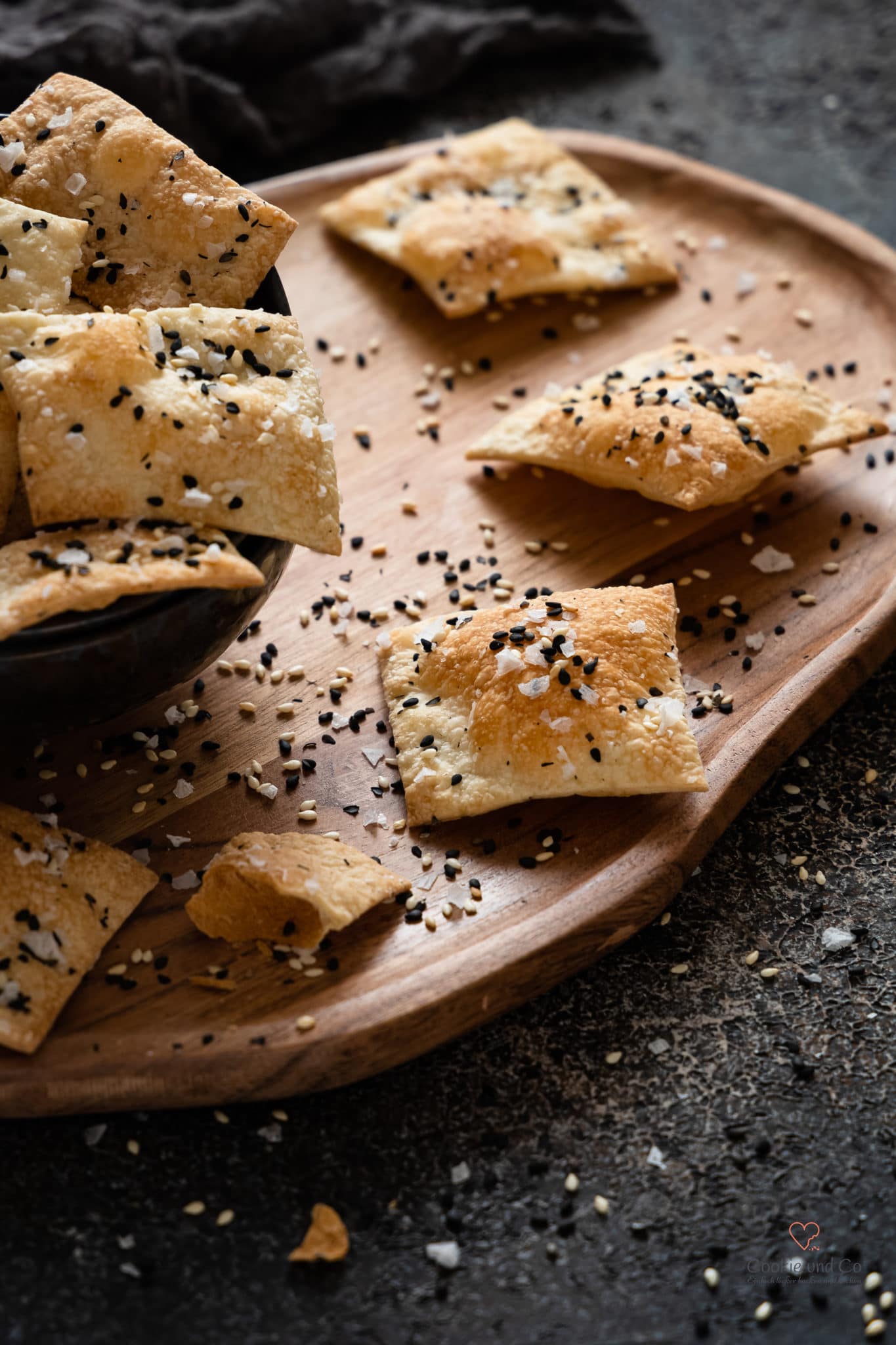 Print recipe
Share recipe
tip: Any wheat or spelled flour can be used. The amount of water simply has to be adjusted accordingly. Variant with sourdough see note!
Prep Time:


20 minutes

Cook Time:


1 hour

Total Time:


1 hour 20 minutes

Yield:


2 tray (s)

Category:


main dish

Cuisine:


German, French, French, German
piece
Instructions
DOUGH (CONVENTIONAL PREPARATION)
Knead all the ingredients for the dough well until you get a smooth dough.
Shape the dough into two balls and leave to rest covered at room temperature for 30-60 minutes (or longer).
DOUGH (PREPARED WITH THE THERMOMIX)
Put all the ingredients for the dough in the mixing bowl and cook for about 3 minutes | Knead the dough stage.
If necessary, knead again briefly with your hands.
Shape the dough into two balls, cover and let rest at room temperature for 30-60 minutes (or longer).
Topping & baking
Oven as hot as possible with hot air, alternatively preheat top / bottom heat (I: 280-300 ° C).
(Preferably preheat a tray, pizza stone or baking iron at the same time.)
Roll out the dough as thinly as possible to the desired size. Best of all directly on permanent baking foil or baking paper.
If it keeps contracting a bit, just let it rest for 10-15 minutes.
Brush thinly with either olive oil or a sourdough brush (see note).
For example, sprinkle with salt flakes, spices, herbs or sesame seeds.
Cut into the desired size with a pizza roller or pastry wheel.
For example in small squares or diamonds.
Bake in the preheated oven for about 8-12 minutes. It works best on a hot brick or baking steel.
(Depending on the oven and the heat, also significantly shorter or longer if necessary. If necessary, bake the amount for 2 trays one after the other.)
The dough should be crispy at the end.
After cooling, store in airtight packaging.
Notes
SOURDOUGH RECOVERY
→ Sourdough as Sourdough spreads
Simply use some liquid to brush the dough.
This can be seasoned beforehand with spices, herbs, garlic.
Thick or solid sourdough must first be dissolved in water or diluted until a finely spreadable mixture is created. 


 
→ Sourdough as Dough ingredient
The sourdough can simply be kneaded in. 
In doing so, flour and water are withdrawn from the recipe accordingly.
Example of liquid sourdough like Levain (TA 200): For 150 g of sourdough, 75 g less water and 75 g less flour are added to the dough.
Example of solid sourdough like Lievito Madre (TA 150): For 150 g sourdough / LM, 50 g less water and 100 g less flour are added to the dough.
Keywords: easy, quick, quick recipe, Thermomix, vegetarian