Today I brought you a super delicious and creamy caramel ice cream. Also as a salty caramel variant, i.e. salt and caramel ice cream, it tastes really delicious! By the way, it is super easy to prepare with and without an ice cream maker. It can also be easily portioned straight from the freezer. If you like caramel, this ice cream is an absolute must for you! ♥
Caramel ice cream - Warning, addictive!
By the way, this recipe has been waiting on the hard drive for a few weeks to finally be published. And since we are currently having a real heat wave - if not now, then when ?!
In any case, my family can't get enough of it! However, the rabbit is in the pepper, because I want to try new recipes and develop new recipes for the blog. At the moment I am trying my way through really good and balanced ice cream recipes for you - just like from a professional ice cream parlor. Of course, without the unpleasant additives that are unfortunately often used nowadays.
Caramel - the stuff dreams are made of!
Hand on heart ... Who can resist caramel ?! And the most important ingredient in caramel ice cream is of course the caramel. In this case, Dulce de Leche. This is a (very sweet) milk caramel cream that can be made from sweetened condensed milk that has been boiled for a long time (e.g. Milkmaid or Dovgan). There are other preparation methods as well, but that would go too far here. You can either make them yourself or buy them ready-made. Unfortunately, the type of sweetened condensed milk "caramel" is not available everywhere, but sweetened condensed milk is usually available.
That's why today I also wrote down how the preparation works. Nothing special and can be found everywhere on the net, but before you have to search long, you can find the instructions right here. It's also super easy. In principle, sweetened condensed milk is simply boiled in the closed can for 2-3 hours, that's it! Since the cans are closed, the caramel can be kept forever. So theoretically you can also produce well in advance.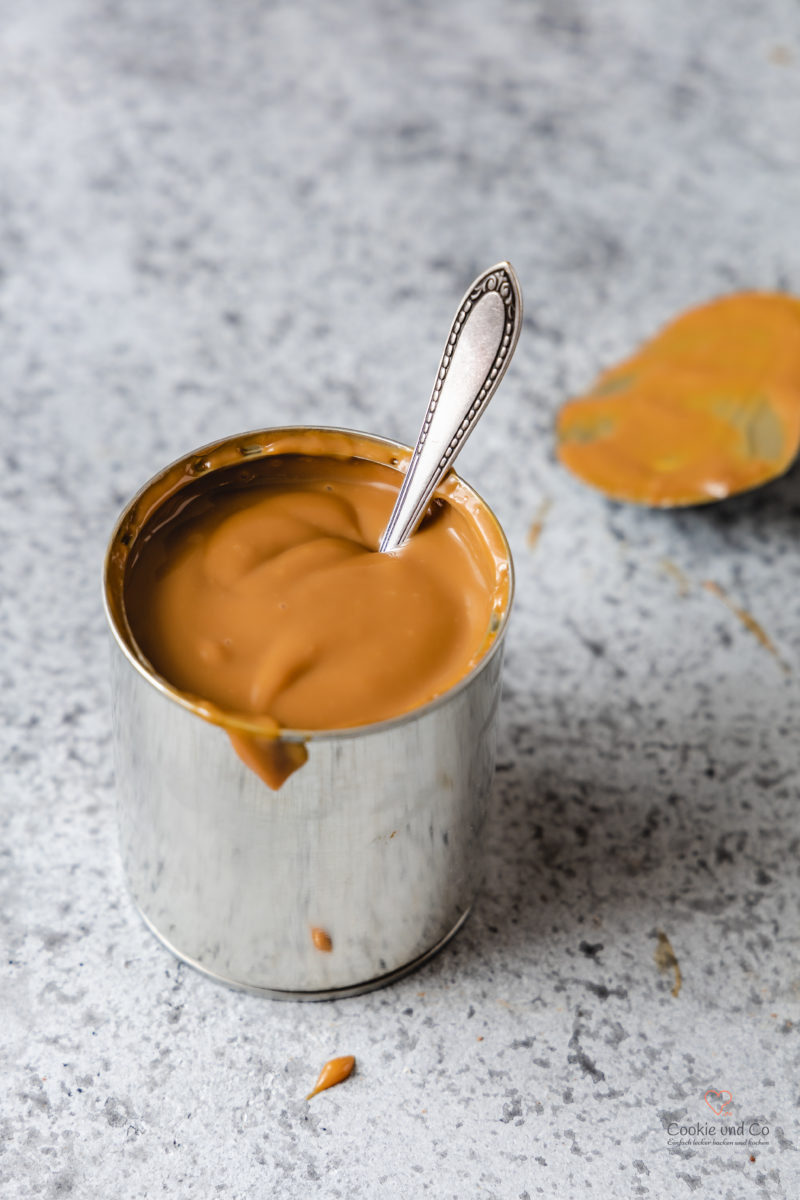 Ice ice baby ...
No ice cream in summer? Inconceivable ... that's why a few recipes have accumulated over the past few years and more are guaranteed to be added:
Today's caramel ice cream is a minor sin and certainly suitable for those with a particularly big sweet tooth. But if already, because already… I find this ice cream particularly tasty in the salted caramel variant, a great way to balance the sweetness. You can also just leave out the cream toffees if that's too much for you. My boys really like it! Now I wish you a lot of fun trying out and enjoying ... ♥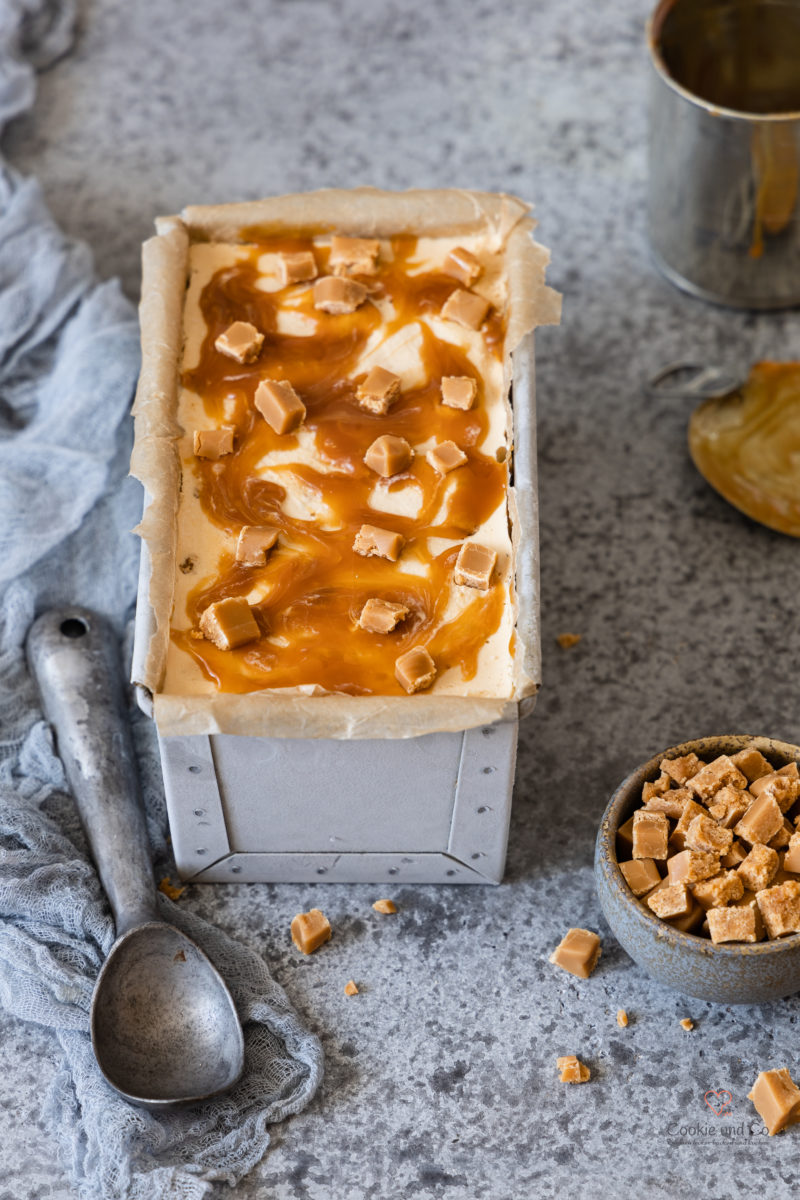 Print
Caramel ice cream / salted caramel ice cream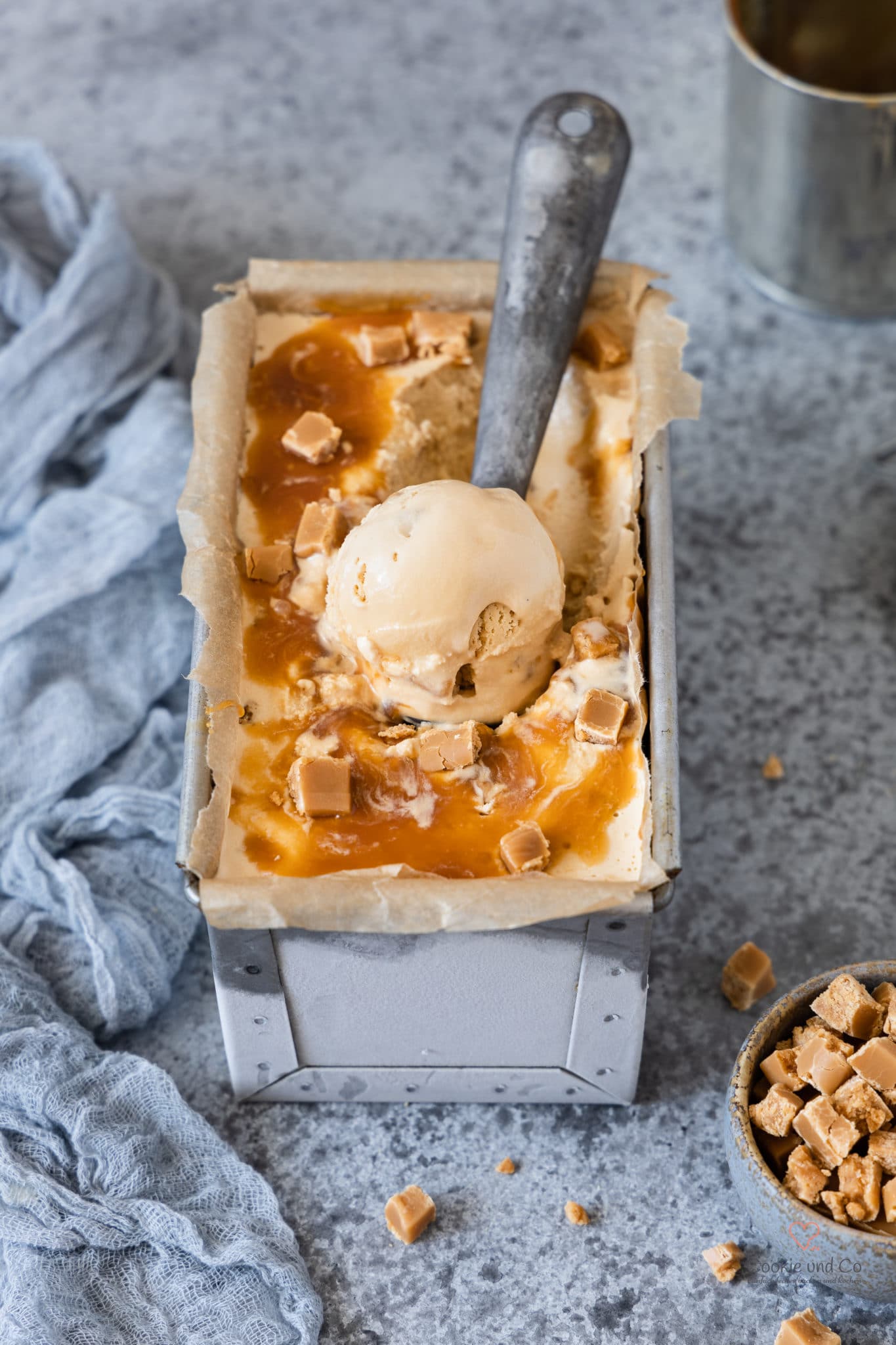 Print recipe
Share recipe
Prep Time:


8 hours

Cook Time:


7 hours 50 minutes

Total Time:


10 mins

Yield:


800 g of ice cream

Category:


Dessert, ice cream, ice cream, dessert, dessert, snack

Cuisine:


American, American, German, German
piece
200 g

cream

200 g

Whole milk (or even cream)
approx. 400 g sweetened caramel condensed milk ((1 can = 397 g))

1

Teaspoon vanilla extract (or 

1

Pinch of ground vanilla)

1/2

–

1

crossed teaspoon salt (or just

1

Prize)
approx. 10-12 soft caramel candies (cream toffees), diced (optional)
in addition to serving (optional)
some soft caramel candies (cream toffees) (diced as a topping)
some caramel sauce
alternatively:
some fleur de sel (for sprinkling)
Instructions
PREPARATION WITH ICE MACHINE / ICE BOWL FOR KITCHEN MACHINE
Mix all ingredients (except for the cream toffees) thoroughly.
It is best to put it back in the refrigerator and let it cool well.
Freeze the ice cream mass in an ice maker or bowl of a food processor.
(Please be sure to observe the maximum filling quantity!)
If you like, add the diced cream toffees in the last few minutes.
Then decant and store in the freezer until consumption.
PREPARATION WITHOUT ICE MACHINE
Mix the milk, vanilla, salt and sweetened condensed milk thoroughly.
Whip the cream until it is almost stiff and fold in.
Then transfer to a freezer-safe container and place in the freezer.
If desired, carefully fold in the diced cream toffees after 60-90 minutes.
The ice cream mass should cool in the freezer for another 4-7 hours or, even better, overnight.
PREPARATION WITH THE THERMOMIX
Put all ingredients (except for the cream toffees) in the mixing bowl for 1 min. | Mix on level 4 until creamy.
Put the ice cream mass in a suitable freezer form (flat aluminum dish / casserole dish or ice cube form) and let it freeze well (takes at least 5-8 hours).
Then release the ice cream and, if necessary, cut into cubes with a knife.
Pour these portions into the mixing bowl and hold for 15 seconds | Level 10 chop and transfer.
Fold in the diced cream toffees as desired.
Then you are welcome to put it in the freezer again for about 30-60 minutes or store in the freezer.
Keywords: Dessert, ice cream, ice cream without an ice machine, make ice cream yourself, ice cream, ice cream machine, sweetened condensed milk, caramel, caramel ice cream, milk caramel, milk jam, milk maid, dessert, dessert, cream, cream toffee, salty caramel, salt caramel, summer, Thermomix, Tm31, TM5, TM6
Print
Dulce de Leche made from sweetened condensed milk (milk caramel)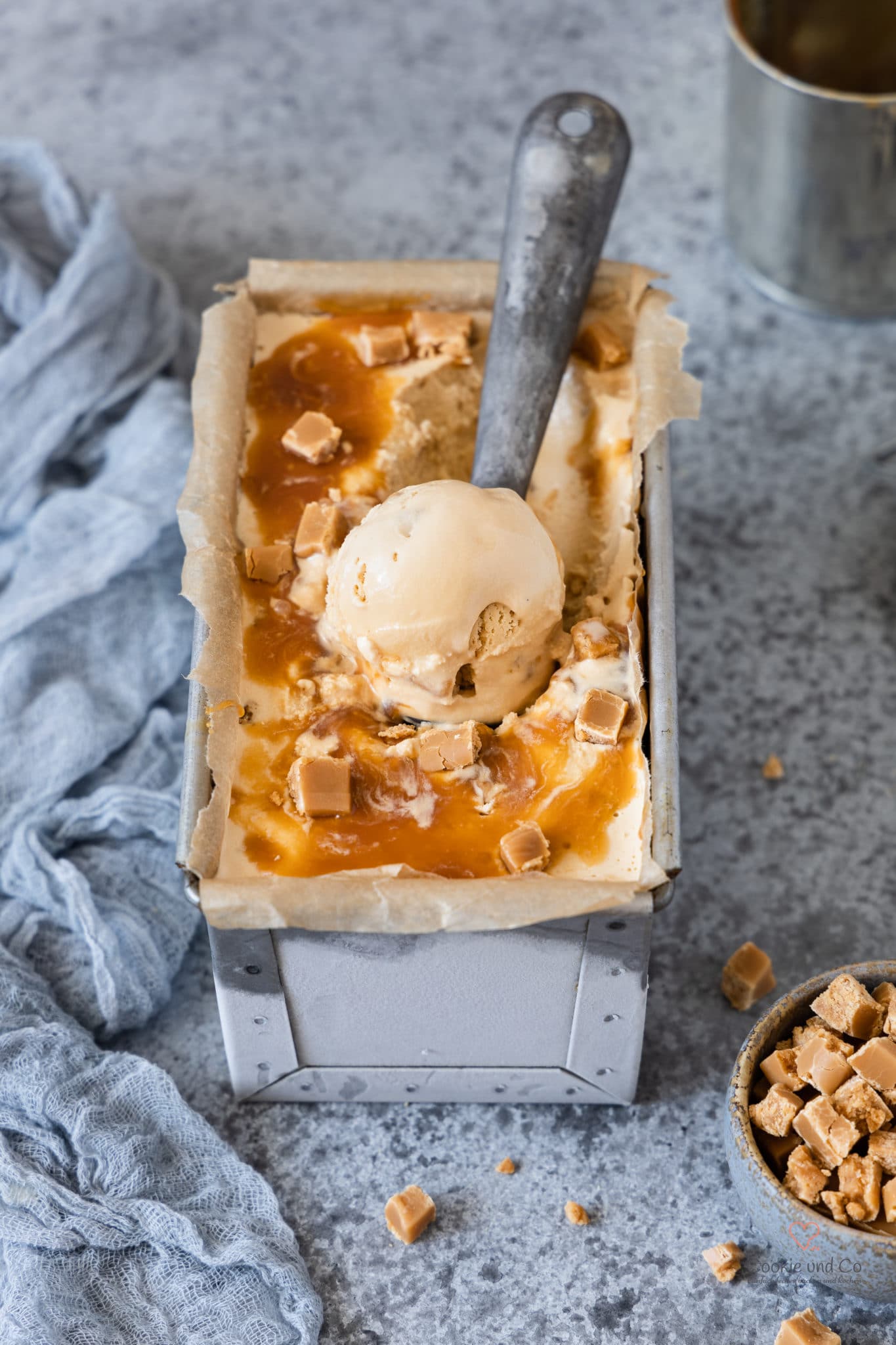 Print recipe
Share recipe
Prep Time:


3 hours

Cook Time:


2 hours 55 minutes

Total Time:


5 minutes

Category:


Spread, basic recipe, sweets
piece
water

1

Can of sweetened condensed milk (

400 g

) (possibly several)
Instructions
Preparation in the pot
Remove the paper band from the can.
Place or place one or more cans (closed!) Next to each other in a saucepan.
(With 3-4 pieces of kitchen roll or a tea towel underneath, it doesn't rattle when cooking.)
Add enough water until the can (s) is / are completely covered.
Bring to the boil, then reduce the heat and simmer gently over medium heat for about 2-3 hours. (The shorter the cooking time, the lighter the caramel stays.)
Important: Check again and again in between that there is still enough water in the pot. The cans must always be covered with water !!! Top up with hot water if necessary.
Then take it out and let it cool down completely. Do not open beforehand !!!
(The can is pressurized and the caramel is very hot.)
Preparation in the Thermomix
Remove the paper band from the can.
Pour approx. 1.2 l of water into the mixing bowl, hang in the cooking basket
Place the can of sweetened condensed milk unopened in the cooking insert.
The can must be completely covered with water.
Without measuring cup for 90 min. | 100 ° C | Boil level 1. Then another 60 min. | 100 ° C | Continue cooking at level 1.
Important: Check again and again in between that there is still enough water in the pot. The cans must always be covered with water !!! Top up with hot water if necessary.
Then take it out and let it cool down completely. Do not open beforehand !!!
(The can is pressurized and the caramel is very hot.)
Keywords: Stale bread, dulce de leche, sweetened condensed milk, caramel, condensed milk, milk caramel, milk jam, milkmaid