Today I have the recipe for a delicious blueberry bread with Skyr for you. It resembles a yeast plait and thanks to the blueberries it becomes juicy and fruity ... ♥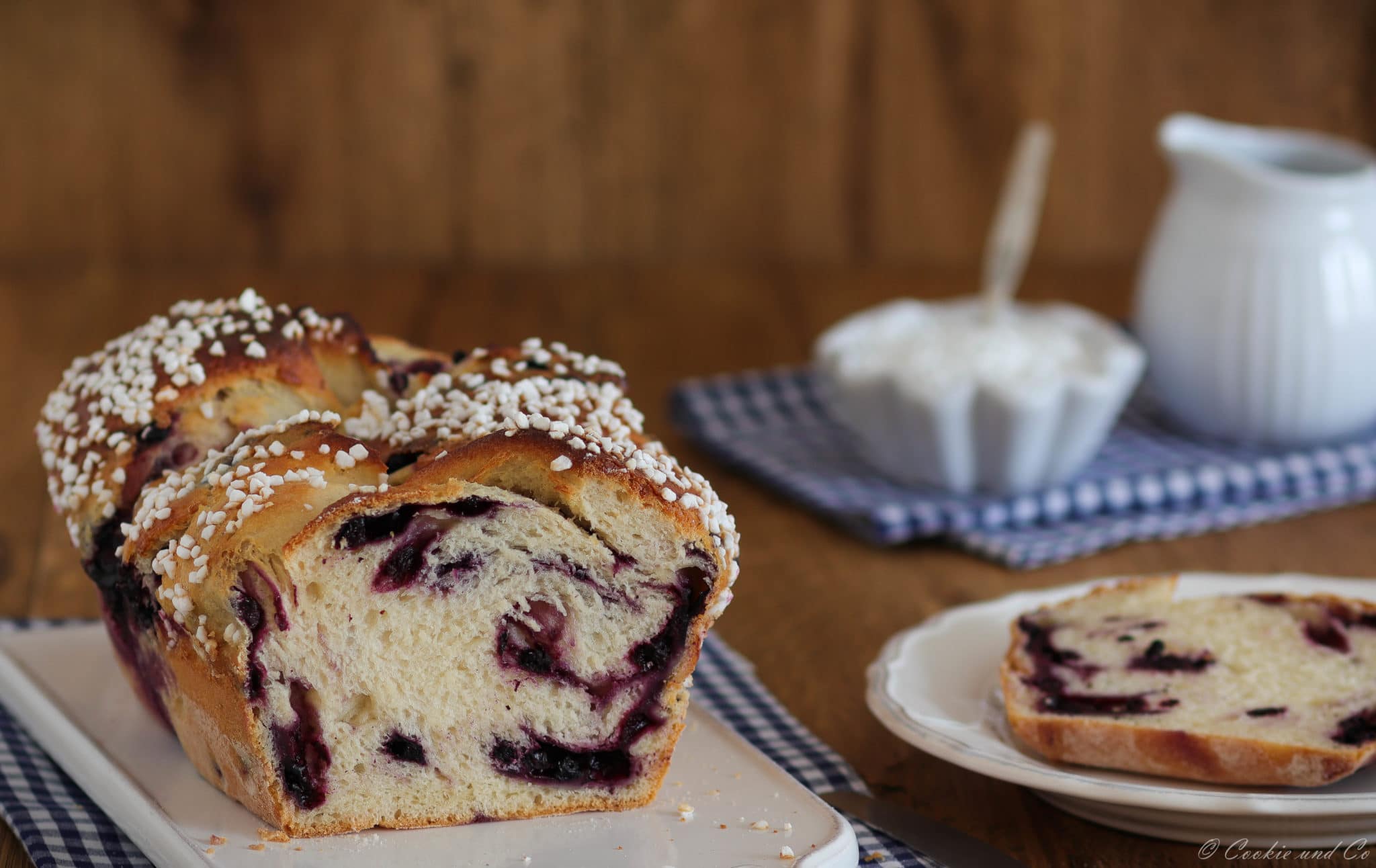 We love to eat yeast pastries, whether for breakfast or afternoon coffee. The blueberries add variety and taste just great. The dough is juicy, fluffy and aromatic and tastes delicious even the next day. Skyr is a traditional Icelandic dairy product, similar to curd cheese. If you don't know Skyr, you can here times read what that is exactly.
I used naturally frozen blueberries for this recipe around this time of year. In summer you could of course also work in fresh blueberries or blueberries. If you opt for the overnight version, all you need to do is put the bread in the oven in the morning. Then you can enjoy it for breakfast without a lot of work. 😉
In any case, you should definitely try this delicious recipe - whether for breakfast or just like that - because the blueberry bread with Skyr tastes really delicious and is something completely different ... ♥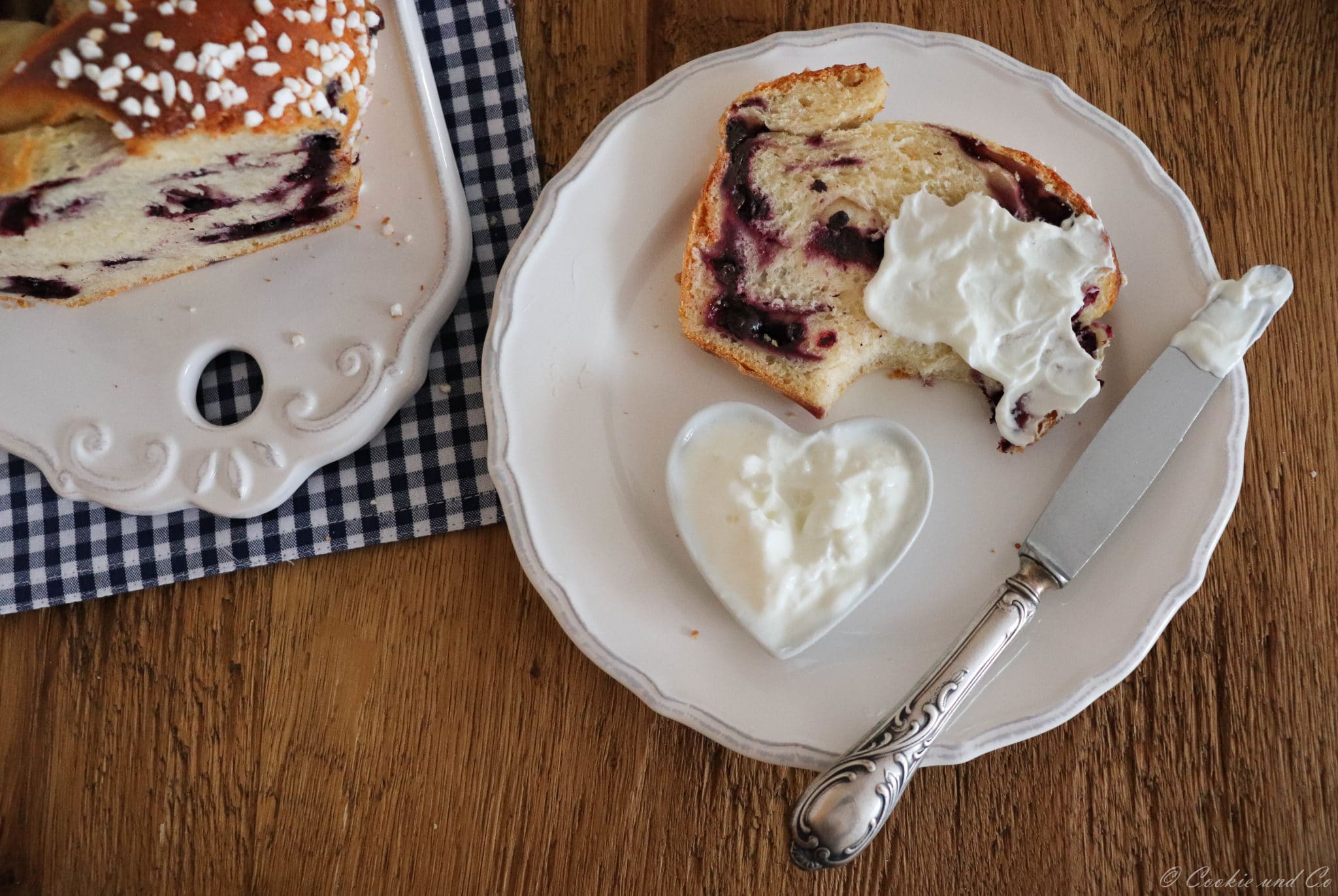 If you like yeast pastries as much as they do, you will find more delicious ones here Recipes for sweet yeast pastries.
Ingredients for the blueberry bread with skyr
(for a 1.5 kg form, a box form 30x12cm or a magic box)
160-200g Skyr, room temperature
100g water (for the pre-dough)
500g wheat flour type 550 (of which 100g for pre-dough)
80g butter, soft
90g sugar
5g fresh yeast (for the pre-dough)
150g Lievito Madre, refreshed (alternatively 8g fresh yeast)
1 teaspoon Vanilla extract or the pulp of a vanilla pod
5g salt
2 eggs
optional: zest of 1 lemon (untreated)
some granulated sugar to sprinkle on
approx. 300-350g blueberries, frozen (fresh in summer)
Prepare blueberry bread with skyr:
Preparation:
Pre-dough:
Mix 100g wheat flour type 550, 100g water and 5g yeast well and let stand covered at room temperature for 12-16 hours.
Main dough:
Grease the baking pan and sprinkle with a little flour or line with baking paper.
Mix the pre-dough, Lievito Madre (or yeast), Skyr and sugar together well. Use the smaller amount of Skyr first and add the rest to the batter later if necessary. (Thermomix: 30 sec / level 3)
Add the flour, vanilla, lemon peel and an egg + 1 egg yolk (put egg white aside) and knead briefly in the food processor on a low level until all the ingredients are combined. (Thermomix: 2 min./ level 3)
Then knead for 8 minutes in fast gear (for me level 2). (Thermomix: 4 minutes / dough kneading level)
Finally add the salt and butter in small pieces and knead for another 4 minutes. (Thermomix: 2 minutes / dough kneading level)
Cover the dough in an oiled bowl and let it rise for about 90-120 minutes in a warm place until it has enlarged significantly.
After the walking time, let the dough slide onto the lightly floured work surface (without kneading it again) and carefully roll out into a rectangle of about 40x60cm.
the frozen Spread the blueberries evenly on the dough.
Now roll up the dough tightly from the long side and divide it once in the middle.
Twist the two resulting strands of dough into each other and place them in and in the prepared baking pan.
Cover with cling film and let rise for at least 90 minutes at room temperature (if it is quite cool, you can place it near a heater). or Alternatively, let it rise overnight in the refrigerator (take it out of the refrigerator 30 minutes before baking the next morning or put it in the cold oven and extend the baking time by approx. 10 minutes).
During this time, preheat the oven to 170-180 ° C top / bottom heat (or alternatively 150-160 ° C hot air / convection).
After the walking time, brush the yeast plait with the egg white that you have set aside and sprinkle with granulated sugar if you wish.
Bake in the preheated oven for about 50-60 minutes until golden brown. At the beginning of baking, steam or spray some water in the oven (by the way, I don't let the steam off here.)
After 35-40 minutes of baking time, cover with aluminum foil so that the blueberry bread with Skyr does not get too dark.
The baking time and temperature can vary slightly in your oven, as each oven bakes a little differently.
After baking, leave in the tin for a few minutes and then transfer to a wire rack to cool. You are welcome to cover it with a tea towel.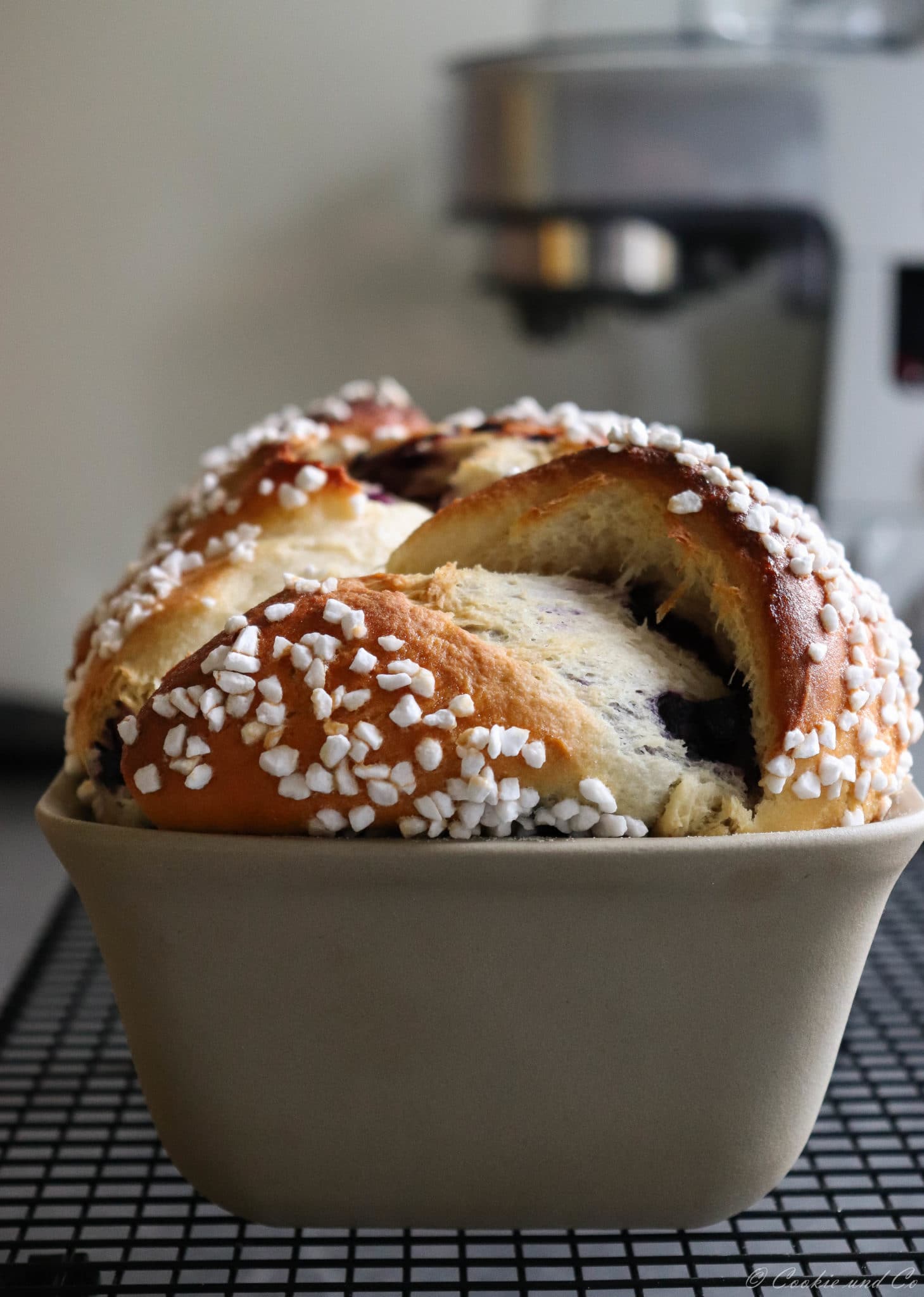 ♥ Have fun baking! ♥