Today I have the instructions for growing yeast water for you. It is also called wild yeast or fermented water and is a natural substitute for industrially produced, store-bought yeast or for sourdough. Natural wild yeast is also much more digestible for many than industrially produced yeast ... ♥
I got my first own yeast water a few months ago after this one Sally's recipe bred. If you are interested, you can here read more closely. Actually, I didn't want to grow the yeast water in the first place. Because I had read about it again and again and actually thought, I don't need that at all with my three wonderful sourdoughs in the refrigerator. But that was a mistake and luckily my curiosity won out! Because yeast water is really something really great and brings a great oven shoot and a very tasty aroma to your breads, rolls and even sweet pastries. My delicious, Mediterranean white bread I baked, for example, with my self-grown yeast water.
Here you can find Bread recipes with yeast water and here recipes for Rolls with yeast water.
You should definitely also grow your own yeast water if you don't already have one. With the yeast water, you are no longer necessarily dependent on the industrially produced yeast, which is often criticized. The walking times are much longer with this natural wild yeast and the dough should generally rest in a warm place. But the long walking times in particular also bring additional aroma, freshness and digestibility.
By the way, the cultivation of the yeast water only takes a few days and you can also use it to feed existing sourdoughs wonderfully. You simply replace the conventional water with the yeast water when feeding. So I feed my hired goods from Rye and wheat sourdough as well as mine Lievito Madre very happy with it. The sourdoughs become mega active. Incidentally, you can use this fermentation water to breed a very active Lievito Madre in a very short time. You can find the instructions below. ♥
Ingredients for the yeast water:
20 g raisins, unsulphured & unoiled (or alternatively 2 untreated prunes, apricots or dates)
50 g honey, preferably from the regional beekeeper or coconut blossom sugar
just under 1 liter of water, lukewarm (preferably boiled)
1 large, sealable bottle with at least 1l capacity (e.g. empty milk bottle, plastic bottle from SodaStream or juice bottles, e.g. also from WECK)
To grow yeast water:
Pour all ingredients into the bottle, close and shake vigorously. (The bottle must be very clean or sterilized or rinsed with hot water.)
Let stand at room temperature for about 6-8 days. (Depending on the room temperature, it sometimes only takes 3-4 days.)
Important: The bottle at least Open carefully 2 times a day, shake well and then open again slowly and carefully to allow the fermentation gases to escape. Attention Glass bottles can burstwhich is not harmless. Therefore, do not close glass bottles too tightly or use the alternatives shown below.
If more and more gases arise during the cultivation, you can also open the lid briefly every now and then to release some pressure or, alternatively, not close the lid quite as tightly.
Shaking it counteracts the formation of mold on the surface and activates the yeast at the same time.
With every day you will see more activity in the bottle, there will be many small air bubbles and the fermentation water will foam when you shake it. (My raisins, for example, are starting to perk up and down.)
After a few days, you can bake with the finished yeast water.
The finished fermentation water should be fruity-fermented in terms of smell and taste and be reminiscent of must or Federweisser. (Then the right cultures have multiplied. 😉)
Incidentally, petals (e.g. from untreated roses) or apple peel can also be used for breeding instead of dried fruits.
Here you can get a little YouTube video about fermentation water look at.
Grow Lievito Madre from yeast water see blog post Lievito Madre's Guide to Growing and Caring for - The 5 Best Methods.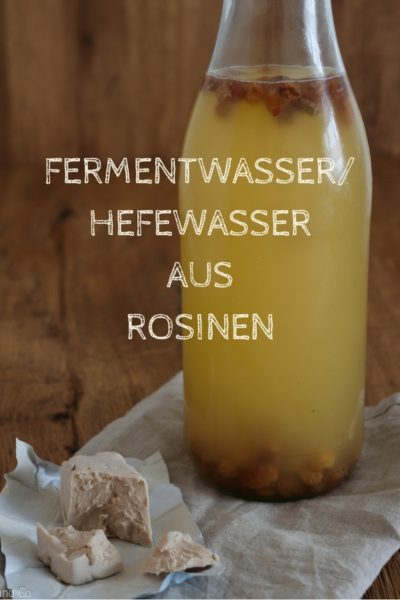 Use yeast water and care:
The finished yeast water is stored in the refrigerator if it is not used for baking. It should also be shaken from time to time in the refrigerator.
I remove larger dried fruits just like that, with raisins I pour them through a fine sieve before they go into the refrigerator or before I bake with them.
When some of the yeast water has been used up for baking, the rest is made up to just under 1 liter with water and fed with dried fruit and honey (or sugar). I personally use for feeding 20g untreated raisins + 15-20g honey + water as required.
Depending on how much of the fermentation water has been used, it has to stand for 1-3 days at room temperature after feeding. If it's a little warmer, it goes faster. It can also be placed in a warm place, e.g. near the heater (but not in the sun). Shake again at least twice a day and open carefully.
It is IMPORTANT that you NEVER use up the yeast water completely and always retain something of the existing culture. Otherwise you have to start again.
With each further feeding, the driving force of the yeast water is strengthened and more and more natural yeast is formed!
Over time, a kind of sediment forms at the bottom of the bottle, as more and more yeast (and sometimes remains of the dried fruit) settle out.
Every now and then the bottle should definitely be changed and the yeast water poured into a clean bottle, just like with sourdough.
The yeast water can be used as a pouring liquid in the dough when baking, but in order to build up enough driving force, a kind of Pre-dough or sourdough be set. This will be the Yeast water 1: 1 mixed with the desired flour and left to stand for about 16-18 hours at room temperature.
Safe vessels for fermenting yeast water: