Today I brought a crispy and hearty snack for you: Grissini. A true finger food classic and perfect for mild spring or summer evenings with a glass of wine. In keeping with the season, I refined it with wild garlic. The best thing about it, the breadsticks are easy to prepare and ideal for other sourdough, because this can be processed here as desired. ... ♥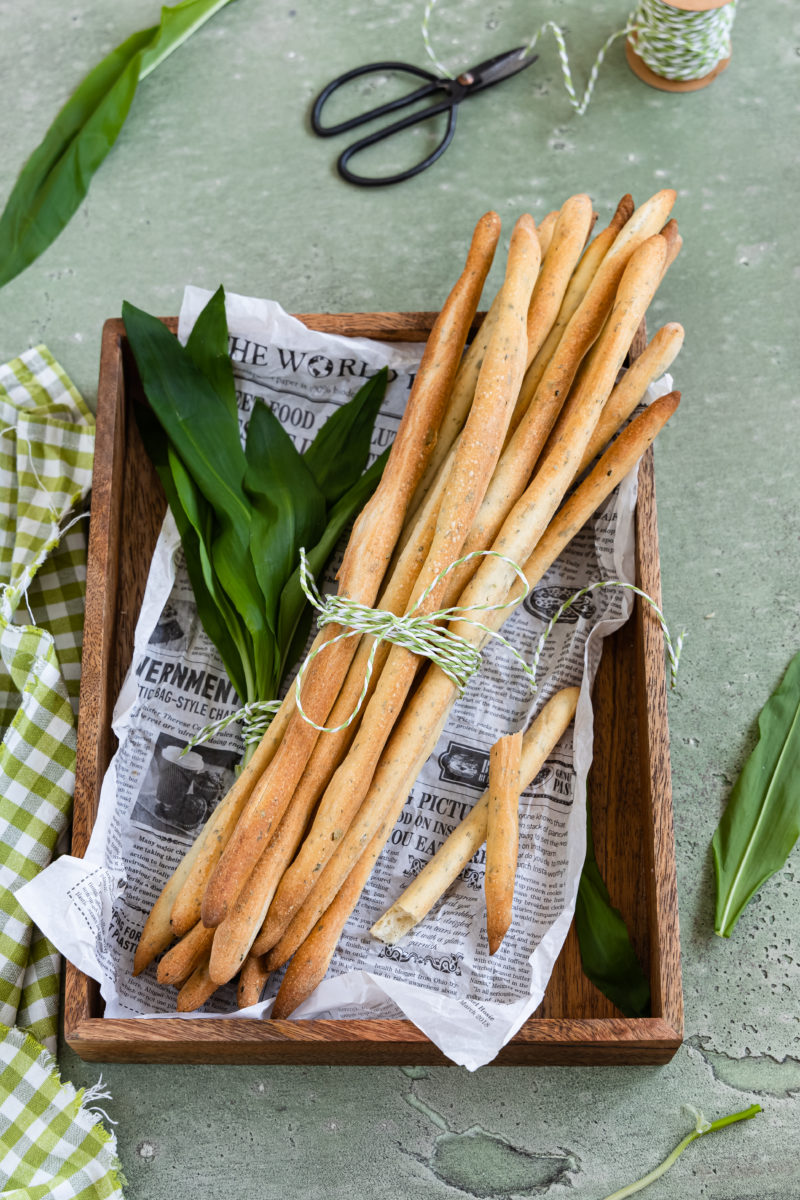 Grissini - Italian nibbles
Baked crispy, crumbly and golden-yellow - this is how breadsticks should be. They are the ideal Mediterranean snack with a good glass of wine or a cold beer. They are an integral part of many Italian restaurants as an appetizer. Traditionally, breadsticks are shaped by hand and often offered in a twisted shape. However, I opted for the simple, smooth shape, as in my recipe template. But more on that later. In addition to the classic breadsticks, there are also variants with sesame, spices, herbs or caraway seeds. There are no limits to the imagination and I think what tastes good is allowed. So, in keeping with the season, I decided to go for wild garlic in a very "un-Italian" way. And I can tell you so much: delicious!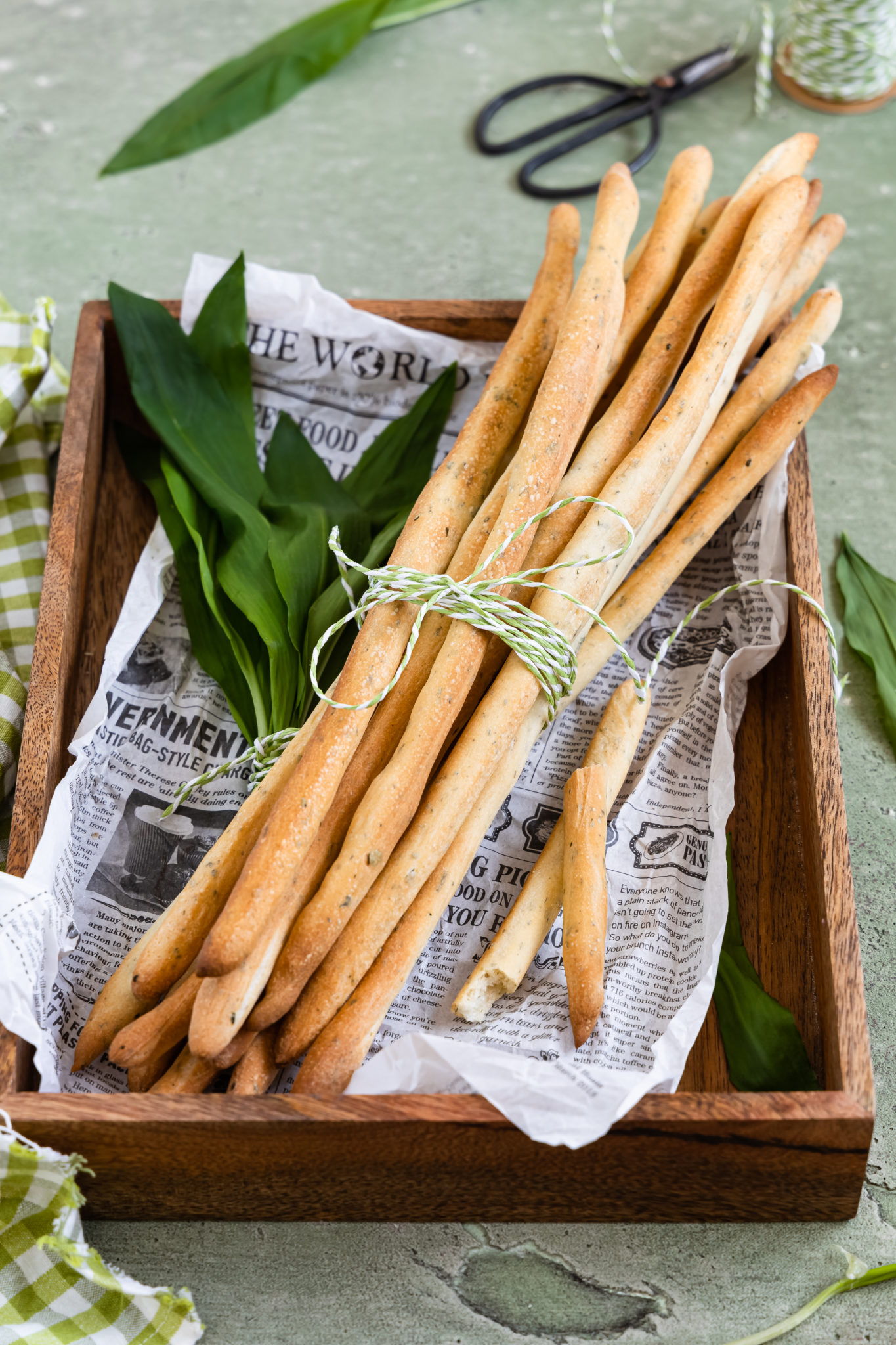 A food blog event
Last summer Volker had von Volkermampft launched a great food blogger event: "Cook my recipe" is the name of the project. Similar to elves, different (food) blogs are assigned to one another by lot, and this is done anew every two months. You can then choose a recipe from the associated blog, copy it and freely interpret it. A really great initiative to get to know new blogs, introduce each other and network. The recipes for "Bread chips | spicy snack & bread recovery" and the "Tarte flambée with pears, camembert & walnuts"Here on the blog were created as part of this event. On the last lap I missed. This time the lot fell for me and then directly on Volker's own blog.
On Volker's extensive blog you can find a wide variety of recipes with international cuisine, bread, pastries and many delicious main dishes. He also organizes many blog (ger) events on various topics. Travel reports and restaurant tips can also be found here. The restaurant tips and tests mainly focus on Hamburg and the surrounding area, as Volker lives in Hamburg.
Grissini with and without wild garlic
The choice of the recipe was quite difficult for me this time because a large number of his recipes are of interest to me. Ultimately, I made a compromise between two recipes: Wild garlic sourdough breadsticks and Sourdough grissini - perfect for refreshment leftovers. The result is breadsticks that can be prepared either with fresh herbs such as wild garlic or with leftover sourdough. Wild garlic now fits perfectly into spring, of course, and the rather short wild garlic time needs to be exploited. I also have mine Lievito Madre because it fits perfectly into such Italian-inspired recipes!
In addition, I spontaneously used Italian flour instead of a type 550 wheat flour like Volker. In this case, that laNapoletana Tipo 00 (Pizza flour) and Semola Rimacinata di Grano Duro from the Molino Dallagiovanna. I baked with both of them for the first time - they had already waited a while for their first use. So I took the opportunity and spontaneously prepared the breadsticks with it. The first test was very promising! A wonderfully smooth dough that was very easy to work with and without any autolysis. With other pizza flours / Tipo 00 I have already seen that they do not make such a nice, smooth dough, especially not without extensive autolysis. As always, I have included German flour as an alternative in the recipe.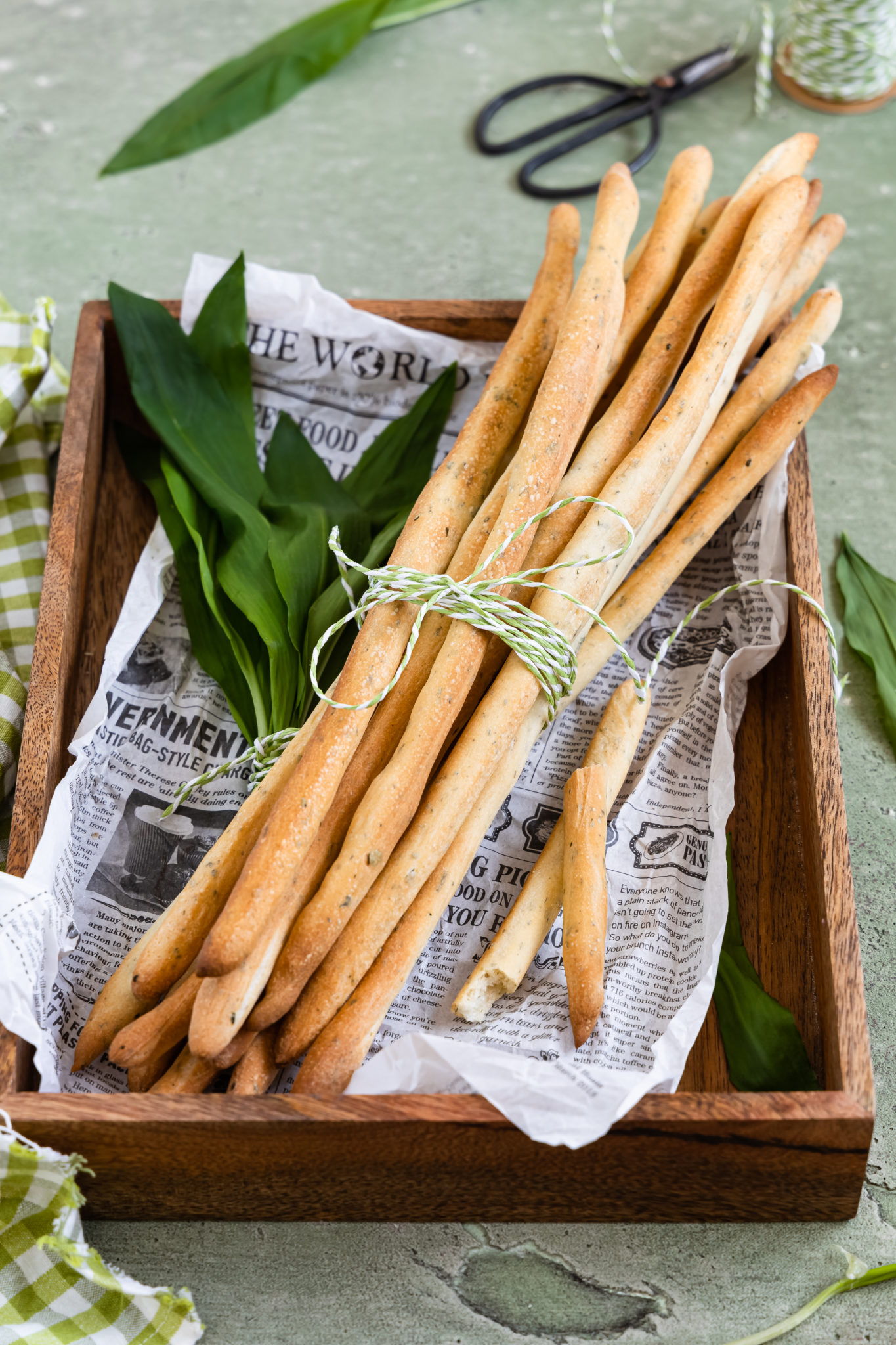 My conclusion
Admittedly, I like to avoid "fiddly" pastries. After all, every stick needs to be shaped and is then fed up at Cookie and Co. faster than I can see. But it wasn't that bad and it was even fun. It was definitely worth it and the breadsticks were more than delicious! I can also imagine it very well with rosemary or garlic in summer. Without Volker, I would have put off such a recipe for a long time, even though I had wanted to make breadsticks myself for a long time.
It is very important that they are really completely baked through! This should definitely be taken into account, because every oven bakes differently and the breadsticks are also of different thicknesses. This is the only way to make them crispy and crumbly! If in doubt, bake a little too long rather than too short. Otherwise they can become sticky very quickly and that would be a shame! In any case, it is worth re-baking ... in this sense, have fun trying it out ... ♥ 
Print
Breadsticks | possible with herbs and sourdough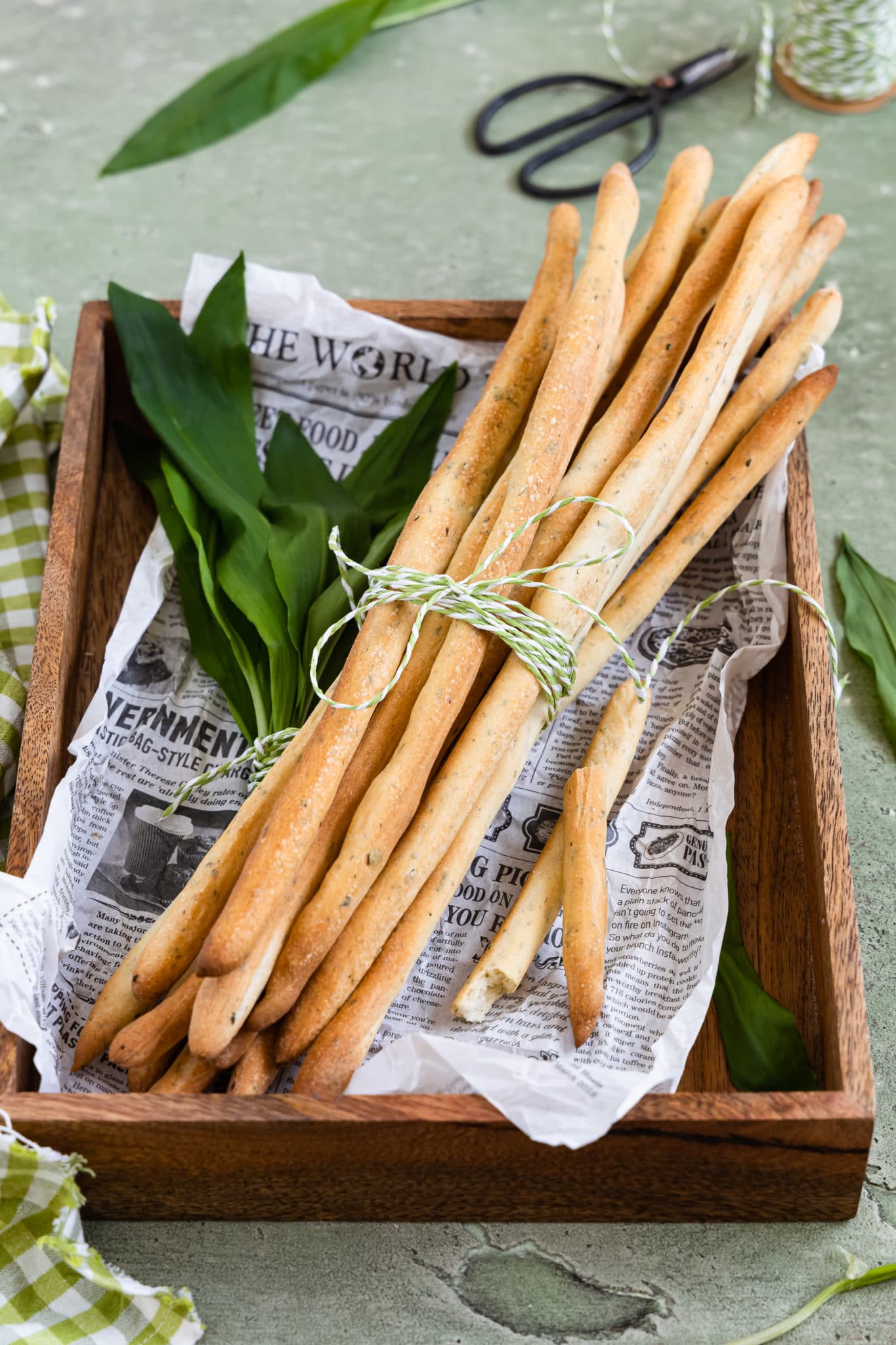 Print recipe
Share recipe
Type 550 wheat flour can also be used instead of Tipo 00 and Semola.
For baking with conventional ASG, see note.
Prep Time:


45 minutes

Cook Time:


2 hours 45 minutes

Total Time:


3 hours 30 minutes

Yield:


30 pieces

Category:


Appetizer, aprero, snack, starter

Cuisine:


deutsch, german, italian, italian
piece
200 g

Pizza flour Tipo 00 or wheat flour type 550 (I: laNapoletana Tipo 00)

100 g

Durum wheat flour (Semola Rimacinata di Grano Duro) 

150 g

Lievito Madre from the fridge, optional) (omit if necessary)

140

–

160

g of water

40 g

fresh herbs, finely chopped, optional (e.g. wild garlic)

20 g

Olive oil or Mediterranean herbal oil

3 g

fresh yeast

8

–

10

g of salt
without Lievito Madre in addition
100 g

Pizza flour Tipo 00 or wheat flour type 550

50 g

water

1

–

2

g fresh yeast
Instructions
dough
Mix water, flour, if necessary Lievito Madre and chopped herbs and yeast for 5-8 minutes at a slow speed.
Add olive oil and salt and knead into a smooth dough for about 5-8, until it no longer sticks.
(The dough is compact but smooth, similar to Lievito Madre or marzipan.)
Knead in the Thermomix: For a total of about 5-6 min. | Knead the dough level, then knead again by hand.
Stock cooking
Put the batter in a lightly oiled bowl.
Allow to cook for 1.5-2 hours at room temperature (20-22 ° C). A slight doubling or doubling is sufficient.
to shape
Divide the dough on the lightly floured work surface into pieces of dough of approx. 20 g each (up to a maximum of 25 g).
Then roll into long strands of dough.
If necessary, wipe the work surface with a damp cloth if the dough pieces slip away. An unfloured silicone mat is also very good!
When the strands of dough contract again, let them rest for 10-15 minutes and then roll out to a length of about 35 cm.
Spread on two baking sheets lined with baking paper / baking foil.
Piece cooked
Cover with a tea towel and let cook for about 1 hour at room temperature (20-22 ° C).
Meanwhile preheat the oven to 220 ° C hot air / circulating air.
With top / bottom heat, the baking temperature is around 240 ° C; the trays must be baked one after the other.
to bake
Bake the breadsticks for 10-14 minutes at 220 ° C hot air / convection, preferably on sight.
They have to be fully baked to make them crumbly and crispy!
Then let it cool down completely and then store it in an airtight packaging.
Notes
With liquid Yeast from the sourdough (TA 200) instead of Lievito Madre (TA 150) 25 g more pizza flour and 25 g less water add to the dough.
Keywords: Aprero, refreshment recipe, wild garlic, wild garlic grissini, breadsticks, bread sticks, durum wheat flour, Italian sourdough, herbs, herbal oil, laNapoletana, Lievito Madre, Molino Dallagiovanna, olive oil, party snack, pizza flour, semola, Tipo 00, starter, wheat flour