Today at this point a little report about my bread-baking course "Bread Fairy" Heidi Schlautmann, which took place last weekend in Heidis Backschule in (Lippetal / NRW). Together with our 10 course participants, we baked as much as we could and made the ovens glow!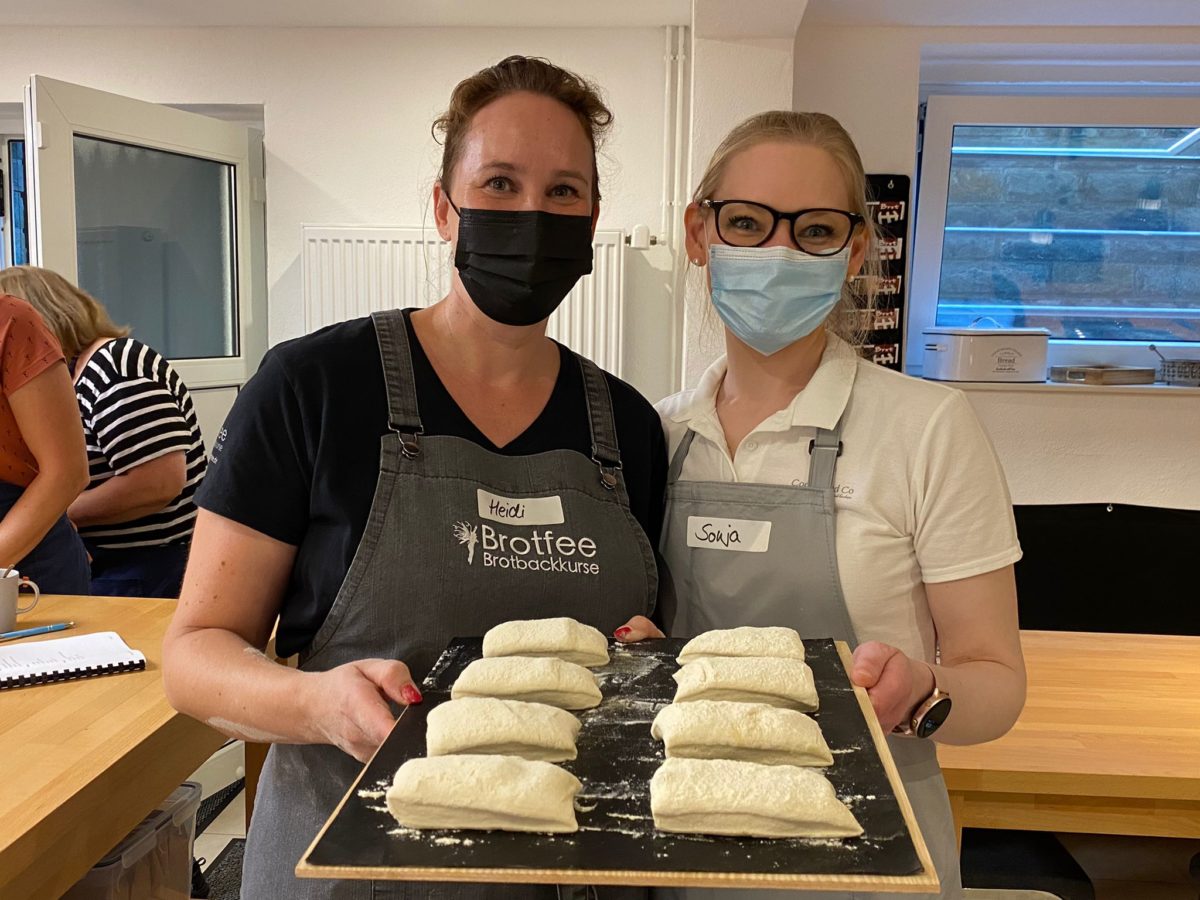 Finally bake together again!
After a long break from face-to-face courses for known reasons, we can finally start again! Our course lasted 1.5 days, from Friday afternoon to Saturday evening. With the exception of a short break for the night, the course ran under the motto bake, eat, sleep, repeat. The course program was tight, but very diverse. In the end, our course participants are quite full and tired, but also happy and drove home with various baked goods and items for rye sourdough as well as Lievito Madre. All in all, it was an all-round successful course with lovely people, good food, lots of laughter and unforgettable moments, which for me once again confirms: (Together) baking makes you happy!
On Friday evening, Oliver Distelkamp from visited us deligio finefood and provided a top-class dinner. In addition to the famous "thick ollis" grilled sausage, there was also cheese cracker and a vegetable pan from the grill, as well as many delicacies from Italy to try. Including antipasti and excellent Italian sausages in organic quality. On Saturday we also had a guest: Dear Olja Rau, alias @bakedicted on Instagram, came to visit. Make sure to check out her on Instagram, one of my all-time favorite blogs! To the great joy of everyone, she spontaneously showed us how to braid a beautiful 6-strand braid / challah (see pictures below).
In addition to various types of bread, rolls, sweet baked goods and pizza, there was also breadsticks. In the process, our participants learn and deepen: techniques and knowledge about bread-baking. Everyone will be picked up according to their ability and level of knowledge and of course any questions that arise will be answered. By the way, we bake in normal household ovens. In this way, what you have learned can then also be put into practice at home. From the first step of the sourdough feeding, through the dough preparation to the finished baked bread.
Do you have any wishes for course content or course topics? Then please leave me a comment under this blog post. Of course there will be new dates next year. These will be announced via the newsletter. The new Brotfee course program is coming soon here to find.
Finally, I would like to thank you for your support at Eiling organic mill for the wonderful flour as well as for deligio finefood and La Bottega dei Gusti thank you for the very best pizza-related ingredients!
Below are a few more impressions from the bread baking course
bun
bread
Pizza: Saturday lunch
Sweet baked goods
Culinary highlight: grilling with Olli