Today I'll tell you the recipe for my juicy blueberry quark taler. These are juicy yeast pastries with a quark cream and blueberries. They taste fruity, are not too sweet and are simply delicious ... ♥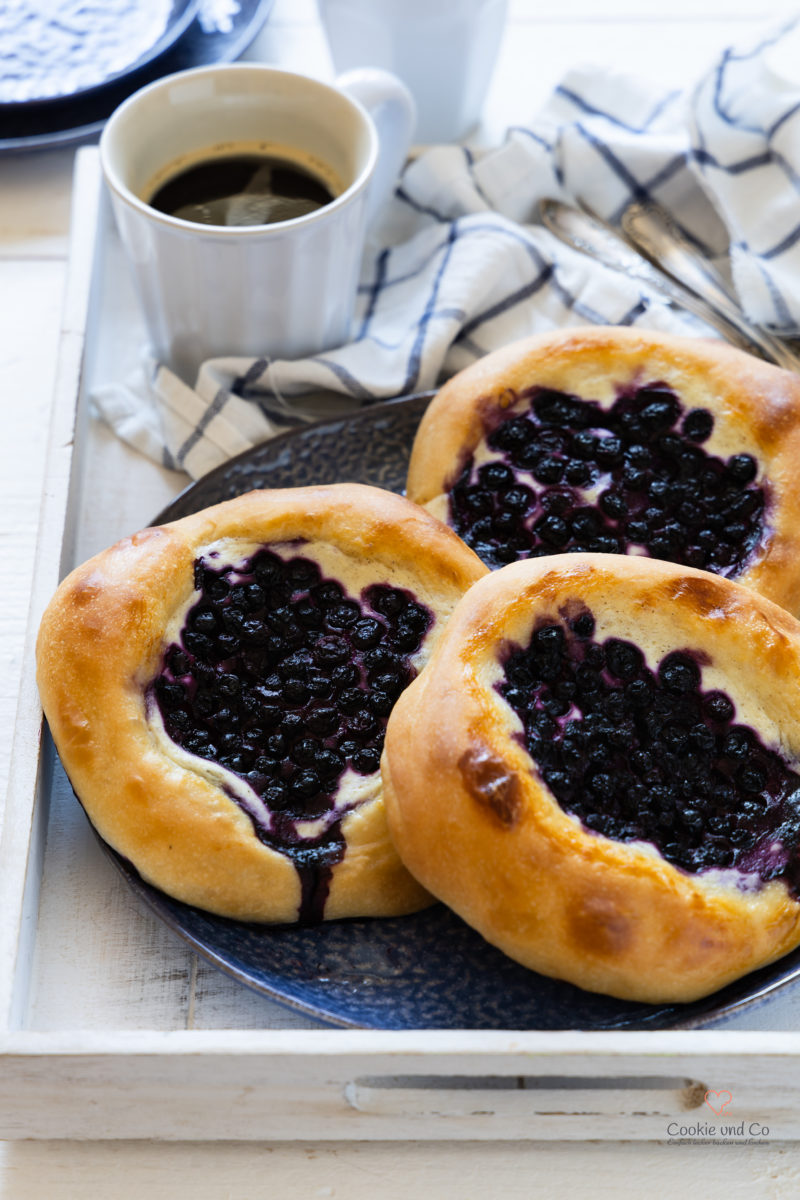 Blueberry Quark Taler
These blueberry quark thalers are another delicious addition to my recipe collection for sweet yeast pastries. You can be sure that I have a weakness for this if you already know my blog a little. For sweet yeast pastries with a little yeast and Lievito Madre you will find a very large selection of recipes here on the blog. Have a look at the Category pastries made from yeast dough around.
As almost always with sweet pastries, I have the yeast dough with a combination of Lievito Madre and a small amount of fresh yeast. This is how sweet yeast dough tastes best for me. I just have to add a little yeast to the dough, otherwise I'll be missing something in terms of taste. But since I've been baking with very little or no yeast at all, I've become quite sensitive to the yeast taste. For me personally, a little bit of yeast is completely sufficient for a good yeast dough.
But I also tested this recipe exclusively with Lievito Madre and without yeast. How this works is directly under the recipe. Since I prefer an LM-yeast combination in terms of taste, as described above, this is also the case with the ingredients.
Incidentally, the dough is also great to use Overnight cooking prepare. I always find that very practical in terms of time and the dough also has more time to mature, is even better tolerated and can develop a great aroma at the same time.
If you don't have a Lievito Madre, you can use a little more yeast instead. Notes on this can also be found in the recipe. The amount of yeast for sweet yeast pastries is still absolutely within limits - at least for me.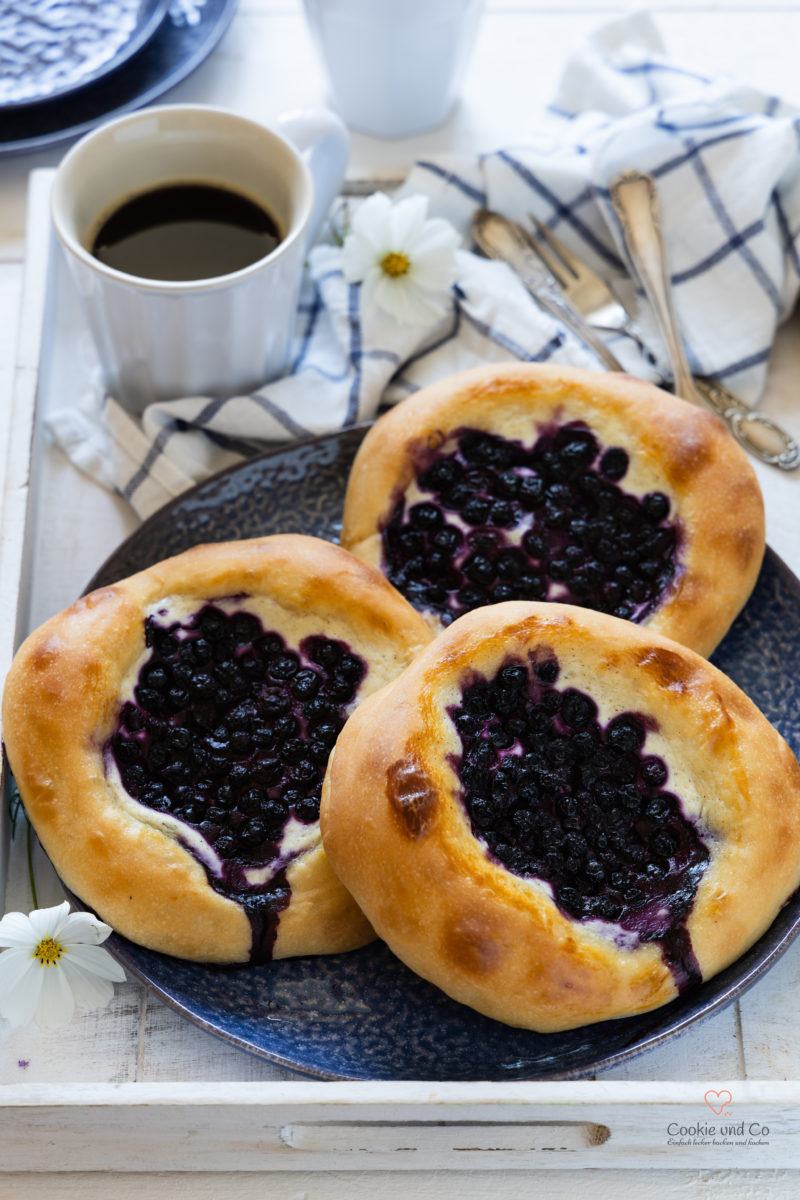 Blueberry or bilberry?
That's a good question, and opinions often differ. Both are often mixed up. But does it really make a difference whether blueberries or bilberries? The answer is no. So there are actually two names for one and the same fruit. Depending on the region, the berries are called either blueberries or bilberries. However, there is a difference between forest blueberries and cultivated blueberries. In any case, I think these healthy berries are great! Since they are not only healthy and tasty, but are also great for baking, you can of course find a few recipes with them here on Cookie and Co:
You can bake today's blueberry quark thalers very well with fresh blueberries, they are in season now. I used frozen blueberries for the recipe and other berries are also great. I wish you a lot of fun trying out and enjoying ... ♥
Print
Blueberry Quark Taler (sweet yeast pastries)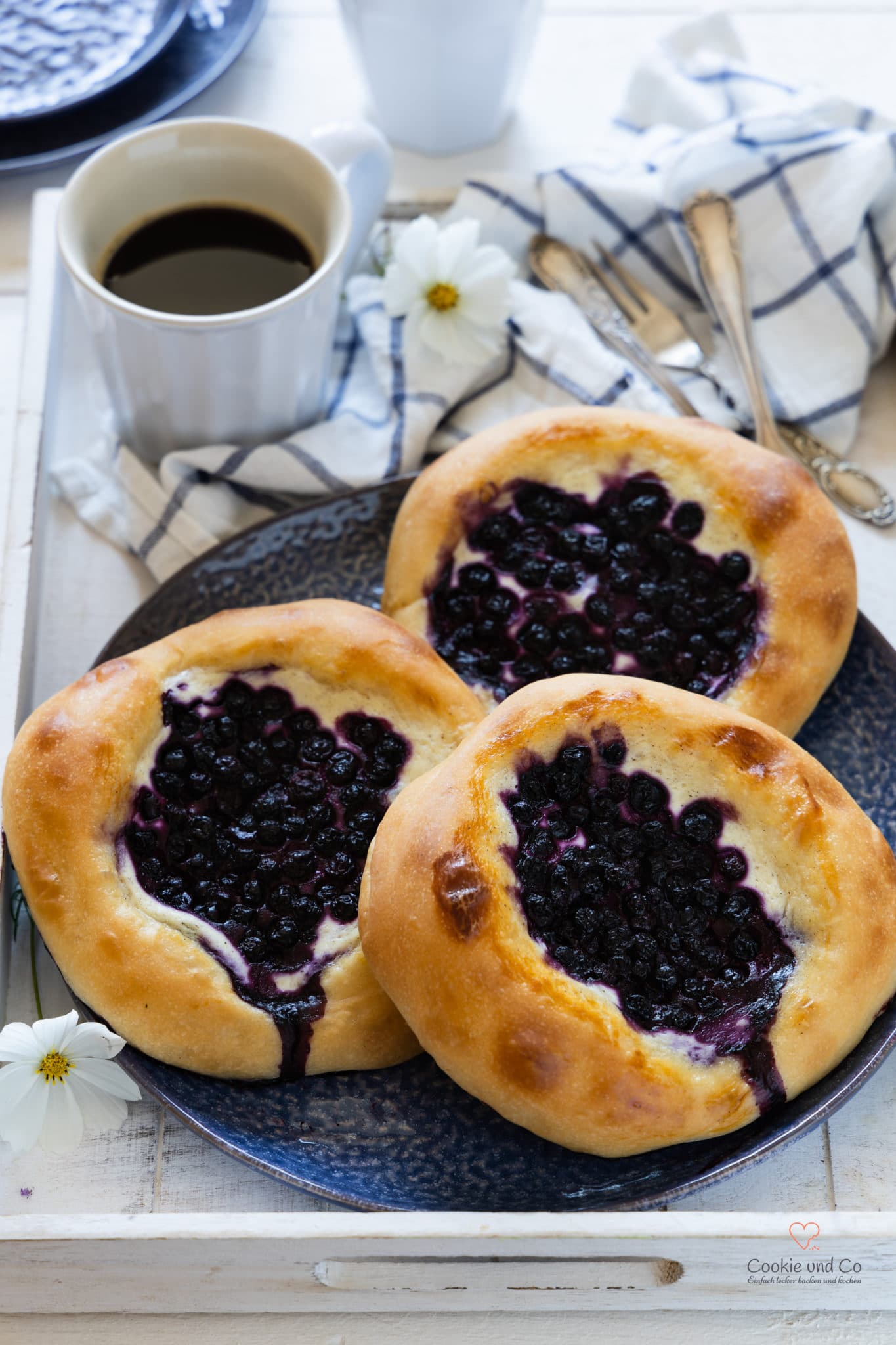 Print recipe
Share recipe
It can also be prepared with yeast only or yeast-free, see note.
Prep Time:


50 minutes

Cook Time:


5 hours 10 minutes

Total Time:


6 hours

Yield:


10 pieces

Category:


Dessert, pastries, yeast pastries, cakes, sweets

Cuisine:


American, American, German, German
piece
dough
450 g

french Wheat flour T 55 / wheat flour type 550

70 g

sugar

5 g

fresh yeast

75 g

Lievito Madre, refreshed (alternatively

5 g

fresh yeast +

50 g

more flour + 25 more milk)

250

–

280

g milk (depending on the flour)

1

Teaspoon vanilla extract 

1

Egg (size M)

80 g

Butter (in pieces, from the fridge)

5 g

salt
Quark cream
200 g

Quark 20% fat (curd cheese)

40 g

sugar

½

Teaspoon vanilla extract (or 

1

Pinch of ground vanilla)
some grated lemon peel (optional)

2

egg yolk

10 g

food starch
Fruit toppings
approx. 200 g blueberries (preferably frozen) or other fruit
Additionally
some milk or cream (for brushing)
Instructions
dough
Knead all the ingredients for the dough, except for the butter and salt, for 10 minutes at a slow speed.
(Depending on the flour and the size of the egg, use the smaller amount of milk first and add milk if necessary.)
Then knead into a smooth dough for another 5-8 minutes at high speed.
At the end of the kneading time, add the butter and salt and, if necessary, the rest of the milk in portions.
Stock cooking
Bake variant on the same day:
Cover and let ripen for 3-4 hours at room temperature (20-22 ° C) or for about 1.5-2 hours at 25-27 ° C. The dough should have at least doubled.
Cold overnight cooking variant:
Alternatively, let it start for about 1 hour at room temperature and then let it mature in the refrigerator for 10-12 hours. Let it acclimate the next morning for 1-2 hours.
Forms & piece cooked
Divide the dough into 8-10 parts and (gently) shape it loosely. Let relax for 20-30 minutes.
Then pull it apart with your hands to form a small flatbread.
Distribute on 2 trays lined with baking paper / baking foil.
Cover and let ripen for 1.5-2 hours at room temperature (20-22 ° C).
After 60 minutes, pull the dough pieces apart again slightly to about 15-18 cm.
Preheat the oven in good time to 180 ° C top and bottom heat (160 ° C hot air / circulating air).
Quark cream
Mix all ingredients for the quark cream thoroughly.
Topping & baking
After the piece is cooked, pull the dough pieces apart again slightly if they have pulled together again.
Spread the quark cream and then the blueberries on the dough, leaving the edge free.
Brush the uncovered pastry edge with a little milk or cream.
Bake for about 15-20 minutes at 180 ° C top / bottom heat (160 ° C hot air / convection) in the lower third of the oven. It is best not to bake too dark.
Notes
Preparation without yeast
For the preparation without yeast I recommend the 5 g fresh yeast in the list of ingredients by approx. 75 g of freshened madre to replace.
To do this, 50 g flour and 25 g milk should be deducted from the recipe.
Madre would be happy to freshen up 2x beforehand for sufficient driving power.
The walking times can be slightly longer. Tend to use the longer times given.
Preparation in the Thermomix
Yeast dough:
The ingredients should be as cold as possible out of the refrigerator.
All ingredients (except salt and butter) for 5 min. | Knead the dough stage.
For 3-5 min. | Continue kneading the dough setting, adding salt and butter in portions through the lid opening.
Creamy quark:
Put all the ingredients for the quark cream in the mixing bowl.
For 15 sec. | Mix level 4.
Keywords: Blueberries, yeast-free, yeast pastries, yeast dough, yeast particles, blueberries, children, biscuits, Lievito Madre, LievitoMadre, quark, snails, T55, thalers, overnight cooking, vanilla, winter